'I like the thought that I am competing successfully with writers much younger than me,' says Ruskin Bond.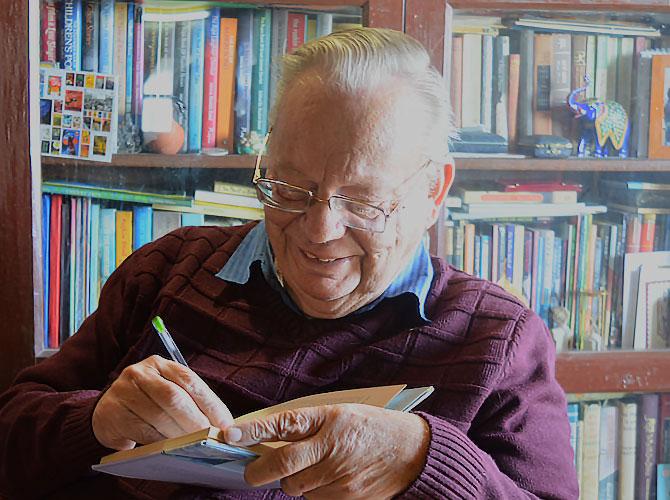 Ruskin Bond, the writer of over 130 books, at his home in Landour.
Photograph: Seema Pant/Rediff.com
It is not difficult to spot Ruskin Bond in Mussoorie or Landour.
The Writer's Bar at the Savoy Hotel on Mall Road has a wall dedicated to authors with a Mussoorie connection -- Ruskin Bond's name is right at the centre.
At the Cambridge Book Depot, the entire front section is devoted to his books. Every Saturday evening, Mr Bond comes here to sign books for tourists and fans who drop by.
"A few weeks back when I was sitting in the book shop signing, a young man asked me, 'So when did you do your MBA?' and I said, 'We never had such a thing as an MBA'," laughs Mr Bond.
With over 130 books, Ruskin Bond is one of India's most prolific writers -- if not the most prolific -- and has lived in Mussoorie and Dehradun for almost all his life.
'I had no ambition to be a great writer, or even a famous one, or even a rich one. All I wanted was to write,' he wrote in one of his earlier stories.
"Maybe they have to read me even if they don't want to because in school they might encounter my stories in some class or the other," says Mr Bond, a man endowed with endless good humour, who is currently working on his autobiography.
On a quiet winter morning, sitting in a cane chair, with old photographs from his childhood on a mantle behind him, he spoke to Archana Masih/Rediff.com about his loves, his regrets, and his weakness for hot buttered toast...
Part I of the interview: For the love of Ruskin Bond
You wrote about Meena and how your love for her sustained you. For the next 10 years you wrote love stories for her...
That was not only for Meena. There were other people too. I had a bad habit of falling in love with any girl who was nice to me ... (laughs).
So what is Ruskin Bond's eternal love?
I don't know. Maybe the family that has grown up around me.
When I was a boy, my father.
Some of my friends from my youth.
In The Room on the Roof I have written about a friend called Somi. I last saw him in 1955. A few days ago he came to see me, he is settled in America. It was a surprise, wonderful meeting. I have always sort of managed to keep up relationships where possible.
'I didn't expect to be as well known as I am today'
Do you have any regrets?
I let 2, 3 pretty girls escape (laughs).
I am sure they regret it too.
No, I wasn't much of a catch in those days.
I have no real regrets. I would have liked to have maybe more garden space. I like flowers. In my next life maybe I can be a gardener.
Does it happen to you that people you've written about say to you -- 'Ruskin, why did you write about me?'
They don't recognise themselves... (laughs). I don't think Meena must have known it was her because I changed the name.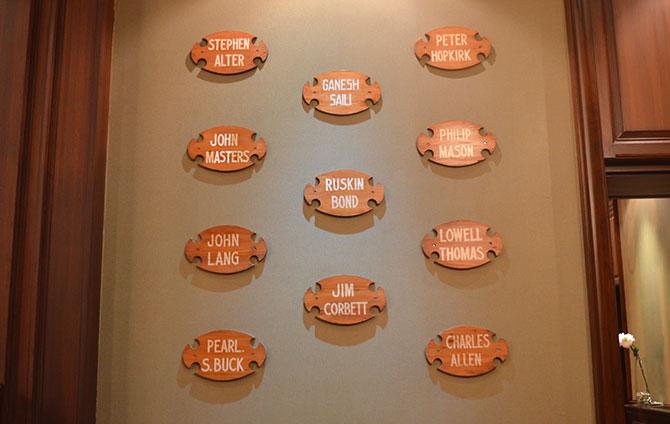 Image: The Writer's Bar at The Savoy Hotel in Mussoorie has a wall dedicated to Mussoorie writers.
Photograph: Seema Pant/Rediff.com
One of the interesting relationships in your books is the one you had with Bibiji.
Oh yes, she was quite a character. She was my stepfather's first wife. I stayed with her. We had this rather quaint relationship.
After my mother and stepfather left Dehradun, I stayed with Bibiji. She ran a provision store. I later met her, she went to live with her daughter in Delhi.
I always told her that I would write her story. She was always after me to get me married. With strange women, the ones I would run from... (laughs).
And she had no bitterness towards you because her husband had remarried your mother.
She had bitterness towards them, but not to me. She was quite fond of me. I stayed with her for two years in Dehradun, then lost touch with her.
When she came to Delhi to live with her daughter who was also then looking after my sister, I saw her. But she was blind then.
She used to be very physically strong and could pick up two sacks of aata (wheat) and run behind her son with a rolling pin.
We know so much of you through your stories, how much of you still remains unrevealed to the reader?
All will yet be revealed... (laughs). There is always something that everyone keeps back I guess.
Usually autobiographies are very unreliable. You need a biographer to come along 40, 50 years after you are gone to probe around and dig up things.
I was reading a recent autobiography Secret Lives of Somerset Maugham. Brilliantly done. I discovered he was such an unpleasant man. Sometimes the work doesn't always give you the correct picture of the private person.
Image: Landour is a quiet hill station known for the Woodstock School and, of course...Ruskin Bond.
Photograph: Archana Masih/Rediff.com
You wrote A Flight of Pigeons set against the Revolt of 1857. There hasn't been much fiction written against the backdrop of 1857, as opposed to say Partition. Why?
Of course, Partition is much closer. There are people who experienced it that are still alive.
Even when I was a boy, there wouldn't have been anyone alive with memories of 1857. Even my account though fictionalised was actually based on actual events that had occurred.
There were many accounts that were written, but not much written from the Indian side, a lot of it was the British viewpoint in history books too.
Now people are discovering old papers, personal accounts.
As for fiction, I think John Masters wrote a novel set in 1857, Nightrunners of Bengal.
'I had a bad habit of falling in love with any girl who was nice to me'
But you are right, not much fiction. Even writers like Foster and Kipling dealt with the later period. Kipling was born 8, 9 years after the Revolt and started writing in the 1880s. He did not write so much historical fiction.
The best novel about 1857 was On the Face of the Waters written by Flora Annie Steel. It was set in Delhi and she was sympathetic to both sides of the conflict.
I wrote sketches of unusual adventurers which appeared in the (The Illustrated) Weekly (of India) in the '60s and put them in a book called Strange Men, Strange Places. It is still around, but not very well known. They are factual accounts.
How much did Shashi Kapoor pay you for A Flight of Pigeons on which he made Junoon?
Rs 10,000. It was 1978 and I suppose it wasn't too bad.
I wasn't present at the shooting. Though the story is based in Shahjahanpur, they shot it outside Lucknow. I did meet some of the cast later on.
Have you met Geoffrey and Laura Kendal?
I saw them perform Shakespeare. At that time it was only Geoffrey Kendal, his wife and a young man Marcus Murch who died very young.
Shashi Kapoor had already left and Jennifer had, of course, married him.
They were only 3 of them and constantly changing roles. They did it very well.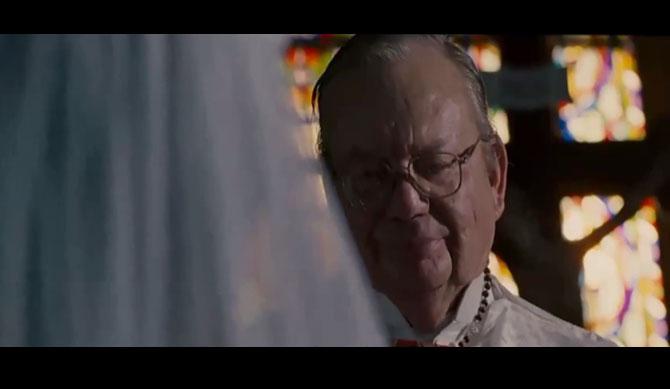 Image: Ruskin Bond played a cameo as a bishop in 7 Khoon Maaf, Vishal Bharadwaj's film, which is based on one of his stories.
How has your experience in Hindi cinema been?
The only experience I've had is in 7 Khoon Maaf (based on Ruskin Bond's story, Sussana's Seven Husbands).
I had to give Priyanka Chopra a fatherly peck on the cheek in a pub that was supposed to be Goa, but we did it in Pondicherry.
I was a little nervous about it. In the first attempt I knocked her glasses off. I had to do it again. After seven takes, Vishal said, 'Mr Bond I think you are doing this deliberately...' (laughs).
In 7 Khoon Maaf, I even worked on an initial screenplay which got changed quite a bit.
I have a good relationship with Vishal Bhardwaj. He has a flat in the next building and comes up from time to time.
Do you watch Hindi films?
Off and on. Sometimes I don't sit right through, that has happened even in some American films.
There is just so much violence, car chases, monsters, aliens... They use technology to create all these terrible things and it gets very boring.
I was a great movie goer when I was a boy.
Yes, there is that charming story that you gave away all your old records to a cinema owner in exchange for free movie shows?
Yes, that was in Dehradun. I had a free pass which lasted two years. I saw some great films.
Are you a wealthy writer?
I am comfortable. It was never always the case. In the '50s, '60s, '70s, the bank balance was pretty precarious.
Now I have many books constantly in print. Even if they are not bestsellers, they bring in something. Cumulatively, there is something always coming in.
A few books have done better than others. but still I can't stop writing. Partly because writing is in my blood. If I can't write, I might as well be dead.
But also I still need to earn money. That also keeps me going. I want to earn enough because I have so many other commitments too. There are people dependent on me, so I have to keep at it.
I like the thought that I am competing successfully with writers who are much younger than me.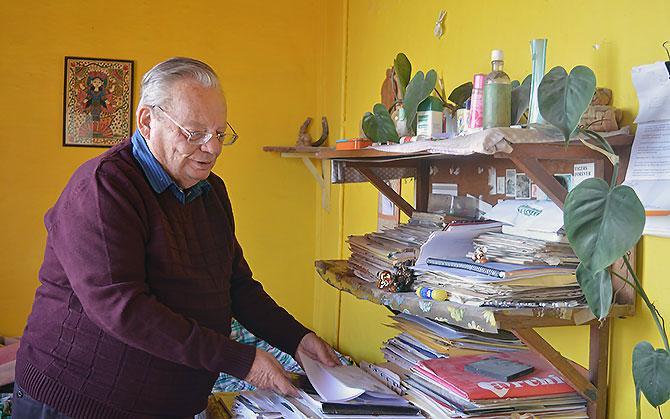 Image: Ruskin Bond has written scores of stories from this desk.
Photograph: Seema Pant/Rediff.com
You were awarded the Padma Bhushan last year and the Padma Shri some years before. Every Indian who reads English must have read at least one of your stories...
Maybe even if they don't want to... (laughs)because in school they might encounter them in some class or the other.
Do you think that a boy born to British parents, who chose to stay back, has got his due in India?
Oh yes, I've had more than my due.
I made a conscious choice to come back and make a life and living here. I didn't expect maybe to be as well known as I am today because things were very different in the '50s, '60s.
You didn't become famous as a writer until you had lived abroad or published abroad.
Here I am publishing in India, I did publish abroad in the early days, but now everything is published here and all my readership is here.
Considering the condition for writers in the '50, '60s, '70s, I didn't expect much more than what I'd achieved then. I have benefited in a way from the increase in education, publishing and the fact that more people are reading now.
Even when I was in school, book reading was a minority pastime and it is still a minority pastime but that small percentage in actual numbers is huge and it is constantly growing.
***
I am trying to recall that morning, over fifty years ago, when I saw my first novel in print...
My hands were not exactly trembling as I opened the magazine, but my heart was in my mouth as I flipped through the pages...
And there it was: The first installment of The Room on the Roof, that naïve, youthful novel on which I had toiled for a couple of years. It had lively, evocative illustrations by Mario, who wasn't much older than me. (The famous illustrator/cartoonist Mario Miranda). And a picture of the young author, looking gauche and gaunt and far from intellectual.
I waved the magazine in front of Mr Gupta. "My novel!" I told him. "In this and the next five issues!"
He wasn't too impressed. "Well, I hope circulation won't drop," he said. "And you should have sent a better photograph."
-- Excerpted from A Town Called Dehra
What are your memories of Independence?
In 1947, I was 12, 13. I was there when the Indian flag was put up on our playing field in my school in Shimla.
The following year, when I was the prefect, I raised the flag in my school.
So I think I raised the Indian flag long before many people who are alive were doing it. I was an English looking boy and it must have looked rather odd at that time... (laughs).
Did you see Gandhiji, Nehru and other leaders?
I was sitting in a cinema hall when Mahatma Gandhi was assassinated. After 10, 15 minutes, they stopped the show and the manager came and said sorry to inform you Mahatma Gandhi has been shot.
For one week there were no pictures, the nation was in mourning.
Nehru, I saw from time to time. I attended a couple of lectures he gave in the '60s. I interviewed Indira Gandhi in the early '70s. I met Padmaja Naidu, daughter of Sarojini Naidu, a very charming and interesting person.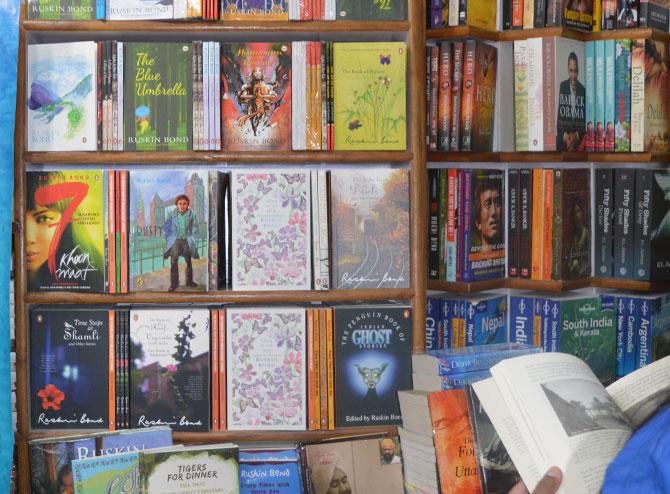 Image: The Cambridge Book Depot has shelves devoted to Ruskin Bond's books.
Photograph: Seema Pant/Rediff.com
From pre-Independence to now, you've seen India unfolding in front of your eyes, haven't you?
Yes, that's true and that too from the perspective of the hill top. Looking down at it all... (laughs).
Although, I've never really been into politics, I keep myself informed.
True, I've seen changes, when I went to school in 1951, there was no Chandigarh. I saw it being built. I've seen Delhi change dramatically since pre-Independence when I was a small boy with my father during World War II.
When I came to live here in 1964, 1965, there were three cars in town and one taxi in Mussoorie. Now there are 1,000 taxis and 1,000 private cars, but the surroundings are much the same.
You are an observer of people. What changes do you see in the people?
The middle class has expanded which was a small minority when I was a boy. It's grown in numbers and economic well being. There are also so many career opportunities.
When I finished school and came home and my mother asked me, 'What are you going to do with yourself, Ruskin?'
I said: 'I want to be a writer,' and she said, 'Don't be silly. Go and join the army...' (laughs).
Most of the boys were going into the army. If I had, I would have been another Beetle Bailey in the ranks... (laughs). The army was well off without me.
Did your siblings also make India their home?
Not really. My younger brother William left India in the early 1960s. He settled in Canada. My sister was invalidated from childhood, she was staying with my stepsister in Ludhiana who was looking after her.
She died a month back. So I don't have any blood relatives in India.
'I can't stop writing. Partly because writing is in my blood'
And your adopted family?
Rakesh and Bina. They have 3 kids. The girl is doing biotechnology in Bhubaneswar, one boy is in NIFT, Chennai, the younger one is still in school.
Rakesh has a brother who lives down the road and has two kids in school. They all come under the same umbrella. Their father has a small tea shop near the bypass.
What are some of your personal indulgences?
I like simple things... a nice hot buttered toast, maybe with some marmalade. Fish and chips.
I always look for a bookshop wherever I go.
Dehradun has a couple of bookshops. Mussoorie has one. I find the best bookshop is the railway bookshop. The Wheeler bookshops.