'I have been in the Dalit movement for 27 years, I have not heard of R N Kovind's views on the Dalit agenda.'
'He is a BJP man among Dalits, not a Dalit man in the BJP.'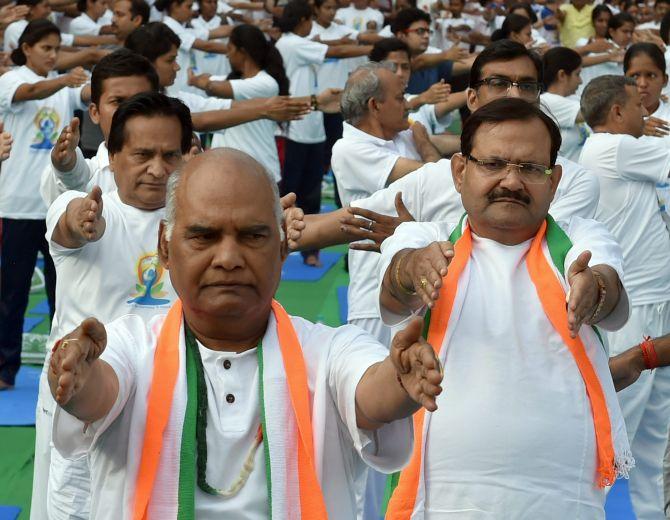 What does Ram Nath Kovind's selection as the National Democratic Alliance candidate for the Presidency mean to India's Dalits?
Rediff.com's Archana Masih spoke to Dalit thinker Chandrabhan Prasad to find out.
What do you think of Ram Nath Kovind's candidature for the Presidency?
The RSS (Rashtrriya Swayamsevak Sangh) will use Kovind's name to market Hindutva in the Dalit mind.
Till his name was announced, not many Dalits knew that he is a Dalit.
I have been in the Dalit movement for 27 years, I have not heard of his stand on Dalit issues or heard his views on the Dalit agenda or development.
He has no history of doing anything for the Dalits.
The limited number of people who know him say that he represents the BJP within a section of Dalits, not vice versa.
He is a BJP man in the community and not a Dalit man in the BJP.
We don't know his stand on Rohith Vemula, Una, Saharanpur -- on anything.
You may not have heard of him or his stand, but he could still come as a surprise for the Dalits for the better?
He has not done anything so far, so what can we expect after he becomes President?
K R Narayanan was an icon before he was nominated for the post. No one knew this man till yesterday (June 20).
You think this is just symbolism?
It is very poor symbolism.
But sometimes symbolism also serves a purpose. Don't you see this as a positive message to the Dalits?
No. The only message is that the RSS will use him as a poster boy of Hindutva.
He will say Vande Mataram and Bharat Mata Ki Jai.
This is no masterstroke by (Prime Minister Narendra) Modi or (Bharatiya Janata Party President Amit) Shah as it is made out to be.
What impact did Mr Narayanan's Presidency have on the Dalit cause?
Narayanan was an iconic figure before he became President.
He topped the University of Travancore in MA, English Literature. He went to the London School of Economics.
Harold Laski liked him and sent a letter of recommendation to Jawaharlal Nehru that this boy is an asset to you.
He was appointed in the foreign office.
After the Indo-China war there was a deadlock of 14 years with no diplomatic relations between the two countries and when relations were restored in 1976, Indira Gandhi chose K R Narayanan to represent India in Beijing.
When Indo-US relations were at their worst, he was recalled from retirement to represent India in Washington, DC.
After that he also served as vice-chancellor of JNU. He later joined the Congress party and won three elections.
He was a minister in Rajiv Gandhi's Cabinet. It was only after that that he became vice- president and President.
He was a known face of the Dalits and an inspiration to them.
What is Ram Nath Kovind's contribution?
He has been a two-time Rajya Sabha MP and governor of Bihar.
Make a comparison and see what is Kovind's contribution and what was Narayanan's.
Do you think the anger of Dalits as seen in UP can spread to other parts of the country?
There is a feeling in north India or perhaps the whole of India that the upper castes think it is their time to rule India.
They were de-franchised by caste coalitions -- they were thrown out of Parliament and state assemblies and now they have come to power.
Now that they have come to power, they are recalling their past.
They were masters of society in the past. Dalits who used to be begging at their doorsteps have gone out of their hands.
The Dalit youth is unprepared. He has not seen their parents crawling before landlords and hence the Dalit youth is hitting back immediately.
IMAGE: Ram Nath Kovind. the National Democratic Alliance's Presidential candidate, at an International Yoga Day event in New Delhi, June 21, 2017. Photograph: Atul Yadav/PTI Photo