'In Mecca and Medina, cow slaughter and eating of cow meat are not allowed.'
'I don't understand why some people want to portray Islam in a bad light.'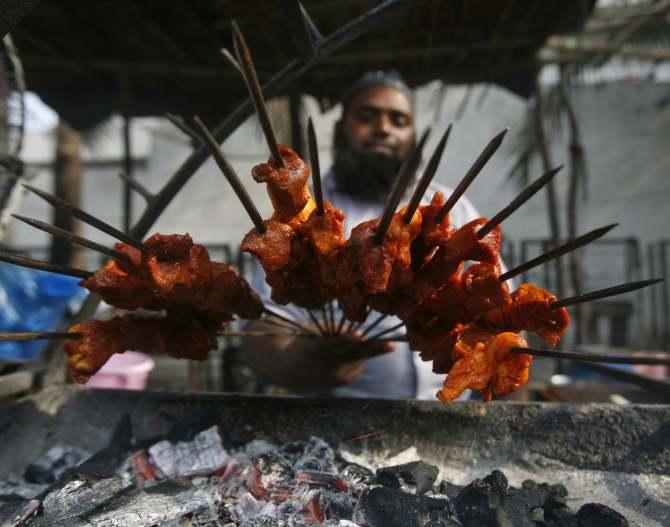 At an iftaar At the Jamia Millia Islamia University in Delhi, organised by the Muslim Rashtriya Manch, the Rashtriya Swayamsevak Sangh's Muslim wing, RSS leader Indresh Kumar said Muslims must give up eating gosht during Ramzan.
Kumar urged them to drink cow's milk and declared eating gosht a 'disease'.
His remarks led to protests with students holding another iftaar. Since gosht is commonly used in reference to goat meat, protestors said Kumar wanted Muslims to turn vegetarian.
Rediff.com's Syed Firdaus Ashraf spoke to Indresh Kumar, below, to get to the meat of the matter.
Why have you stated that Muslims must not eat gosht, or meat?
I have contacted 5,000 Muslim scholars. I have also read Cow and Islam. There is no mention of cow slaughter in the Quran or the Sura-e-Baqar, the biggest chapter in the Quran.
In India, we call the cow gai, and in Arabic it is called baqara or baqar.
The Surah-e-Baqar talks about various diseases, and in fact, the chapter takes the name of the cow (baqar).
Only Khuda (God) or Prophet Mohammed can say why the cow is called baqar.
We can only understand what it means and that too if we want to.
The holiest sites of Islam are Mecca and Medina where cow slaughter is not allowed and therefore selling gosht is prohibited.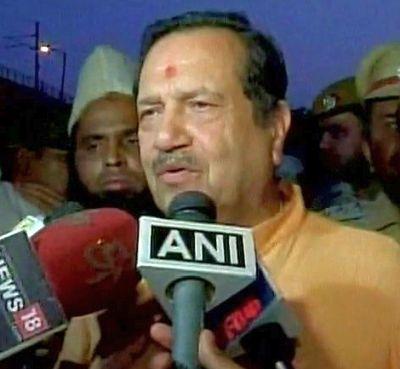 But Muslims slaughter goats during Bakri Eid in Saudi Arabia.
I am talking about cows.
My discussion at the Jamia was on gosht, which is cow meat.
It was not about goat meat, which is maas.
Don't mistake the goat with the cow.
The question here is about cow slaughter, and not goat slaughter.
But you used the word gosht. So was the media inference that gosht meant meat, and therefore a vegetarian iftaar, erroneous?
The interpretation was not wrong, it was intentional. It was mischief-mongering by the media.
Can you tell us which book in Islam prohibits the eating of cow meat?
The Quran.
I also said that in Mecca and Medina, cow slaughter and the eating of cow meat are banned -- you can ask any Haji (a person who has performed the Haj).
You will also not find any mention of any prophet -- whether Prophet Adam or Prophet Mohammed -- eating cow's meat or sacrificing a cow.
You can check the Hadith (the sayings of Prophet Mohammed) too, and you will find out that when he was served cow meat, he asked that it be taken away.
He said, 'Gosht bimari hai, doodh aur ghee shifa aur ilaaj hai (cow meat spreads illnesses, whereas milk and ghee are healthy and a cure for diseases).'
This particular Hadith is beautiful.
Let me clarify again. When you say gosht, are you referring to any kind of meat or only cow meat?
Be careful.
Gosht is cow meat and other kinds of meat (goat, quail and chicken etc) are called maas.
Has your statement been given a communal undertone because you are a RSS leader?
They tried, but couldn't succeed.
I have put forth this (gosht) theory before thousands of Muslims, not Hindus, at the Jamia Millia Islamia university and no one protested.
But there were protests...
You are wrong.
Outside the campus some people protested, but not within the campus.
There were Muslim professors and maulanas with me on stage.
Those who were protesting outside were Congress agents, and it was a political protest.
Has any Muslim said I was wrong?
I am quoting the Hadith and the Quran. No one objected to it, so who are these protesters?
Asaduddin Owaisi (Hyderabad MP and president, All India Majlis-e-Ittehadul Muslimeen) too said...
(Interrupts)... He said I am trying to teach them (Islam).
When you get angry, you cannot debate.
When you get angry, you become a hardcore fundamentalist.
Islam says any act done by a Muslim due to which his neighbour gets hurt should not be done.
Even in the Hadith, the Prophet said that even if a non-believer is your neighbour and you hurt him for no reason, then on Judgement Day he will stand by the non-believer to give him justice.
This is written in the holy books of Islam.
So when and how did cow meat become part of the diet of Muslims, if according to you their religion does not permit it?
You find that out, it's not my job.
Muslims must follow the path of the Prophet and I showed them the path (on the issue of cow meat).
No one has dared to say that I have wrongly quoted the Quran.
I don't understand why some people want to portray Islam in a bad light.
The problem arose because you used the word gosht, and therefore it takes on a very different meaning.
There is no change of meaning. I never used the word maas.
I only spoke about cow meat. I never spoke about goat or camel or chicken.
Do you believe secularism in India will be achieved if Muslims stop eating cow meat?
The question here is that people must know and follow their own religion.
Only if they do that will there be peace in the country.
I also said, 'Lakum di lakum wal yadeen.'
It means follow your own religion and do not interfere in other people's religion.
If you walk on this true path of the Quran, then there will be brotherhood.
I have addressed 12 lakh Muslims in the last 15 years.
Can you name any single leader in India beside me who unites Hindus and Muslims?
But when you speak of a vegetarian iftaar, it does become a problem, as you are interfering in people's food habits.
I spoke of gosht, but if some reporter wants to twist this fact, then only God can enlighten him.
Let anyone write anything against me, but Indian Muslims will not believe them.
After 70 years, Muslims are trying to come out of darkness, but there are people who do not want it.
Kindly note the photograph has been posted only for representational purposes.