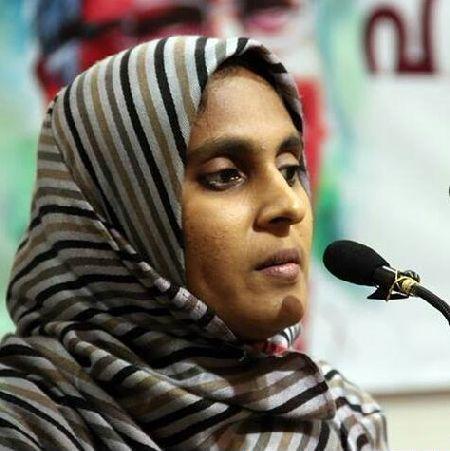 'Male domination is not coming down but women have started standing up and questioning the authority of men.'
'I was attacked in such a crude manner only because I am a woman. Had this been written by a man, he would not have been attacked like this.'
'If at all the fascists are using this as a stick to attack Islam, it is not because of my post but because of the intolerance of those who abused me in foul language.'
V P Rajeena, who created an online stir by claiming that a madrasa teacher had sexually abused her as a young girl, says what she wrote on her Facebook page is just a sample, more will follow.
When V P Rajeena, a sub-editor with the Madhyamam (Malayalam) online daily decided to write about how an ustad (teacher) misbehaved with young boys and girls, including herself, at a madrasa two decades ago, she knew a storm would be coming but what actually came was a hurricane of abuses and threats.
In this interview with Shobha Warrier/Rediff.com, Rajeena says why, as a Muslim women's activist, she had to write what she wrote.
What provoked you to write about what happened decades ago on your Facebook page? Did you feel a sense of fear because your daughter is growing up and we hear a lot of stories about children being molested?
Your question about the sense of fear I feel because my daughter is growing up, is very appropriate in today's context. Yes, that is an important aspect but that is not the only one.
I am one person who has been writing on issues related to women and Islam as a representative of a woman from this community. As one grows and as one gains experience as a journalist, one acquires a certain kind of maturity to say certain truths.
Then, women belonging to the Muslim community are getting themselves educated and going out to work unlike in the past. In the process, they have become independent in all respects. You should understand that Muslim women have always been kept behind the shadows of religion and priesthood. When this kind of change is happening, especially in the Malabar area, it has made women speak and debate about their freedom.
You mean male domination is coming down because of the financial independence Muslim women enjoy now?
No, male domination is not coming down but women have started standing up and questioning the authority of men. I do not know how much this is there in other communities but I can say for sure that male domination exists quite strongly in the Muslim community.
Male domination exists in all walks of life in our society whether it is political, social or otherwise. Let me give you an example. After what I wrote on my Facebook wall, many men complained and my account was blocked. If you look back, you will see that this has happened to many women all over the world who dared take on the domination of men. We have seen instances of many women getting attacked, abused in foul language and their Facebook accounts blocked.
I strongly believe that I was attacked in such a crude manner only because I am a woman. Had this been written by a man, I am sure he would not have been verbally attacked like this.
What happened to me is not an isolated incident; women, especially Muslim women, face this all the time. In my case, I have to face the wrath of the priesthood too.
Let me add something. In Islam, there are no priests; there are no intermediaries between man and God. That is what the Quran says. Anybody who has studied the Quran and the preaching of Mohammed Nabi, would not be able to accept priesthood. Religious leaders are forcing their ideas and opinions on the lives of people today. While Islam as a religion has given so much freedom to women, the religious leaders are trying to suppress women.
When you wrote about issues concerning Muslim women's freedom, how did the community and religious leaders react?
It was not as fierce or abusive at that time, though they disagreed with me but in a civilised way. This time, what I wrote was personal and they couldn't tolerate this at all.
The religious leaders over here are scared of the awareness Muslim women have achieved now. More than gender equality, what Islam talks about is gender justice. But gender equality is looked at as an extension of liberalism by these people. Gender justice is a beautiful concept, much more than gender equality and in it, both men and women complement each other. Women are more than equal in such a situation and Islam gives a lot more rights to women. And above everything, Muslim men are bound to give her all these rights.
As we just started a debate on these issues, some religious leaders came out with statements on gender equality. They were of the opinion that society should be careful about gender equality as it could lead to anarchy.
What they are scared of is not gender equality but gender justice and they are scared of gender justice because Muslim women are talking about it. In order to stop the debates on gender justice, they used the term gender equality so that they could shut all us up.
It is against this background that I was forced to write what happened at the madrasa I went to as a child.
You mean, you wanted to say both boys and girls did not get justice there at the madrasa, a religious school?
Exactly. When they said gender equality would lead to anarchy in society, I wanted to tell them that there was anarchy earlier also, when we were children. That's why I chose to expose what happened at the madrasa.
I wanted to tell them that if they were scared of today's anarchism, they had to be aware of the anarchism that was there then too. You see not only anarchism but immorality also in what happened to us children. In my opinion, they have to address both anarchism and immorality.
So, it was not the unhealed wound that forced you to open up now?
Yes, the wound was there but I didn't have the maturity to talk about it openly. That was because I was frightened of the aftermath. You saw what happened now. In a way, they gave me the opportunity to talk about it now.
What was reflected in my post was a suppressed anger that was within me because of what we, women, face inside the Muslim community. When we don't have a platform to express our concerns, it is but natural that there will be anger within us.
You expressed everything quite explicitly… Was it to shock people?
Yes, because I feel that it has to be addressed by our society. If they looked at the issue positively, this is an opportunity to set right a wrong. They should understand that I didn't talk in general about all madrasas; I was referring to the particular one I had gone to as a child. Even though they describe it as an isolated incident, from the messages I am getting, I understand that this is happening in many places.
Did you not expect this kind of aggressive reaction?
To tell you frankly, I did not expect this kind of aggression from men. What happened on my Facebook page went beyond the boundaries of decency. It only shows what I wrote angered them.
Their argument is that I gave an opportunity to the fascists to hit us back. I had no such intention. If at all the fascists are using this as a stick to attack Islam, it is not because of my post but because of the intolerance of those who abused me in the most foul language.
I also have to say, if 50 per cent of the people abused me, the other 50 per cent supported me too and they are representatives of Islam, and my hope lies with them. I am an independent Muslim woman and I don't belong to any organisation.
By fascists, do you mean Hindu fascists?
Yes, Hindu fascists. They say that when the country is debating intolerance, I gave the fascists an opportunity to say that there was intolerance inside the community too.
How much of support did you get from your husband?
A lot. He is my strength and my biggest support system. Saifuddin is also a journalist with Madhyamam daily and understands the condition of Muslim women in society.
You have a young daughter. How worried are you for her?
I am very worried. Though she is only nine, I have spoken to her about what she has to be careful about, about safe sex and unsafe sex. I have also told her to let me know if somebody misbehaves with her.
I think most mothers tell this to their young daughters these days. Today, a girl has to be alert not only in madrasas, but in schools and public places too.
As a representative of the women of your community, would you be writing more on such issues?
Definitely. I consider it my prime responsibility to expose and bring forth the problems women in our community face.
What I wrote on my Facebook page was just a continuation of what I have been doing earlier. But let me tell all those who attacked me, what they saw was just a sample, more will follow in the coming days. I have a lot more to say on so many other incidents and the problems we, women, face in our community. My fight is against the priesthood that is there in Islam, and I want Muslim women to get all the rights that is due to them.
Image courtesy: V P Rageena/Facebook.