'The Rajputs feel they are being left behind.'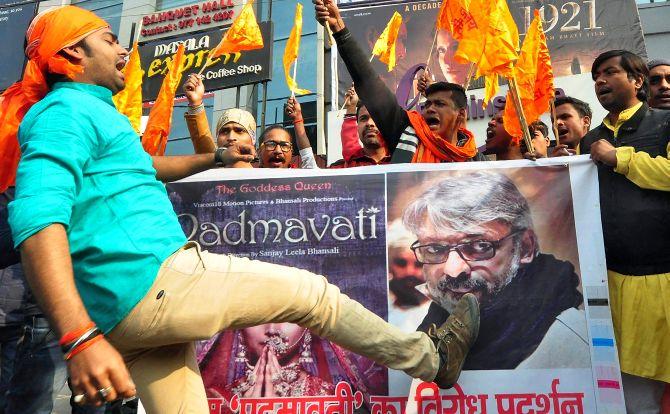 IMAGE: Protesters outside a cinema hall in Bihar after the release of Padmaavat. Photograph: PTI Photo
Across North India and Gujarat, Karni Sena members have burnt vehicles, pelted stones and vandalised public property.
All to protest the release of a film.
The group believe Sanjay Leela Bhansali's Padmaavat hurts the sentiments of Rajputs by its portrayal of Rani Padmavati.
Dr Rajkumari Ahir, a sociologist from Udaipur, tells Rediff.com's Syed Firdaus Ashraf that there is more to these protests than meets the eye, elaborating that the violent agitation is an expression of Rajputs who feel left out in society.
As a sociologist, how do you view the anger of Rajputs about Padmaavat?
The anger you see on the streets as far as Padmaavat is concerned is to show their unity.
The Rajputs feel they are being left behind compared to other communities.
They are trying to rebrand their political image, trying to regroup themselves and become stronger.
What is the role of the Rajput community in Rajasthani society? Are they still the dominant caste in the state?
Fifty years ago they were the dominant caste. As of today, they are no longer the dominant caste.
In Rajasthan, they were politically, socially and economically very dominant. Now they are struggling in those areas.
Moreover, they are reforming their society on their own. Through this agitation (against Padmaavat) they have come together. They have a feeling that they have to stand united.
What is the reason for the downslide of the Rajput community in recent years?
The educational levels of other castes have increased.
Earlier, in government service, the Rajput castes were dominant, but OBCs (Other Backward Classes) and other castes through reservation have climbed up the social ladder.
Therefore, the Rajput community is feeling left out and not so developed compared to the other castes.
Which castes are now dominant in Rajasthan?
Jats, Yadavs and Gurjars have become more dominant in Rajasthan.
Gurjars, in fact, struggled hard for reservations and the state government gave into their demand, but they have not got reservations yet because of the limit set (by the Supreme Court).
These castes are doing well in government jobs and also doing well economically.
I believe one of the reasons why the Rajputs are upset is that they have not been able to produce a leader in Rajasthan like Bhairon Singh Shekhawat.
I read an article that said Chief Minister Vasundhara Raje is not a Rajput.
Vasundhara Raje is a Rajput, but she is married to a Jat Raja.
She is from Madhya Pradesh and not Rajasthan.
Which are the dominant castes in Rajasthan's politics today?
The Rajput community is strong at this moment, but SCs (scheduled castes) and OBCs are gaining ground and they are increasing their numbers.
Would you say the situation of the Rajputs in Rajasthan is similar to that of the Patels in Gujarat?
Yes, the Rajputs are experiencing the same kind of anger that the Patels felt.
When a caste improves their situation economically and financially through reservations, it is obvious that other communities will feel slighted.
The caste which was dominant feels that they are losing power and that power is being taken over by other castes.
Rajputs feel that their rights are being snatched.
We have always seen Rajputs as zamindars, the powerful caste in Rajasthan. What is the situation now?
That used to be the case once upon a time.
But as the population increased, the land of the Rajputs got divided among families. Their land size has shrunk.
Rajputs are no longer the big zamindars as they once used to be. Their position economically has weakened in Rajasthan.
Do you feel the Karni Sena's anger is related to the factors which you mentioned?
It is, to a certain extent.
Rajputs feel that their pride must not be hurt. Somewhere they are also reforming their community within by showing unity.
They are also showing their political unity as Indian politics is divided by castes.
What is the population of the Rajputs in Rajasthan?
Compared to other states, Rajputs are in big numbers.
There are many assembly seats which are directly affected by their voting pattern.
Have they demanded reservations like the Patels?
Yes. They have demanded that there must be economic reservations.
This issue is sometimes highlighted (by them) and other communities.