'These kinds of tunnels are not meant for the Himalayas.'
'Development should be good for all people and not where you make a tunnel and 40 people get trapped.'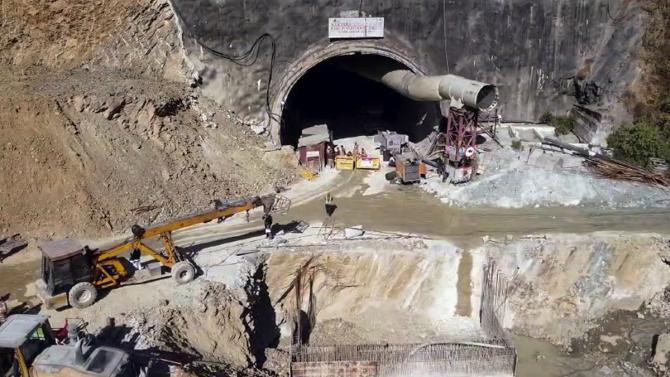 Five days and there is no sign of the 40 men trapped in the Silkyara tunnel in Uttarakhand.
The construction of this tunnel was expected to reduce the journey from Uttarkashi to Yamunotri Dham by 26 km.
The tunnel is being constructed under the Char Dham all-weather road project and there was only 400 metres more to be drilled when the tragedy took place.
Uttarakhand Chief Minister Pushkar Singh Dhami told reporters on Thursday afternoon that the rescue effort was going on at a good speed and he was hoping that soon all the trapped workers will be rescued.
But what led to this disaster? Was it a practical idea to build tunnels in the Uttarkashi region which has a fragile ecosystem?
Syed Firdaus Ashraf/Rediff.com spoke to environmentalist and water conservationist Rajendra Singh, winner of the Magsaysay Award in 2001, to know what kind of ecological disaster awaits the nation with the construction of more and more tunnels in Uttarakhand.
What in your opinion is the reason for this tunnel accident in Uttarakhand?
The Himalayas are in an eco sensitive fragile zone. When you bring in heavy machinery to construct anything in the name of vikas (development) it is nothing but vinash (destruction).
It is just called vikas by name, but the real name is vinash.
Moreover, one has to understand that the Himalayas is a holy place of our religion and you (the government) in the name of development first started making tunnels for the Ganga at Loharinag Pala for which we did an aandolan (struggle) and brought that work to a halt in 2008.
Later, due to our agitation, work was also stopped at Pala Maneri and Bhairo Ghati.
And the incidents that are happening today, we did agitation for that too.
Professor G D Agarwal fasted for 111 days and had to pay with his life for this cause in 2018.
We have been protesting from our side, but now the government wants to make an all-weather tunnel and if not that, rail tunnels which too have witnessed dangerous accidents at times.
These kinds of tunnels are not meant for the Himalayas.
Don't we need tunnels for better connectivity and development?
You've got to understand firstly what is the meaning of development.
I was a kid and so were you and we both got developed as adults. This happened because nature helped us to grow as adults.
Had we been given special injections for our growth it would not have been good for our health or the way we have grown up as individuals.
They are extracting mountains and crossing the threshold limit in order to extract the Himalayas. And if they keep doing it, the Himalayan ecosystem will not sustain.
We can only call development of a place when there is no destruction of that place. They are not doing development, but doing displacement of people and mountains.
How do tourists travel in Uttarakhand? Don't we need good roads?
Yes, you need good roads, but for that you need respect and love for mountains. You cannot have the destructive mind to control the world and pollute it as humans.
It is only man who is an encroacher of nature which is meant for every creature on this Earth.
It is human greed that is destroying mountains.
The Himalayas are not for humans alone but for entire nature.
Now, if you do not love or respect nature, but want to loot and enjoy, then this cannot continue forever.
The destruction of Joshimath happened due to the construction of tunnels and the same thing is happening here.
If we keep on doing development in the name of greed, mankind will become extinct one day.
We need development without displacement, destruction and disaster.
We have to redefine development and if we do not, greedy human beings will be a threat to all mankind.
How many tunnels are dangerously made in Uttarakhand?
I personally know 9 to 10 tunnels in Uttarakhand that are dangerously made.
I do not have details of all the tunnels of Uttarakhand, though.
The dams made near the Alaknanda and Bhagirithi rivers have tunnels, you then have many tunnels that are made for roads.
In total I think they have constructed 250 to 300 tunnels over all. They all are in eco sensitive regions and dangerous.
Ideally, how many tunnels should have been made without disturbing the eco sensitivity of the region?
In my opinion, there should not have constructed a single tunnel.
The Himalayas are not made for tunnels.
If an insect or virus is found on our body then he too survives and we too survive, but when the same virus or insect enters our body through the mouth then it will be difficult for us to survive. And if the virus enters our lungs, then it kills us, like it did during the Covid pandemic.
In the same way, humans are a virus on the body of the Himalayas due to which both Himalayas and man will survive. But when you start digging the Himalayas for tunnels, then obviously it will not survive and so won't you.
But tunnels are made to cut short the time for humans.
Yes, I do agree it is made to cut short your time. But then let me ask you, why are you in a hurry while visiting the Himalayas?
Modern human being is in a hurry, worry and eating curry. If you do these three things, then you are obviously going to fall sick. Therefore, neither is the Himalayas healthy nor are the people staying in the Himalayas.
If you respect the contours of the Himalayas and make roads on the contours, then it will be good. But when you live in corporate-driven democracy, then it works only for the corporate sector.
When you make tunnels no poor man gets work, it is only corporates that get work because they bring in huge machinery.
Corporate-driven democracy can only bring such heavy machinery solutions to the Himalayas where nature's existence does not matter.
Have we woken up too late? Don't governments listen to you?
Nobody listens to people like us.
When we speak we are given the label that we are in opposition to development.
The definition of development should be that it is good for all people and not where you make a tunnel and 40 people get trapped.
This is not vikas, but vinash.