'The pandemic had a significant impact on child trafficking.'
'With economic hardships, traffickers exploited the situation to target desperate parents and children.'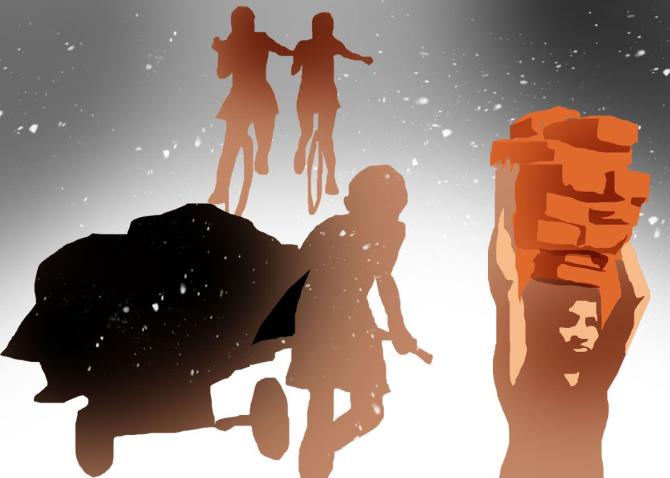 A report -- Child Trafficking in India: Analysis from Situational Data Analysis And The Need For Tech-driven Intervention Strategies -- has been published about child trafficking in India by Games24/7 and the Kailash Satyarthi Children's Foundation.
"Millions of missing children may have been trafficked and ended up in forced labour or sex work," Rear Admiral Rahul Kumar Shrawat AVSM (retd) -- managing director, Kailash Satyarthi Children's Foundation -- tells Rediff.com's A Ganesh Nadar in an e-mail interview.
The report, released by Games24x7 and the Kailash Satyarthi Children's Foundation, states the most number of trafficked children show up in Jaipur district. Why is that?
What is the connection with Jaipur?
Conversely, why did fewer children show up in other states or districts? And why the sudden surge in Karnataka?
The entire report is a projection of trends and patterns of victims rescued from child trafficking.
The numbers that are presented are an indicator of the trend and should not be looked at as absolute figures.
The main purpose of this report is to help give clarity on which are the vulnerable sections and about various sectors where child labourers are employed.
The results, as reflected in the research, can help governments and law enforcement agencies in formulating better strategies and understanding when dealing with such cases.
The report is also a landmark initiative that aims to use technology for elimination of child trafficking.
The insights derived from the analysis such as in this report can equip the authorities to be well informed on a real-time basis.
What are the factors that aid child trafficking interventions?
In the last decade, central government as well as state governments along with law enforcement agencies have taken stringent actions and initiatives to contain child trafficking.
Actions against trafficking from all quarters have increased and therefore a collective will to fight the menace has emerged.
For instance, while railways have always been the primary mode of commute for child trafficking, with the Railway Protection Force getting extremely prompt and vigilant in detecting and nabbing traffickers on trains, the number of children rescued is higher than ever before.
Our sister organisation Bachpan Bachao Andolan signed an MOU with the RPF last year to prevent child trafficking in the country.
There is a definite increase in action against child trafficking which reflect in the higher number of reported cases.
But what we need now is a comprehensive law on trafficking to completely eradicate child trafficking from our country.
How did your organisation get involved with the prevention of child trafficking?
We have been working towards the issue of trafficking since four decades.
The first ever rescue of Sabo, a 15-year-old girl who was to be sold into prostitution (along with 34 other bonded labourers working in a brick kiln in Sirhind, Punjab which included the parents of Sabo) was the first instance of trafficking for forced labour in the modern history.
The operation was led by Kailash Satyarthiji after Sabo's father Wasal Khan asked him to save his daughter.
After these many incidents of trafficking came into light and in the early 1990s thousands of trafficked children working in the carpet industry in Mirzapur were rescued and the rug industry became child labour free eventually.
In fact, trafficking was defined in India for the first time in 2011 in a case filed by Bachpan Bachao Andolan in the honourable Supreme Court of India (BBA vs Union of India WP (C) 51 of 2006).
Thereafter, India ratified the Optional Protocol to Prevent, Suppress and Punish Trafficking in Persons, Especially Women and Children supplementing the United Nations Convention against Transnational Organised Crime in May 2011.
Not only this, in 2013, the definition of trafficking was included in the Justice Verma Committee Report through the recommendation of BBA.
Lately, we organised a nationwide march -- the Bharat Yatra -- in September 2017 to push for the expeditious passing of the Anti-Trafficking bill and we continue to work with the Government of India and other agencies to support the speedy passage of the Bill.
In your organisation's years of working to prevent child trafficking, what was the most poignant case you heard about?
Our organisation has been in the forefront in dealing child trafficking cases since four decades.
But one of the most important case remain the rescue operation that was undertaken in the circus industry.
Our founder Kailash Satyarthi with other activists in the organisation were brutally attacked during a raid in the Gonda district of Uttar Pradesh while rescuing trafficked Nepalese girls from a circus.
It was for the first time that the circus industry was looked beyond an entertainment industry and issues related to trafficking were prioritised accordingly.
After a lot of struggle, subsequently in the case before the Supreme Court, trafficking was defined in 2011 leading to changes in law and policy.
Why does the report say that 'the damaging impact the pandemic had on the trafficking situation in the country'? Why is that so?
The pandemic had a significant impact on child trafficking. Most of the people lost their jobs and small businesses closure led traffickers to adopt new methods to lure vulnerable families.
With economic hardships, traffickers exploited the situation to target desperate parents and children.
The small businesses were hit severely and to cover up the costs, they started employing children as they were the cheapest labour available.
It was seen that many parents, who lost their jobs, took loans from money lenders to survive the lockdown.
Due to the economic distress, they too became vulnerable and easy prey for child labour traffickers.
What kind of conditions are these children found in when rescued?
The children have been subjected to incredibly challenging circumstances, toiling for as long as 16 hours a day, mainly in automobile, garment and hotel sector.
These severe conditions often deny them wages and proper nutrition, leading to health care issues too.
Apart from this, the mental health condition of the children was also effected.
It takes years for children to move out of the trauma and even rehabilitation eventually becomes a challenge.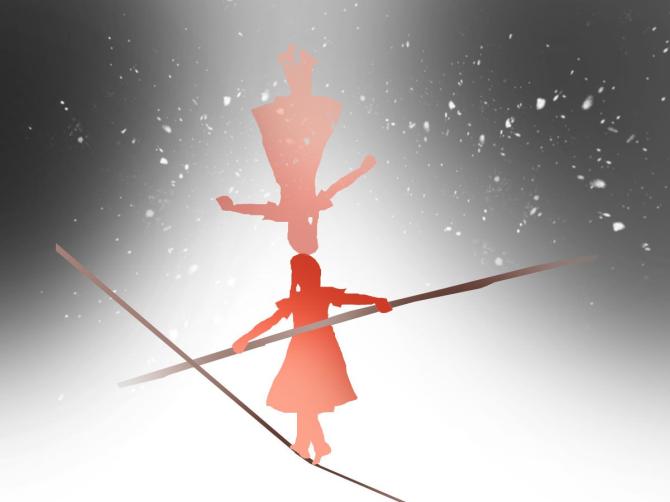 Is the child trafficking report, released by your foundation, based on police records only? Might there be much more trafficking, which is not reported?
As I mentioned above, the numbers that are presented are an indicator of the trend and should not be looked at as absolute figures.
However, these numbers represent the action taken by different state governments and law enforcement agencies only.
Human trafficking is an organised crime involving the illegal trade of people for exploitation and it is true that many cases go un-reported.
In India, a child goes missing every eight minutes.
Millions of missing children may have been trafficked and ended up in forced labour or sex work.
India is a country of source, transit as well as destination for child trafficking and there are chances of cases not getting reported.
Although in the last few years the reporting has increased and this is a positive step towards combatting child trafficking but agencies need to be more vigilant and effective.
After these children are rescued, what happens to them?
Rescued children are brought to governmental and non-governmental shelter homes with the order of Child Welfare Committees (CWCs).
They are repatriated to their native states and attached to various rehabilitation programmes so that they are not further trafficked.
Is poverty the only reason for trafficking or are there other factors?
While poverty is an important reason for child trafficking, there are many factors which contribute to the menace.
For example, the Right to Education is a great act of our country and if properly implemented, children will be studying in schools instead of doing labour in factories and/or other places.
Apart from this, we have the best of social welfare schemes by the central as well as state governments and it is important that their benefits reach the families.
By linking these schemes to the rural families, we can help them become self-sufficient and reduce the economic pressures that force children into labor.
These schemes can further empower families to invest in education, leading to a brighter future for both children and the community as a whole.
Also much recently, the rise of the Internet has facilitated the online exploitation of children.
Children are falling prey to predators and online child safety has become one of the biggest threats.
Aren't the current kidnapping laws enough? Why is a separate law for anti-trafficking required?
Human Trafficking is a global issue and an organised crime. It needs to be dealt with a comprehensive law.
India doesn't have any specific law that comprehensively and holistically deals with trafficking including special care for the social reintegration and rehabilitation of victims.
The country needs legislations to banish the scourge of this organised crime all together, where there are many levels of perpetrators.
Traffickers consistently change their modus operandi and therefore only a comprehensive law can be effective.
Is there a mechanism to keep track of rescued children to make sure they don't get trafficked again?
The social, economic, educational and mental health rehabilitation is the only way that will ensure that children will not get trafficked again.
The sensitisation of parents as well as communities is an important aspect.
It is imperative that child gets a conducive social environment.
The concerned district administration through CWCs need to ensure that every rescued child receives all benefits, rehabilitation packages and statutory compensation in accordance with government rules and regulations.
On our part, we also have a system of remaining in touch with the child (and parents) and we work with government authorities to ensure his / her rehabilitation.
Feature Presentation: Aslam Hunani/Rediff.com