'Probably only Sonia-ji knows the extent of what he is doing.'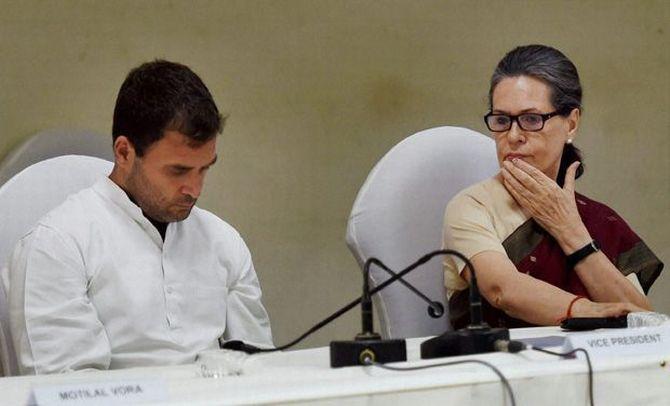 IMAGE: Congress Vice-President Rahul Gandhi with his mother, party President Sonia Gandhi.
In the 1990s, Nagma was the reigning queen of the South Indian film industry. She has acted in films in nine languages and co-starred with superstars Amitabh Bachchan, Mamooty, Chiranjeevi and Rajinikanth.
Films then gave way to spirituality.
Nagma joined the Art of Living foundation, followed by evangelist Mohan Lazarus' Jesus Redeems church.
In 2003, she joined the Indian National Congress and was a member of the All India Congress Committee for three terms. She contested the Lok Sabha election from Uttar Pradesh in 2016. but lost.
Nagma is now a Mahila Congress general secretary, handling Bihar, Tamil Nadu and Puducherry.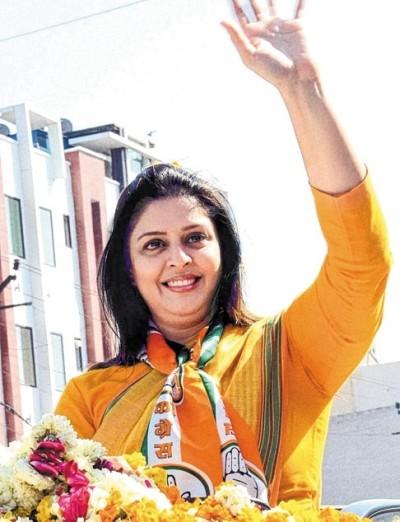 This responsibility brings Nagma, left, frequently to Chennai where she recently spoke to Rediff.com's A Ganesh Nadar at her brother-in-law Tamil superstar Suriya's home.
Where does the Congress go from here? Your party has hit a very difficult patch.
We may not have gained seats in the recent assembly elections, but our vote share has gone up.
In Delhi (civic polls), it is 21 per cent, where earlier it was just 9 per cent.
We won Punjab and did well in Goa and Manipur.
You saw how they (the Bharatiya Janata Party) manipulated the mandate in Uttarakhand and Arunachal Pradesh. They are now manipulating Tamil Nadu (politics) without having a single MLA.
In Tamil Nadu we had five MLAs earlier, and now we have nine.
It is wrong to say we are falling back; we are, in fact, moving ahead. But we are not doing as well as we want to.
The Congress had announced Sheila Dikshit as its chief ministerial candidate in Uttar Pradesh. In Rajasthan and Madhya Pradesh, sometimes it allows Sachin Pilot and Jyotiraditya Scindia to sit in the driver's seat. Doesn't all this reflect a confused mindset?
There is no confusion. Obviously, the younger generation has to populate the party more as compared to seniors, especially in leadership roles.
More than 70 per cent of the country is young and we have many young leaders too. There's Jyotiraditya Scindia, Sachin Pilot, Jitin (Prasada) and Milind Deora.
Many Congress leaders frequently criticise Rahul Gandhi, your party vice-president.
We take criticism in our stride and work towards betterment.
Obviously, this is a democratic party and we believe in allowing people to air their views as long as it is in the party forum and without vested interests.
We get the impression that Rahul Gandhi is a reluctant politician.
Since Rajiv Gandhi's death the party has suffered. Rahul-ji's entire attention has been to build the organisation.
We don't have the kind of cadre that the RSS (Rashtriya Swayamsevak Sangh) gives the BJP. We had it earlier, but then a kind of complacency had set in.
He (Rahul) is trying to get the organisation in shape to attract a young cadre.
People are not happy with this because they have to get out of their comfort zone and start working again.
Sonia-ji was a people's person, she used to meet everybody.
Rahul-ji is doing a lot more than what people know. Probably only Sonia-ji knows the extent of what he is doing.
It is not an easy job. You have to work with different kinds of people and everyone has their own mindset.
Disruptions, uprooting people, re-routing people, it's not that easy a job.
The BJP has been inaugurating all the projects that we initiated -- like the Kashmir tunnel.
The BJP has a much better marketing team than the Congress.
So what? See what is happening in the country.
There is talk about cows and anti-Romeo squads. There is no freedom of speech.
Let us talk about Tamil Nadu. See what is happening with the farmers. See what is happening in the AIADMK.
Again, the BJP is trying to get a backdoor entry into power.
Why doesn't the Congress act?
Why should we? We are not going to interfere in the internal matters of another party.
We are interested in the welfare of the people of Tamil Nadu and not with the factions in the AIADMK.
Just because the BJP is supporting one faction does not mean we will support the other. We don't interfere in the affairs of other parties.
See what happened in Goa and Manipur? Are you blind to what the BJP is doing?
We need to know the amount of money involved and the perpetrators need to be punished.
The BJP doesn't have any presence in Tamil Nadu, so what we have are regular raids on the people in power.
They want governor's rule there. They are pushing their agenda through the governor.
(Former Tamil Nadu chief minister) O Panneerselvam is a Narendra Modi man from the very beginning.
We don't do such things.
Aren't you being holier-than-thou?
It is a question of ethics. If there are no morals and ethics, if everything is manipulated and manoeuvred, where is democracy?
Politicians invest money to win elections and then recoup it when they are in power....
So if one party is doing that, should other parties follow? Is that what you are saying?
Somebody has to say, 'Enough!' One party alone cannot do it. We all need to get together to stop money power in elections.
The BJP issues ordinances at will. They bulldoze their way into what they want. They are not even interested in what members of Parliament want.
They say, 'Link the Aadhar card to mid-day meals.' That is cruel! You are depriving poor children of food.
Look what they are doing in Kashmir. What have they done to control the drug menace in Punjab?
Look at what the UP CM (Yogi Adityanath) is doing. He said all farmers' loans up to Rs 1 lakh will be written off by banks.
How many farmers borrow from banks? Most borrow from private money lenders. What about them?
The UPA (United Progressive Alliance) had written off farm loans to the tune of Rs 72,000 crore, why can't the NDA government do the same?
They know this (crops fail) regularly because of drought. Why don't they plan ahead?
Instead of helping farmers who are the backbone of the economy, Narendra Modi has been trying to take away their land with the Land Acquisition Act.
It was the Congress, led by Rahul Gandhi, which stopped him.
NREGA (the Mahatma Gandhi National Rural Employment Guarantee Act) was started by us and it is best implemented in Tamil Nadu.
Tell me one policy that Mr Narendra Modi has begun that has benefited people.
MORE INTERESTING features in the RELATED LINKS BELOW...