'Now is the time for India, our biggest neighbour and oldest friend, to bring the full array of international policy instruments to bear.'
Ahmed Naseem, the exiled former foreign minister of the Maldives, tells Rediff.com contributor Rajeev Sharma why it is important that India take the lead in addressing the unrest in his country.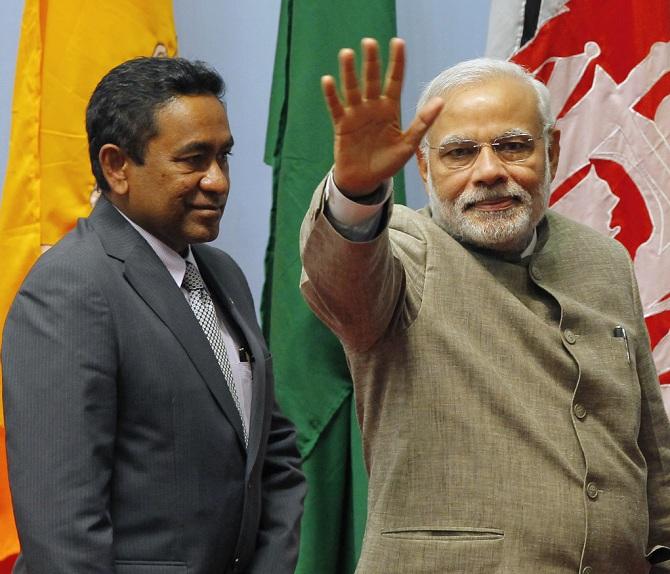 IMAGE: Prime Minister Narendra Modi, right, with Maldives President Abdulla Yameen at the SAARC Summit in 2014.
Ahmed Naseem of the ousted MDP says, "It is time for India to spearhead the international community to discourage the regime in Maldives (from engaging in unconstitutional acts)."
Photograph: Niranjan Shrestha/Reuters
The Maldives is at a turning point and the direction it chooses to turn in will be of tremendous importance to India.
In the concluding part of his interview with Rediff.com, former Maldivian foreign minister Ahmed Naseem (pictured below) -- a close aide of exiled former president Mohammed Nasheed -- acknowledges India's efforts in his country, but suggests that New Delhi needs to do more and in double quick time.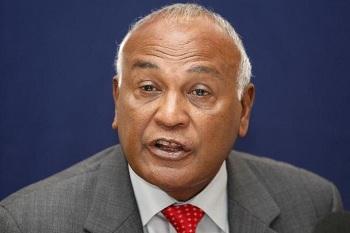 Your party, the Maldivian Democratic Party, has been bemoaning the lack of Indian proactivism in Maldives. But why should you blame the international community when it is your fight, your battle?
Ascertaining through being engaged and informed that a country keeps to international and bilateral treaty obligations is not tantamount to meddling in internal matters of that neighbour.
In fact, the present regime in power in the Maldives has been serially violating international treaty obligations as well as its own constitution and laws.
We look up to India for leadership in matters that involve the security of the region.
I also believe that a large and longtime friend like India would have proportionate institutionalised methods of engagement, which would be active even now.
I do not doubt India's intelligence and monitoring capabilities, and hence I am confident that India is cognisant of the situation in the Maldives.
What according to you has India not done -- and should have done -- for the Maldives?
We have heard much voicing of concern from India as well as the international community, but some of us may point to a lack of information or statements of a foreign engagement on a progressive result oriented time-frame.
It is a widely held belief that India, as the largest country in the region, should take the lead, and with the support of other neighbours apply more pressure on concerned Maldives institutions to respect recommendations of agencies of the United Nations.
These include the findings of the UN Working Group on Arbitrary Detention, to release former president Mohamed Nasheed and former defence minister Colonel Mohamed Nazim and facilitate compensation for them.
Are you saying that India has done precious little?
I believe India is already active through a number of channels, albeit unpublicised, to prevail upon the Maldives government to respect international treaty expectations, and adhere to its own constitution and laws.
How does the situation in the Maldives impact India, according to you?
The growing influence of the strict Wahhabi interpretation of Islam, leading to hardline militancy and radicalisation among sections of Maldivian society also should raise alarm in India, and as such they should increase cooperation with the government as well as the Opposition in tallying and sharing intelligence.
Radicalised Maldivians had been involved in the Mumbai attacks of 2008, and groups of radicalised Maldivian youth had been held in Pakistan while engaging in an armed assault.
More than 200 Maldivians, many of who are expected to eventually return, are presently fighting in Syria.
What, according to you, should be India's next move?
The UN Charter provides a legal foundation for taking action to maintain international peace and security.
It is time for India to spearhead the international community to discourage the regime in the Maldives to engage in opportunistic acts of aggression such as entering into pacts that compromises the Maldives land and territory with non-regional countries, in order to influence the regional balance of power.
A guiding principle for the international community to whether lend assistance in effecting democratic reform in a country is helping those who help themselves.
If most people as well as top political leaders in a country accept a common agenda of effecting amendments to the constitutional reversals and bring about changes to independent institutions, it is not meddling by a neighbouring country to be supportive in effecting those reforms, especially as supporters of PPM and former president Maumoon Abdul Gayoom, the Jumhooree Party, the Adhaalath Party and the MDP represent over 85 per cent of the voting population in the Maldives.
Now is the time for India, our biggest neighbour and oldest friend, to bring the full array of international policy instruments to bear, including, if only stating threats of, economic sanctions against prima facie evidence of gross violations of international treaties, corruption and money laundering.
Rajeev Sharma, an independent journalist and strategic analyst, tweets @Kishkindha
Please scroll down for more exclusive stories from Maldives.