'Ajit Pawar and some other people felt it was better to be supporting the BJP and have a coalition with the BJP than support the Congress.'
'But Sharad Pawar did not want to be a party to this kind of an opportunistic alliance.'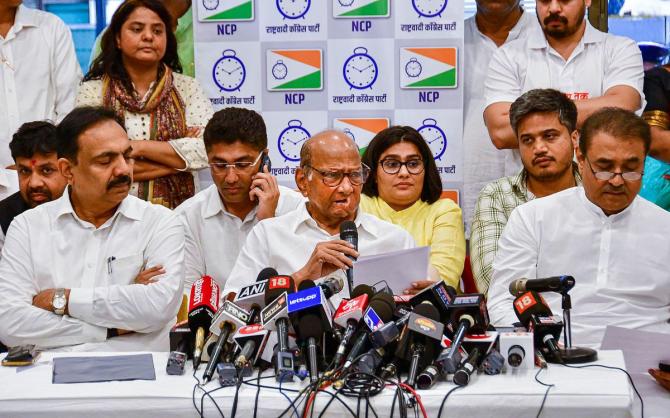 Sharad Pawar resigned as the Nationalist Congress Party president on May 2, 2023. Three days later, on May 5, 2023, he withdrew his resignation.
What made Pawar change his mind?
It is said P C Chacko, the NCP's Kerala state president, played a major role behind the scenes.
Chacko was a prominent Congress MP till he resigned from the party just before the 2021 Kerala assembly election citing groupism in the Congress's Kerala unit.
Rediff.com's Shobha Warrier asked Chacko how he made Sharad Pawar change his mind.
The first of a two-part Must Read Interview:
It was reported that you were responsible for Sharad Pawar changing his decision. How did you convince him to withdraw the resignation?
I also saw the report, but I will have to say that it was an over-statement. It was a collective effort of many leaders, and I was one among them. Of course, I took the initiative.
It was on the 2nd of May that Pawar submitted the resignation. It was at a function organised to release the new edition of his autobiography. Many leaders and his family were there at the function.
Were you present at the function?
No, I was not there. It was a function organised in Mumbai. He spoke about so many incidents in his life.
At the end of an emotional speech, he said he became president of the party in 1999 and that he had been the president for 25 years.
'I had been working hard for the party all these years, and I feel the time has come for me to resign. A new president will come for the NCP now,' he said.
This was totally unexpected for everyone present there. Perhaps his wife and daughter knew, but none of his colleagues including me were aware of this decision.
There was pin drop silence, and everybody was shocked to hear his words.
I came to know about his decision when the media started calling me for my reaction. I told everyone that I had to meet him first before saying anything.
I booked a night flight to Mumbai. The flight got delayed and I reached there only at 8 pm. So, I could not meet him that night.
On the flight, you might have been thinking about the new development. Could you think of any reason why he suddenly decided to resign?
I felt there might have been two reasons. One, his health. He has been suffering from cancer for the last 15 years.
The treatment is going on promptly and that's why he is surviving.
He can't even eat properly and has only liquid food. Despite all this, he has been travelling a lot.
The number two reason is, there is some dissension happening within the NCP in Maharashtra.
Ajit Pawar and some other people felt it was better to be supporting the BJP and have a coalition with the BJP than support the Congress.
The basic reason is that there are some MLAs who want to escape investigation from the government.
So, they thought an alliance with the BJP would help them. They thought Ajit Pawar would get a plum post also.
But Sharad Pawar did not want to be a party to this kind of an opportunistic alliance. That may be the reason why he chose to resign.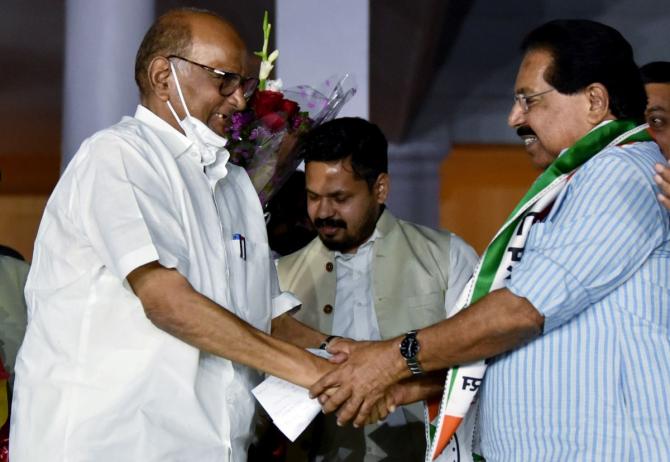 When you met Pawar, did you ask him why he resigned?
I asked him, 'Are you afraid of any dissension within the party? Is there any pressure from the government? Or is there any investigation on any of your people?'
He told me, 'I don't care about what they do. I fought Indira Gandhi. I opposed Rajiv Gandhi. Why should I be afraid of these people? I have been the leader for 25 years. I thought it was time to have a new leader for the party.'
When he said this, I believed him. Then I told him, 'if this is the reason, the timing is totally inappropriate. You can resign after 11 months. Our agenda should be the 2024 election and you have got a very prominent role to play.'
Do you feel Pawar's presence is needed for a united opposition to take on the BJP?
Nearly 20-22 leaders are personally close to him, and he speaks to them every other day, whether it is Nitish Kumar or Mamata Banerjee or Stalin. So, he is one person who can co-ordinate all these leaders.
That's why I told him to go ahead with the resignation after the 2024 elections if at all he wanted to do it. I told him, 'We are all depending on you and your leadership to play a very important role'.
He can perform this duty only as the party president. That was my argument. And I could convince him even though he argued that a new president could also do the job while he could work from behind.
I told him, a party president is a party president. And we are a president-oriented party. So, only the president of the NCP can do any kind of negotiation.
Finally, he agreed and said, okay. But he wanted me to form a committee to come up with a resolution while he wanted a day to think.
He wanted us to have a meeting while he pondered over the idea.
He said, 'You take a decision at the meeting, and I will go by that.'
I wanted a unanimous resolution asking to Pawar to withdraw his resignation.
So, I took the initiative and met Ajit Pawar and other leaders who were not very enthusiastic about Sharad Pawar continuing.
Finally, I could convince them that it was the time the NCP had to not only survive, but make others respect the party. That was possible only if Sharad Pawar was the leader.
Then, everybody agreed to meet the next morning and we came up with a one-line resolution that the committee unanimously requests Sharad Pawar to continue as president of the NCP.
Did you meet him again after the resolution was passed?
Yes. After passing the resolution, all of us went straight to his house at Malabar Hill.
We argued that it was a unanimous opinion of the committee and there was no second opinion.
He then said, 'I can only obey you as I cannot say 'no' to party leaders and the rank and file. I will withdraw my resignation.'
He then told us that Rahul Gandhi called him the previous day. So also Nitish Kumar, Stalin and Mamata.
I had a meeting at Kozhikode that evening and my flight was at 4 and it was already 3 pm.
Before leaving, I told him, 'Please have a press conference and say categorically that it was not a hotchpotch arrangement. Please say you are continuing as the president going by the advice of the leaders and that there will not be a change in the leadership.'
By the time I reached Kozhikode, the press conference was over. He also spoke to me that he made a very clear statement.
That's what happened. It was not my effort alone, but a collective effort. Yes, I took the initiative in bringing everybody together to the same line of thinking.
Feature Presentation: Aslam Hunani/Rediff.com