'Pakistan's capacity to carry a normal relationship with India doesn't exist.'
'The relationship with Pakistan is less important than several others.'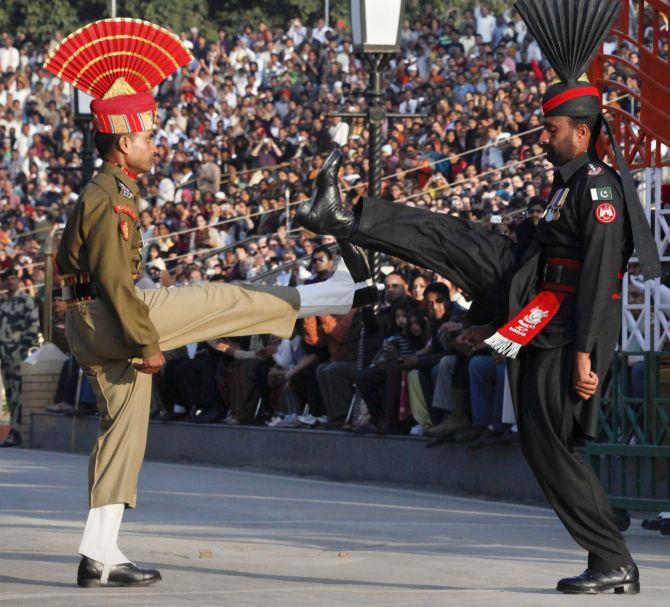 IMAGE: Indian and Pakistani soldiers go through the motions at the Wagah border. Photograph: Reuters
Former National Security Adviser Shivshankar Menon discusses the India-Pakistan relationship with Sheela Bhatt/Rediff.com
Why are India and Pakistan unable to have a normal relationship even so many years after Partition?
Pakistan's capacity to have a normal and decent relationship with India is very limited. It is true that we came very close under the regime of General Pervez Musharraf to finding a modus vivendi, but see what the same person is saying about India today.
The same person did Kargil when he saw that it was in his interest. And when he saw that it would be popular in Pakistan, he tried to make peace with India. We came close.
Then, in 2007, he himself told us that he couldn't handle internal and external problems at the same time. Then, he put the process on hold. After that he never came back to us to resume the process.
The problem is not with the people of Pakistan, not with Pakistani businessmen, not even with the political leadership of Pakistan. I don't think they actually want this kind of relationship between us.
The problem comes from those who support terrorists, the terrorists themselves, their political supporters, their masters and the institutions who support them and a large part of the Pakistan establishment, especially the Pakistan army. That is where the problem comes from.
After all these years, I still think the attempt is worth making, but I do recognise the difficulty, and I don't think Pakistan's capacity to carry a normal relationship with India exists, yet.
That's a very disappointing answer.
Do you think we can make peace tomorrow? (smiles)
There has to be some creative idea to go about it, isn't it? Don't you at least agree that it is the most important relationship? Or no?
Frankly, no. It is less important than several other relationships, both in today's actuality and in its potential. There are a few studies about the impact of India-Pakistan trade agreements, India-Pakistan economic cooperation and India-Pakistan peace. Not all of them agree that it will make a big difference to India.
But, that is not the point. The point is that if peace with India goes against the institutional interest and against the personal interest of those who have power in Pakistan, will it happen?
In India you cannot say that it goes against anybody's institutional interest or those who have power in India.
You know what happened between 2004 and 2007 in bilateral relations. India's civilian leaders had popular support to have peace with Pakistan. Today, what has happened after the Mumbai attacks and so many terrorist attacks across the border, frankly speaking, is our people are disillusioned.
Unless they see real progress on the issue of terrorism from Pakistan, they are not going to support it.
Then, after more than six decades, what is a permanent solution and what it will take for permanent peace?
That's why I started by saying permanent peace is a grand goal and is worth trying for but it has to be 'Nishkama Karma' (action without expectation of result)! That in itself should satisfy you. We have had periods when it worked. The ceasefire of 2003 worked for many years.
What do you think of the Narendra Modi government's Pakistan policy?
Frankly, I don't know what it is. One year is too short a period.
Is it more strident?
For me sound, noises or statements are not policy. Policy is what you do and the outcome that it produces.
In the last few months you have been demonstrating a quiet satisfaction over the United Progressive Alliance's handling of Pakistan. In your speeches delivered lately, you seem to be taking great pride that the UPA managed to maintain peace...
On Pakistan I have never said that... I have always said that our Pakistan policy, irrespective of which government, whether the UPA or National Democratic Alliance is in power, is one policy of the Indian government which has never worked. I have always said it. I have said it in public and I have said it consistently.
Because, what is the goal of our Pakistan policy? A minimal goal is to have a modus vivendi with Pakistan -- no terrorism, no trouble, and at the very least you lead your life, we lead ours -- that is the minimum.
I am not even mentioning bigger goals -- that we solve all the issues and we live in peace and amity. Jinnah had said Pakistan hould be to India as Canada is to the US.
I am not claiming those big goals, but even by the minimal standard that we have an acceptable modus vivendi, we have not succeeded. Have we?
I have never claimed that (our) Pakistan policy has been a success. I have also always said that failure doesn't mean you do not try. So my answer to you is, we should try with Pakistan not because we will solve our problems with Pakistan, but because it leaves us free then to deal with the rest of the world.
The Modi government is ultra-sensitive about India's claim on Pakistan occupied Kashmir. The P V Narasimha Rao government had passed a resolution in Parliament on it. But, is any diplomatic movement possible over it?
I do not see much possibility of diplomacy over it. They are a part of India and will remain a part of India. What will happen now will depend on what the government does. There is lots of talk about it, but I have not seen this government doing anything about it yet.
Supporters of the government are reminding us over and again that it belongs to India.
I think everybody in India says it belongs to India.
But so far, no Government of India has said that it will get it back by military force. So, unless that changes, the status quo remains.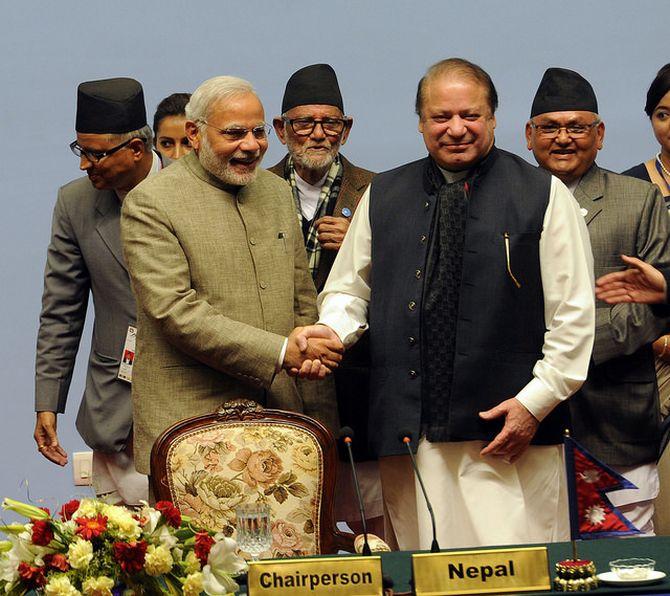 IMAGE: Prime Minister Narendra Modi with his Pakistan counterpart Nawaz Sharif at the SAARC Summit in Kathmandu in November 2014. Photograph: MEA Flickr
What will eventually happen to this pending issue from history?
This is what we have to decide. We will have to see how we settle it. What Dr Manmohan Singh used to say is: 'Make the borders irrelevant. We cannot give up territory, but we will minimise the impact of the problem on the lives of ordinary people.'
Let me come to another important issue. See, you were an officer belonging to the Indian Foreign Service, a diplomat who became the National Security Adviser where the word 'security' is pivotal. There is an ongoing debate.
Now, the NSA is a former police officer who understands the functions of 'security,' and all that goes with security, so can you give me your...
(Interrupts) It depends on how you define security. Of the five NSAs, three have been foreign service officers and two from the Intelligence Bureau, indeed former directors of the IB. The reason the NSA's office was set up, the National Security Council was established, was because of the Kargil review committee.
People had tried to establish the NSA's office earlier also, but that didn't work. Then, there was a feeling that you need a more comprehensive view of security and that you need to coordinate with multiple state governments and with other countries.
Security is not just policing, it is not just intelligence, it is not just what the home ministry does. It is a whole series of things. Issues like cyber-security, for instance, energy security, these are much broader issues.
And how do you integrate defence, intelligence, policing, foreign policy, how do you integrate all these? That is the function of the NSA and the NSC. That is one part of it.
There are other parts of the NSA's job because whether we like it or not, with time it has evolved. He ends up as diplomatic adviser to the PM and also as the PM's direct link to other global leaders. I mentioned earlier the functions of the Special Representative to the Chinese leadership. The NSA is also a direct link to the US NSA and, similarly with other NSAs around the world.
So whether you like it or not, you end up in a diplomatic adviser sort of role, as the coordinating point and looking at cross sectoral issues, taking a holistic view of security.
And there are other specialised parts. The NSA has a function in the Nuclear Command Authority and is a part of the chain of handling of nuclear weapons. So there are various things that the NSA does.
I frankly think it does not matter which service you come from. Your service doesn't define the person, it is your experience, and your approach to the job. Each NSA will do the job differently. But we are still evolving.
Can you put a weightage like how much is the workload of internal security and how much is the workload of external security?
Internal security takes up at least 60 per cent of your workload. But it is also the more organised part of the work because there is an established structure which takes care of it.
Can you elaborate?
Internal security has been the concern of the Indian government for a really long time. There is a huge home ministry, there is the IB, there is a whole set of all the central police forces, various organisations and structures which take care of it. So in terms of volume, it might be a lot but in terms of challenge it is shared diligently.
No diplomat has or, for that matter, even you have never touched the world of internal security.
Actually you do it all the time! It is because the distinction between internal and external doesn't exist today.
When you say terrorism, what is your problem? When you talk of financing of terrorists, when you look at communication, when you look at a whole range of things, you have to deal with these aspects as a diplomat too.
The most local thing is left-wing extremism, Naxalites, correct? But what do you worry about? You worry about their links abroad, their attempts to establish links abroad. How do you solve their problems of communications, their financing?
These are not just internal security problems, it is a political problem also, it is a social problem also. So when I say 60 per cent of the workload is about internal security, you also need to apply your mind to the rest of it. Cyber-security is a brand new issue. Is it internal? Yes and no. It is both.
What is your opinion, is an IFS officer better suited to be the NSA or an IPS officer?
As I said, it is nothing to do with the service, it depends on the person and his background and his ability to work the system because he has to be able to work with people of all kinds, from every service. It is not only with his own service.
Can you give me an accurate picture of the level of India's internal and external security situation? Are we safe?
There is no complete security, no absolute security. You will be 100 per cent safe if all your enemies are completely unsafe and other people are unsafe. So you will never be 100 per cent safe.
But are the risks manageable? Are we safer than before? Yes. We can't predict everything that will happen. But we try and foresee what could happen and where the big risks are. We try to prepare for them the best we can.
There are some things (that are) obviously difficult to prepare for that we didn't prepare for in the past. The Mumbai terror attacks of 26/11 is a good example -- if we saw how the police reacted; it wasn't a very good reaction. But today, if something similar happens, we are better prepared and today we do take action to prevent that happening in the way it happened in the past.
But is our external security situation any better?
This is where I say this distinction is not there between internal and external security... Where does one draw the line?
The Mumbai terror attacks are a matter of external security...
Is it? What happened? The reaction, the response is an internal response. Unless you tighten your own systems, where do you get the intelligence from? Is this internal or external? That is the whole point -- you need to coordinate. You need to make sure all your work is tied up neatly. So, I don't know this distinction...
And as I said, the NSA's job is to make sure that all parts of the system, internal and external, everything works. That they work together and that people from all kinds of fields work together towards the national goals. And he has to help set and clarify those goals. And that is the difficult part...
So we are better off than we were...
We are better off than we were, certainly. But we still have much to do.
What was your contribution to the entire understanding of Maoism as an issue? We have been talking about empowering the Maoist areas, still there are many areas which remained inaccessible for the government when you were in the Prime Minister's Office.
That is true, but if you look at the problem, we are better equipped to handle some of it. In terms of deaths, the numbers have come down. In terms of the access to areas where people couldn't lead a normal life and now they can, we are certainly better off than we were 10 years ago.
So can you say are we better in dealing with left-wing extremism? Yes. Can we do more? Yes, we need much more coordination between the states. We need unified commands, frankly. Because this idea that state borders are porous for them and not for the police is hurting security.
An unified command to handle Maoists? Like we have in Kashmir?
Yes. You need to. But in Kashmir it is unified between the armed forces and government. Here you need it between the states because the borders do not exist for the Maoists, but they exist for the police and the police actions. We need to share intelligence much better. These are all things that are being done.
This idea of an united India should work, essentially...
I keep saying that there are no existential threats to India today. Whereas until the 1960s people used to say, 'Oh! If Nehru dies India will fall apart, Tamil Nadu is going to go away, Kerala will separate, Kashmir is going to go away, the North-East will vanish...
Nothing has happened; today that is not even a real possibility.