'People tell us openly that in 2024 we will vote for Modi.'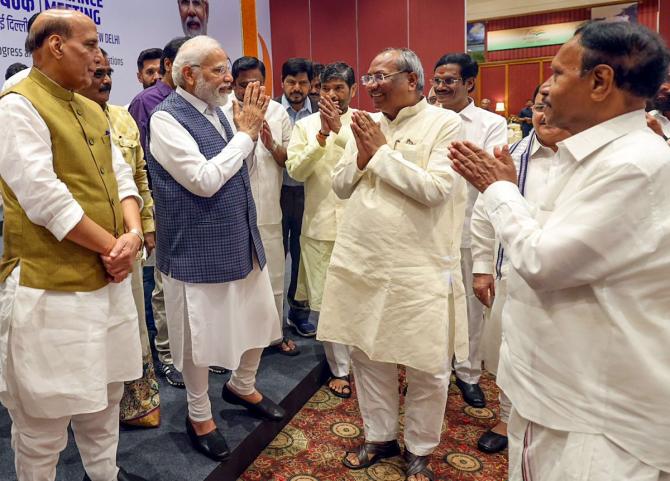 'Even if God comes and tells me to join the NDA I will not go with them,' Om Prakash Rajbhar, who heads the Suheldev Bharatiya Samaj Party, declared just before the 2022 Uttar Pradesh assembly elections.
The SBSP was an ally of the Bharatiya Janata Party for the 2017 Uttar Pradesh elections when the BJP won more than 320 plus seats in the 403-strong UP assembly.
When Rajbhar quit the NDA in 2022 it was expected he would do miracles for his new ally, the Samajwadi Party, by helping the SP get backward and other backward caste votes in eastern Uttar Pradesh where he has a significant hold.
But he failed as the BJP once again formed the government in UP.
Rajbhar has now returned to the NDA fold after ditching the Samajwadi Party.
What prompted him to do so?
In an interview to Syed Firdaus Ashraf/Rediff.com, Rajbhar lists his reasons.
You were a part of the Opposition till two weeks ago and now you have joined hands with the NDA. Why this change of heart?
I don't see any hope or future in Opposition party politics.
If you take the example of Uttar Pradesh, there is only one Opposition leader and that is Akhilesh Yadav. What can he do alone to take on the BJP? The answer is nothing.
The Opposition is saying they will get Mamata Banerjee and Laloo Yadav to campaign in UP, so my question to them is simple: How much impact can these leaders make on the voters of Uttar Pradesh?
How many seats can their parties win if they contest the general elections of 2024 in Uttar Pradesh?
The answer is zero.
In this circumstance, it is better Akhilesh alone fights it out in UP against the BJP.
The Congress has only two MLAs in UP while my party has six MLAs in UP compared to this national party.
When Akhilesh contested on his own, his party won 47 seats in 2017 and when I joined him his party reached 125 seats in the 2022 UP assembly elections.
You have been stating that the Samajwadi Party seats went up from 47 seats to 125 in 2022. Why not then explain to Akhilesh the ground reality of politics and tell him how important you are for Opposition unity?
He does not want me to be with him.
Akhilesh is the leader of a bigger party and I am the leader of a smaller party in comparison to his party. So, I cannot lead that Opposition alliance.
Akhilesh gave us 17 MLA seats to contest in the 2022 assembly elections out of which 13 were his candidates who contested on my party symbol. Is this what you call an alliance?
He did not give the respect that has to be given to an alliance partner.
Akhilesh wants to portray that he is the only leader for backward and other backward classes.
Akhilesh has not let any backward or any other backward caste leaders to rise in the party.
Not only this, he has not let any Yadav leader too to grow in the Samajwadi Party.
Akhilesh has inherited power from his father and he has not done anything to be on the seat on which he is sitting now.
When you quit the BJP earlier you said even if god comes to me and tells me to join the BJP I will not join the BJP alliance. Why did you change this stance?
In politics one keeps on making such statements. It was just a jumlaa (claim).
Opposition unity is looking strong and they say 55 percent of India voted against the NDA in the 2019 general elections. Can't they win the 2024 elections in this scenario?
You must understand how Opposition leaders do politics.
Take, for example, Nitish Kumar and Laloo Yadav. They will never let any Rajbhar community leader to emerge stronger.
There can be easily two MPs and 12 MLAs from my community in Bihar.
But what we have seen in the last 15 years of Bihar politics is that sometimes Nitish Kumar is with the BJP and then goes to Laloo Yadav. He then again ditches Laloo to join hands with the BJP. And he repeats that act again.
Therefore, other castes members like Jhulaha, Nai, Banjara, Darji etc, they understand the game of these two leaders.
Power is going to be shared between these two leaders only and even Muslims have started realising this fact.
The 18 percent Muslim population stands rock solid behind them (the Mahagathbandan in Bihar), but not once did they made a Muslim the deputy chief minister of Bihar.
These two leaders have only used Muslim votes and have not passed on any benefit to the community.
These Opposition leaders cannot scare the Muslims and backward classes by stating that if they do not vote for them, then the BJP will gobble them up.
The days of this kind of politics is long over, but Opposition leaders do not realise this fact.
But 55 percent vote is huge, isn't it?
It might be, but you see, the NDA won 225 seats with more than 50 percent of votes. And to form a government you need 272 seats.
Now, you tell me what have Opposition parties like the Samajwadi Party, Bahujan Samaj Party or even the Congress done that they are expecting to break this kind of vote share of the BJP in these 225 seats?
The BJP has not done any negative work to lose the 2024 elections.
Inflation. Isn't it a worrying factor for the common man?
In villages, people say that during the Congress, SP or BSP rule nobody gave anything to them. It is only during the Modi regime the poor are getting 5 kg of rations each every month. And also, Rs 6,000 is deposited every year in poor people's bank account.
They tell us openly that in 2024 we will vote for Modi and in state elections we will see as and when the time arrives.
Already there is buzz about Opposition leaders naming their alliance INDIA, which is resonating with Indian voters?
Voters know that when Opposition leaders were in power they never made laws that helped the common people.
They never got subsidised or free electricity for the poor.
They never got health insurance for the poor.
Modiji has got the Ayushman scheme in which the poor get insurance of Rs 5 lakh.
Go and speak to the voters and you will find out how much love the common people have for Modiji.
But such revdis or freebies are given even by Arvind Kejriwal's Aam Aadmi Party in Delhi and Punjab.
The NDA is talking of winning 330 seats and not 500 plus seats in the 2024 general elections.
The NDA will win 300-plus seats in the 2024 general elections and I am 100 percent sure.