'Iqbal knew that democracy is a game of numbers and that Muslims would be marginalised in a Hindu-majority India. That fear has now come to pass.'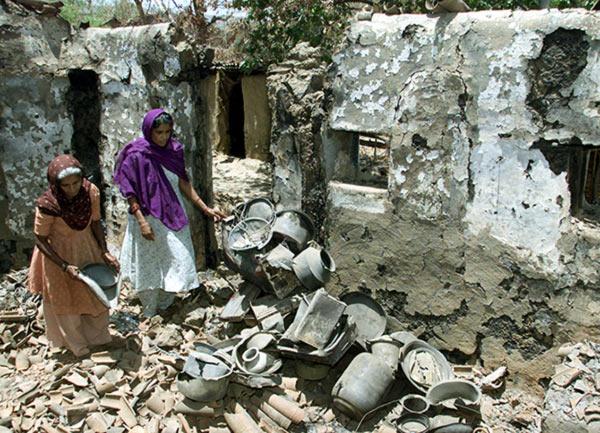 Image: Muslim women rummage through the debris of their house after the Gujarat riots in 2002.
Photograph: Kamal Kishore/ Reuters
Every Indian knows Sare Jahan Se Achcha Hindustan Hamara, but few may recall who wrote it.
The song was an instant hit when Sir Muhammad Iqbal, or Allama Iqbal, wrote it in 1904. What no one knew then was that the man who wrote Sare Jahan Se Achcha Hindustan Hamara would become an ardent supporter of a Muslim homeland.
Iqbal died in 1938, two years before the Muslim League adopted the resolution for Pakistan in Lahore in 1940, but he was honoured as the spiritual founder and national poet of the new nation when it came into being in August 1947.
Questions arise about why Iqbal -- who believed in Hindu-Muslim unity, who wrote Sare Jahan Se Achcha and poems on Lord Ram and the Gayatri Mantra -- became a believer in Muslim communalism in his later days.
These questions are explored by journalist, writer, publisher and filmmaker Zafar Anjum in his book, Iqbal: The Life of a Poet, Philosopher and Politician.
Anjum, who is based in Singapore, spoke to Syed Firdaus Ashraf/Rediff.com in a two- part interview:
What made you write a book on Iqbal?
Biographers are considered the undertakers of the literary world, as a character in the Hanif Kureishi novel, The Last Word, would have us believe.
I had no plans to write a biography. I was compelled by our present state of affairs to shine a light on the dangers that we face today, through the life of one of India's great souls -- the forgotten poet, philosopher and politician, Iqbal.
Having said that, I must admit that, even as a child, I was fascinated by the poetry of Iqbal and Ghalib.
I always found Iqbal very inspiring as an Indian Muslim poet. I loved his message of love, action and self-belief. His poems, Saare Jahan Se Achcha Hindustan Hamara and Lab Pe Aati Hai Dua Ban Ke Tamanna Meri were very popular in my school.
I loved him as a poet but, as a child, I had no idea of the role he had played in the Partition of India. In Indian history text books, Jinnah was portrayed as the arch villain who divided India. I had no inkling of Iqbal's role as a politician or as a great Islamic thinker.
It was much later that I discovered that Iqbal was as big as Tagore, whom I loved too. I loved Tagore's humanistic stories like Kabuliwala and The Postmaster.
Both Iqbal and Tagore enjoyed global fame, though in Iqbal's case, his fame was more in the Muslim lands than in the West. While Tagore was cherished in India, Iqbal was forgotten.
Pakistan claimed Iqbal as their poet laureate and India banished him from her consciousness.
After 9/11, the West unleashed its 'War On Terror.' The victims were mostly Muslims.
The Arab Spring led to a state of chaos in the Middle East.
For over a decade now, there is a general mood of doom and gloom among Muslims.
In India too, the rise of rightwing Hindu nationalists have made Muslims uncomfortable. Riots, framing innocent Muslims in terror plots, encounter killings, ghettoisation...
Muslims in India have been suffering in many ways. Yet, they are proud Indians and love India as much as any other Indian community.
In the light of these circumstances, I zeroed in on the figure of Iqbal.
Through his life, we can examine the dilemmas of our own times.
In Iqbal's lifetime, the Ottoman Empire was disintegrating. Muslims faced defeat and humiliation everywhere. Through his poetry, Iqbal inspired them to create a new future.
At a very basic level, my primary concern was Iqbal's transformation from a patriotic poet to someone who gave a call for a separate homeland for the Muslims of North West India. Why did this votary of Hindu-Muslim unity change his mind? That's what I've tried to explore in this biography.
Before this book, only Rafiq Zakaria -- the Muslim scholar, Congress leader and father of American journalist Fareed Zakaria -- had written Iqbal's political biography. That was more than 20 years ago and that book is out of print now.
Politics was only one facet of the man. Iqbal was a very complex personality. Writing about his life was like peeling an onion, to borrow a phrase from Gunter Grass. His personal life is very interesting as well. He had three wives and his friendships with two women, Atiya Begum and Emma Wegenast, are fascinating aspects of his life.
I believe Iqbal's story will appeal to everyone. His message of action and dynamism was for everyone, not just Muslims. He has become a world heritage and we ought to know about his life and times.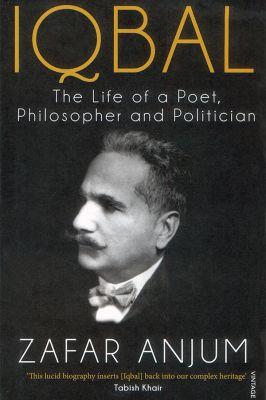 How is Iqbal relevant to India today?
Iqbal is very relevant to both India and Pakistan. Muslims in both countries can draw inspiration from his poetry.
Iqbal gave a call to shun obscurantism and bring Islam out of the 7th century to the 20th century (his time). In his speech in Allahabad in 1930, Iqbal had given a call to cleanse the stamp of Arab imperialism from Indian Islam.
Iqbal wanted constitutional safeguards for Muslims in India. In his time, he sought it through separate electorates.
He feared that since democracy was about numbers, the Hindu majority would dominate Indian politics, culture and society and Muslims would be slowly marginalised and obliterated from India.
If you objectively see the conditions of Muslims in India today, you will feel that is exactly what has happened.
In this context, Iqbal's life is a reminder to the majority community of India about the dangers of majoritarianism.
For Muslims, the message is to get united, and help each other to get out of poverty.
If the State has failed to provide education to Muslims, why can't they get their act together? Why can't they start schools to educate the poor Muslims and help the bright and brilliant to study in the best institutions of the world? What is stopping them from doing this?
Iqbal asks humans to take action to improve their lot, and not just complain and indulge in breast-beating.
Do you think Iqbal only thought about the welfare of Muslims in North West India and Muslim majority provinces?
He never bothered much about the Muslims in the minority provinces of British India. He never thought about what would happen to them if Muslims formed their own country after the British left India.
Iqbal was worried about the future of Muslims in India.
Riots were happening in most parts of Northern India. But, because the politics of that time was electoral politics, he had to think in terms of numbers, so it made sense to secure power for Muslims wherever they were in a majority. That happened to be North West India and East India.
Iqbal died in 1938, long before India was Partitioned.
All that Iqbal wanted was safety for Indian Muslims. His separate State was to be part of the Indian or British federation, where Muslims would be in a majority and the Muslim State would be a bulwark for India against external aggressors. There was no plan for a population transfer.
Also, towards the end of his life, Iqbal seemed to have growing doubts about his idea of a separate State for the Muslims of North West India.
By and large, Iqbal's main concern was the preservation of the identity and distinction of Muslims. He said: 'The Prophet of Islam declared: "I trample under my feet the invidious distinctions of race, ethnicity and caste stratifications. You are all Muslims and this is your true designation." All nations in India want to preserve their traits and characteristics. Muslims want no more than preserving their distinction and identity. Muslims do not want to rule over others, nor do they accept the rules of others over them; they do not want to be slaves of others.'
In the Indian context, Iqbal was suspicious of Hindu nationalists. He thought that for them expressions like nationalism was just paying lip service while their gaze was fixed on their own community only.
On the Hindu-Muslim question, Iqbal wrote, 'We suspect each other's intentions and inwardly aim at dominating each other.' Do you think these issues still exist after Narendra Modi became prime minister?
What makes me sad is that, even after 60 years of Independence, the virus of communalism and parochialism is alive and kicking in India.
Today, Hindu domination is complete in India.
Iqbal and his fellow Muslim leaders fought a long fight to get equal constitutional rights for Muslims and they failed.
The Indian National Congress never accepted this idea (of separate electorates) on the principle that India would be a secular State and Muslims need not worry about it.
The Congress's secularism turned out to be fake... what the BJP (Bharatiya Janata Party) calls pseudo-secularism or tokenism or appeasement of minorities.
Iqbal knew that democracy is a game of numbers and that Muslims would be marginalised in a Hindu-majority India. That fear has now come to pass.
There is no need to suspect anyone's intentions in India. The tokenism of Congress is over. Soon, Muslims in India will learn to live as second class citizens of the State.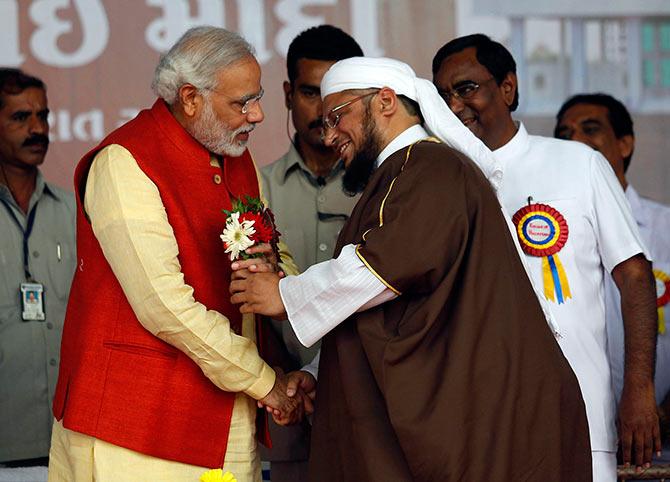 Image: Narendra Modi, then Gujarat chief minister, receives flowers from a Muslim cleric.
Photograph: Amit Dave/Reuters
What would have Iqbal thought about the Pakistan of today if he was alive?
I have said this in the book and I am saying it here again: Pakistan has forgotten Iqbal's ideals just as we have forgotten the essence of Gandhi's principles, even though we show our customary affection for Gandhi.
Iqbal would have liked to see Pakistan as a frontline Muslim country that was innovative, combining the best of the East and the West.
The first thing one would expect from any Muslim is honesty. If that is the case, how come there is so much corruption in Pakistan?
It is a pity how Pakistan has failed its children in terms of providing them modern educational facilities and creating jobs for them. Why is Pakistan still poor? Why is still feudal? Iqbal would have asked all these questions.
Do you think Muslims are better off in India than in Pakistan?
I think it is an unfair comparison to make).
In Pakistan, Muslims are in a majority, but they face problems of sectarianism and terrorism. Who can they put the blame on for the state they are in? India? America? Or on themselves?
In India, the situation is different. Muslims are in a minority. Here, they face communal violence and risk political exclusion because of Hindu majoritarianism, which is gaining ground in the country.
Today, Nehru's secularism and socialism stands defeated in India, something that Iqbal had warned him against long ago during their last meeting. If Muslims don't organise themselves in India and look after their needs, they will be forced to exist on the margins of society.
Elite Muslims are comfortable in both countries. Like most poor of the world, it is the poor Muslims in India and Pakistan that face most of the challenges -- from education to healthcare to job opportunities.
Both need to work hard to better their lot, and not just blame Allah or the government for their pitiable state. That is Iqbal's message for them.