'What we need from the civilian and military authorities are clear strategies rather than an emotional decision to hang terrorists on death row.'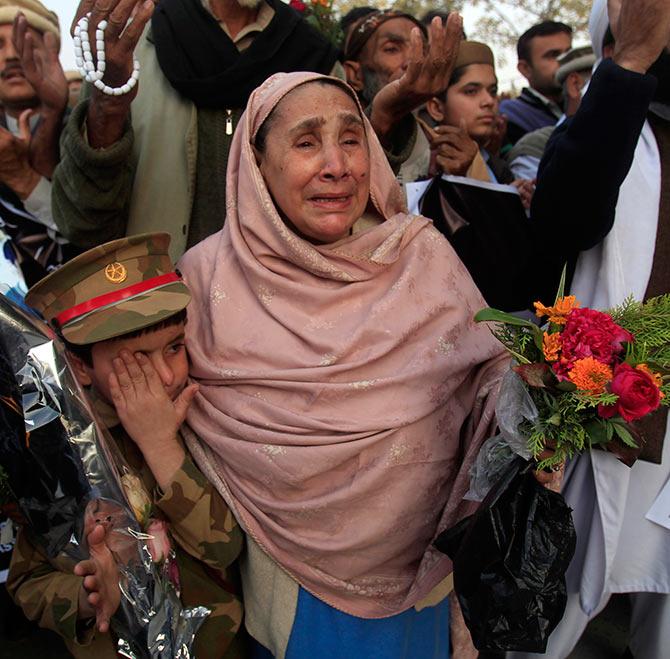 Image: A woman weeps outside the Army Public School, Peshawar, which was attacked by Taliban terrorists, December 19, 2014.
Photograph: Fayaz Aziz/Reuters
Zohra Yusuf has been the chairman, since 2011, of the Human Rights Commission of Pakistan, a non-government organisation.
An activist and journalist, she was the editor of Weekend Star, in the Dawn group of publications, before she began to devote more and more time to women's rights and media rights in Pakistan.
The Human Rights Commission of Pakistan's objectives are to educate the Pakistani people about their human rights, to build public opinion, highlight human rights abuses and protect human rights of the Pakistani people.
She spoke to Vaihayasi Pande Daniel/Rediff.com about the situation in Pakistan after the massacre of 132 children and their teachers in Peshawar.
Is this a turning point for Pakistan and its citizens? Do you think there's enough anger out there that will actually force the government and military authorities to do a far better job fighting terrorism?
There is enough anger and grief.
However, what we need from the civilian and military authorities are clear strategies rather than an emotional decision to hang terrorists on death row. The military acted rather late in its operation in North Waziristan.
When you say clear strategies, what would be the main points they should encompass in your view, especially from the ordinary citizen's point of view? How can a common narrative evolve?
Clear strategies should include:
Zero tolerance for all militant/extremist groups. Not just the Taliban.
An end to support for all such groups, from all quarters. Currently, the Punjab government is funding Jamaat-ud-Dawa (a front organisation for the Lashkar-e-Tayiba) for its charitable work and (former cricketer and political leader) Imran Khan frequently talks in support of the Taliban.

The military establishment must also end patronising extremist forces as a counter to the secular struggle of the Baloch as well as stop looking at some elements as assets.

Overhauling the prosecution and judicial systems so that the conviction (rate) is higher; currently over 65 per cent terrorists are set free by courts due to lack of evidence or fear among the judiciary.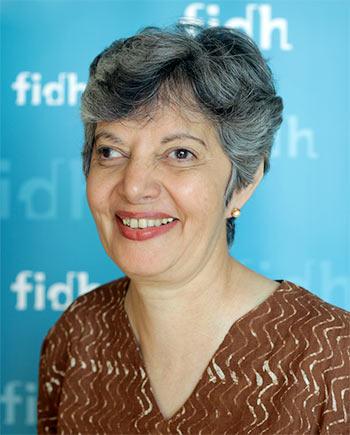 Image: Zohra Yusuf, chairman, Human Rights Commission of Pakistan.
Photograph courtesy: Zohra Yusuf
Personally, what are your worries or anxieties about where Pakistan is at?
The rise in religious extremism and militancy is the most serious threat to the state of Pakistan.
It has remained unchecked for a long period and, therefore, succeeded in entrenching itself not only in the tribal areas but also in Pakistan's cities.
I read several articles about the Pakistan military's operation to flush out the Taliban from North Waziristan.
From the human rights point of view: What are the worries about what might happen to the people in North Waziristan. How harmful has the military offensive been to the people there?
Of course, military action has led to massive displacement, as well as civilian deaths. We believe that while action is necessary against the Taliban, the IDPs (internally displaced people) must be properly cared for and rehabilitated as soon as their areas are safe. So far, their condition has been far from satisfactory.
What has been the magnitude of the civilian deaths there in approximate numbers? Could that magnitude explain the harshness of their retaliation at the Peshawar school? Have there been a lot of resultant deaths of children?
When you say their condition has been far from satisfactory, may I ask you to describe how bad it is? In an ideal situation, how should their evacuation and displacement happen?
Civilian deaths in terrorist attacks in the past seven years or so is estimated to be over 30,000.
The number of civilian deaths due to that military operation is not available, as access to journalists, activists is only through the military.
As far as IDPs are concerned, they were initially placed in schools. But when schools opened, they had to move to tents.
Women are the worst sufferers. ID cards are required for relief which many women don't have. So women-headed families are deprived. There can be no ideal situation, but more effort should be made to care for the IDPs.
As far as religious extremism goes, how intrusive is it for the average citizen? The Pakistani military offensive in North Waziristan has probably led the Taliban terrorists to take shelter elsewhere including the cities.
Some I read have travelled into Afghanistan and will then be back. Is the only option then to eliminate them or is that too cruel?
Both intrusive and threatening.
Some of them have gone to Afghanistan. But most are in Pakistan's cities. They are also radicalising the communities in which they have settled. They need to be confronted. We hope due process will be followed.
In Karachi, for example, in the past few days there has been a big rise in extra-judicial killings, allegedly Taliban militants.
For us in India it is a bit complicated to understand why there is this distinction between good Taliban and bad Taliban and why Lashkar's Zaki-ur Rehman Lakhvi was given bail.
Why does Pakistan act to eradicate the 'bad' Taliban at the behest of the US, but does not act against the good Taliban who harms its neighbour?
In the case of Lakhvi, it's not a question of good/bad Taliban. He was given bail by an anti-terrorist court.
The judiciary works in an atmosphere of fear. The current chief justice of the Sindh high court was attacked by militants because of the high number of terrorists he was convicting.
The judge who gave the death sentence to the killer of Punjab governor Salman Taseer had to leave the court room by a back door and leave the country.
Pakistan did not go into North Waziristan at the behest of the US, but rather at China's insistence -- or so it is believed -- and also because soldiers were being captured and beheaded
This comment was on the Internet in reaction to David Cameron's message of condolence. Would you agree with it:
'No Sir, these children were not killed for going to school. They were killed for being children of army officers, army officers who got dragged into your conflict, to fight enemies you and your friends created, to bear the revenge of the adrenaline surges and ego boosts that you and your friends enjoyed for a decade. But of course Sir, getting the facts straight does not matter to you, for lives in our part of the world will never be as valuable as the ones in your part of the world.'
I would agree with the first part of the statement that the children were not attacked for going to school.
The rest is more of an emotional response.
The facts are more complicated and have a historic background going back to Pakistan's support for the Afghan mujahideen.
Terrorism has inadvertently made certain that the Pakistani people have far less human rights. That makes the job of the Human Rights Commission of Pakistan so much more tough. What is your main strategy?
Terrorism has affected the rights of vulnerable groups, in particular -- the minorities, women, as well as human rights defenders and journalists.
We will continue to raise our voice and mobilise public opinion.
Are judges, lawyers equally vulnerable? How difficult is it to voice and mobilise public opinion? Does everyone feel scared to voice an opinion in public?
Do you personally feel scared? Can there be further such attacks that will shock the world or have they made their point do you think?
Pakistanis are quite vocal in spite of the environment of fear. More attacks can be expected, especially since executions have started.
There was a comment from an article in Dawn by Murtaza Haider after this tragedy: 'I wish I could say, "We didn't see it coming." But that would be a lie. We saw it coming, but chose to ignore all the warnings until it was too late to prevent our children from being murdered before our very eyes.' Is that your view too?
I would agree.
For too long, Pakistan's civil and military leadership has had an ambivalent or confused policy towards militants.
The policy of treating some militants as assets has led to the current situation.
Hawks are always predicting the end of Pakistan as religious fundamentalists slowly get more and more of the upper hand. What is your answer to that?
There are serious challenges to the State of Pakistan, but how is the end to come?
The hawks predict it might fall apart the way the Soviet Union did into regional areas as per politics. What would you say that would soundly counter that view?
The analogy doesn't work. Currently, the only separatist movement is in parts of Balochistan and it is not a viable proposition in terms of geography or scale of support. The State, however, will continue to weaken if current policies are followed.
There have been many killings among the minorities in Pakistan recently including the recent lynching of a Christian couple in Lahore. How safe are the minorities in Pakistan? What kind of rights do they enjoy and are they getting less and less safe?
Different minority groups are under threat from different non-state actors. Christians and Hindus from religious extremists. Shias and Ahmadis from Sunni extremist groups. They are certainly feeling increasingly unsafe and many have migrated over the years.