'The entire bandwagon of MLAs will move to our side.'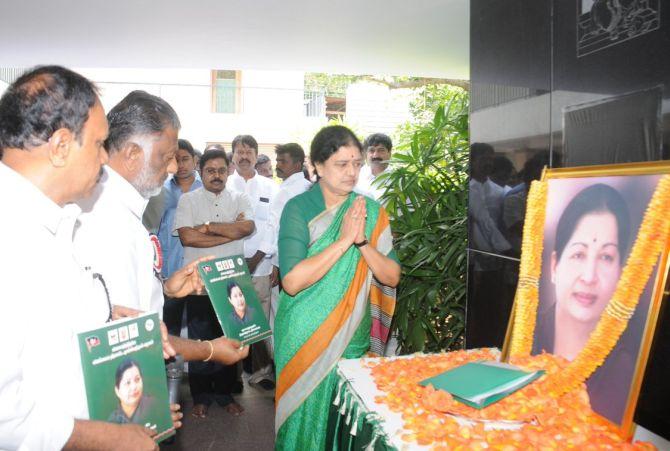 IMAGE: Will V K Sasikala appoint Lok Sabha Deputy Speaker M Thambidurai, left, to replace her as interim general secretary and challenge O Panneerselvam, centre, for the chief ministership of Tamil Nadu? Photograph: Kind courtesy AIADMK/Twitter
Sathyan Rajan, the AIADMK's former IT wing secretary, was ecstatic after Tuesday's Supreme Court verdict upholding a trial court's verdict in Tamil Nadu's disproportionate assets case.
Now that the Supreme Court has ordered V K Sasikala to serve the rest of her four-year jail sentence, the word going round is that the AIADMK general secretary will nominate another party member to serve in that post till her release from prison.
Sathyan Rajan spoke to Rediff.com's Shobha Warrier after the Supreme Court ruling.
Were you very tense about the Supreme Court verdict?
We were keeping our fingers crossed. You never know what the Supreme Court bench would say. We were hoping for a favourable verdict, of course.
O Panneerselvam said Tamil Nadu has been saved...
Yes, not only us, but all of Tamil Nadu feels the state has been saved by the Supreme Court verdict.
the people of Tamil Nadu seem to be with OPS. Do you feel the signature campaign and Facebook campaign worked well for you?
Definitely. After we shared the phone numbers of all the MLAs, people started calling them incessantly.
The MLAs heard what people wanted to say and understood how people felt.
After that, the MLAs started feeling the mood of the people.
Then we started a WhatsApp group which was a larger campaign.
In the last couple of days, there was a dramatic turn of events and more and more people started supporting OPS Anna.
Our campaign has not ended; it's only half way through.
We are planning some more campaigns and you will see how things turn out.
We want to make OPS Anna a bigger brand for the party.
It is said Sasikala will elect a new person as leader of her faction...
It doesn't matter. She is only an interim general secretary.
As per the bylaws of the party, all the cadres have to elect the general secretary.
This election has to happen in a democratic way.
An election will be called for and the party will elect a new general secretary.
When will the election be held?
The party higher ups will decide on the date. Very soon, definitely.
Who will call for the election for a new general secretary?
Maybe OPS Anna will call for an election.
Do you expect many more MLAs from the Sasikala camp to come to OPS' side?
It is only a matter of time.
The entire bandwagon of MLAs will move to our side.
The moment they are released, they will join OPS Anna's camp.
If they move to our side, people will consider it as their victory.
They will feel happy that the MLAs acted as per the wishes of the people.
How are you people going to celebrate?
We are already celebrating.