'We are passing through a very historical moment. The UP election next year and the Lok Sabha election of 2019 will decide the course of India.'
'Maybe the unlettered will save India again because they have inherited a different India and a different idea of India,' says eminent social scientist Achyut Yagnik.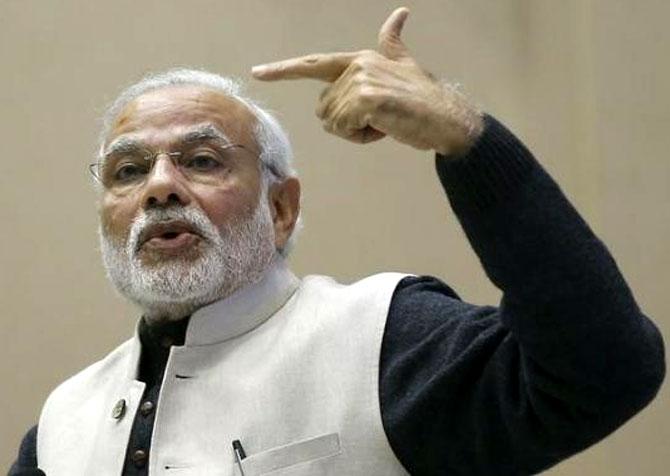 After a historic mandate, Prime Minister Narendra Modi completed two years in office on May 26. Photograph: Adnan Abidi/Reuters
Achyut Yagnik, the honorary secretary of the Ahmedabad-based NGO, SETU, Centre for Social Knowledge and Action, is a leading social activist and political thinker.
At his quiet office in Ahmedabad, he spoke to Archana Masih/Rediff.com about Prime Minister Narendra Modi, the Congress, and his faith in the people of India.
Two years into Prime Minister Modi's tenure, what are the changes you notice?
There is a contest between the liberal and authoritarian idea of India. There is a controversy about these two ideas.
Whether it is (the idea) of sarv dharm sambhav or not; whether it is sabka saath sabka vikas -- it has not happened so far.
Where do you see this contest going?
There has been a Hindutva-isation of particularly the middle class. On one side they are talking about a Hindutva-ised India, on the other side they are talking about liberal India, Indian tradition, Indian world view.
On the one hand, we have adopted the world view of emperors like Ashok and Akbar and now they are challenging its very foundation.
Similarly, the controversies around Mother India, changing text books, changing cultural institutions.
The urban middle class and the youth feel their aspirations will be met by the economic policies of this government. But at the same time, 25 per cent of India is experiencing drought and there is not enough planning to deal with it.
Even in Gujarat, after the Supreme Court specifically asked, they declared some more villages as drought affected. Of course, water scarcity here is not like that in Marathwada, Rajasthan or Bundelkhand.
What effect is this battle between these two ideas going to have on India?
The controversy will go on. It also depends on the political development in UP. That will decide the future course of India.
A win for the BJP in UP will mean that they will take this further with greater emphasis.
You have to keep the equation with the RSS also in mind. One section of the BJP may want to talk about development like Modi was talking during the 2014 campaign, but the other section, inspired by the RSS ideology, will carry out its own agenda.
They will continue with both -- on one hand the rhetoric about Acche Din and on the other hand the rhetoric about Bharat Mata ki Jai, Gau Raksha etc.
It is a strategy that works well for the BJP because it pleases both sections of its voters.
The urban middle class, particularly, has some kind of identity pressure. That's why they are supporting the BJP. They want development, on the other hand, they think India, particularly, classical India, is a great power.
The identity question of the Indian urbanised Hindu middle class is also very important.
How will this impact India?
We are passing through a very historical moment. The UP election next year and the Lok Sabha election of 2019 will decide the course of India.
If they (the BJP) get another term they may continue with this Hindutva-ised India. But we must not forget that even during the freedom struggle, in the early 20th century, when the RSS was founded in 1925, such things were going on.
They way (Vinayak Damodar 'Veer') Savarkar spoke and wrote about Hindutva, the way the Hindu Mahasabha was talking about Gandhi and Nehru, but their influence was restricted to a microscopic minority at that time.
Like I said, the 2019 election will decide the future course of India.
There seems to be a division in the majority and minority vote which is not good in a country as unique as India, because if India has to move ahead we have to move together as a people.
Even after Partition, a large number of Muslims chose to continue living here. That is very significant.
Personally I feel we will overcome this division. My understanding of Indian history, civilisation and Indian people makes me believe so.
What is it about us as a people that binds us in spite of such divides?
Even during the Emergency, the saying was 'unpadh logon ne padhe hue logo ko bachaya (the uneducated saved the educated people of India)'.
Maybe the unlettered will save India again because they have inherited a different India and a different idea of India.
You think the idea of India that the rural folk have is different from that of urban, educated, middle class India?
The poor, illiterate and rural India has inherited the Bhakti tradition that gives different ideas of India.
The Bhakti movement projects different ideas of India. Kabir criticised both Hindu and Muslim fundamentalists.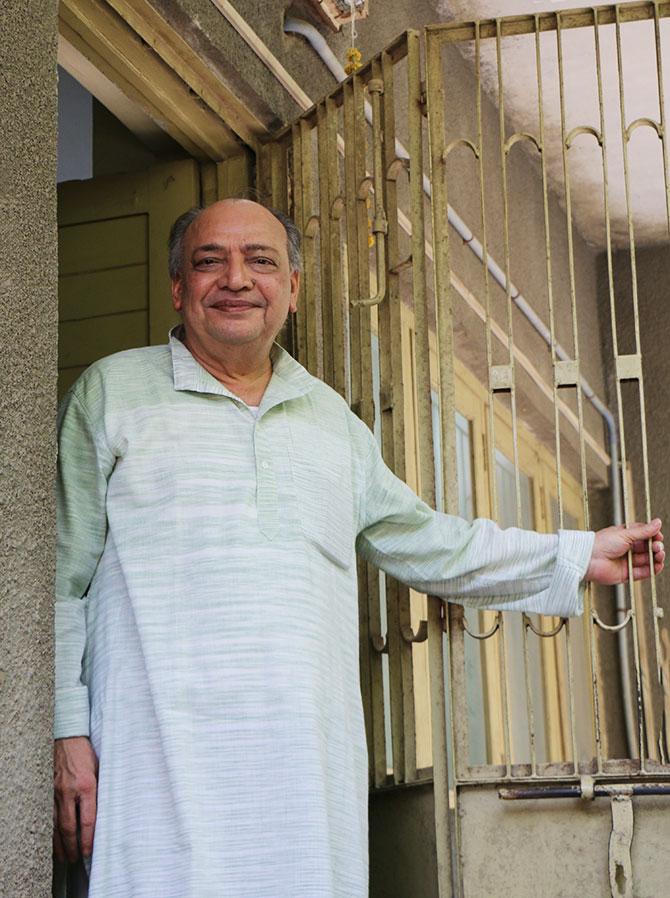 IMAGE: Achyut Yagnik at the SETU office in Ahmedabad. Photograph: Rajesh Karkera/Rediff.com
How different is Mr Modi as prime minister compared to what he was as chief minister of your home state Gujarat?
As chief minister he was always criticising the Centre. It is very interesting if you look at what happened in Gujarat then and what is happening now.
When he became chief minister for the first time, he was superimposed by the BJP leadership because of the 2000 municipality and local body elections. They had lost heavily and the 2002 election was before them.
As chief minister on the first day, he said, 'Our Gujarat, Unique Gujarat.'
He then started talking about Pakistan -- 'Mian Musharraf' etc. Then he started talking about development and governance.
He changes his rhetoric according to the changing political scenario.
Before he became PM, he was talking about Acche Din but people are now asking questions when will Acche Din come.
Another aspect is that he has failed in our foreign policy. Our relations with our neighbours have deteriorated, particularly Nepal and Pakistan. He should have played the role of a big brother to Nepal, Sri Lanka and Myanmar as a big brother.
In economic policies also we don't find that much change. India as a nation State is facing more problems.
But Mr Modi continues to enjoy tremendous support of the people. People compare his two years to the Congress' 60 years?
Whenever you ask a question about any situation to the BJP, they always start talking about the past. Talking about the past doesn't correct the present.
Despite that, the people, especially the urban middle class, are still willing to give him time.
When you say the urban middle class, it is essentially the urban Hindu middle class. They have this notion because they have an identity problem.
For example, take the Brahmins or Baniyas of Gujarat. They were divided into 84 sub castes. The upper castes were further divided. 50, 60 years ago, they were moving within that caste and caste relationships were intact.
After the Hindu upper caste migrated to urban centres, they began facing identity issues. They feel the Hindu identity and the great Hindu tradition is more important because earlier they didn't have this identity crisis.
Rapid migration cut you off from that caste identity because caste identity is no longer important in an urban centre. That is why we have this identity crisis and to resolve this crisis we are moving towards the BJP.
Modi's rhetoric has captured their imagination.
How has Modi's departure from Gujarat impacted the state?
He handed over Gujarat to Anandiben (Patel) who has no vision. If you see the social aspect, the agitation by the Patidars that started in August is still going on for 10 months.
Patidars are 14 per cent of the population. It is a dominant caste of Gujarat that became the backbone of the BJP after 1985 or so. The rise of the BJP in Gujarat was also possible because of the Patidars. They are losing that backbone so their social support structure is shaky.
Modi favoured big industry at the cost of small and medium enterprise. Urbanised Patidars used their agricultural surplus to start small and urban businesses -- this is what happened in the last 50, 60 years in Gujarat. One third of small businesses have closed down.
Anandiben is herself a Patel from North Gujarat like the leaders of the Patel agitation and she failed to understand the social situation.
Another aspect is the neglect of agriculture and that's why they failed to anticipate the drought situation.
Thirdly, they lost 75 per cent seats in the December panchayat election in rural districts.
But Gujarat has a very strong image as a developed state.
People in other states in Eastern, Central India forget that industrialisation in Gujarat began 150 years ago. The first modern textile mill in Asia was set up in Ahmedabad in 1861. Its people have a mercantile ethos.
Has Mr Modi appropriated credit for the development achieved by the state?
That is because of the failure of the Congress and that is happening even now. The BJP always talks about the past, but the Congress hardly talks about the past in a positive manner.
They never talk about what they achieved in the various Five Year Plans when they have all the data available. Modernisation at the all India level -- the big dams, the first industrial establishments in Bihar, Jharkhand etc -- were done by Nehru.
In Gujarat, is Anandiben's position very weak?
Gujarat will face an election next year, but at the same time there is no alternative.
In the present cabinet there are hardly any powerful leaders. It's a failure of Modi that he didn't develop a second rung of leadership after 10 years in Gujarat.
But this is true of all leaders?
It is happening at the national level also. Modi's philosophy is very interesting. He feels 'I am number 1 and up to number 10 there is no one.' The next person is at number 11.
In spite of its losses, the Congress has failed to reinvent itself and seems far from learning any lessons.
It has a lack of imagination and is structurally weak. Forget UP and Bihar, in many states there are just the Congress and the BJP, so the weakness of the Congress becomes an advantage for the BJP.
What is the Muslim mind in Gujarat thinking?
Muslims are only 10 per cent of the population unlike in UP or Bihar where they are in significant numbers. They have accepted their position as second class citizens.
We generally only talk about 2002 (the riots) because of Modi, but in Gujarat communal riots started much earlier. In 1985, the anti reservation agitation turned into communal riots, then in 1986, in 1987 and in 1990 (rath yatra), 1992 (Babri Masjid demolition), then 2002.
At the same time the Muslim leadership has realised the importance of modern education and have many more educational institutions.
In 2002-2003, there were about 200 Muslim educational trusts, now there are 800. That is a significant development.
Muslims in Gujarat are divided also into 87 jamaats, which is basically castes.
What about Muslims in the rest of the country?
In the rest of the country at least you find some resistance, some agitation and the numbers are also important. Resentment is also there amongst Christians.
They (the BJP leadership) never stops people like Sadhvi Prachi, Yogi Adityanath and these are MPs.