'Modi's idea of India is to make it less liberal, less tolerant and a less accommodative of diversity.'
'We are headed, if Modi continues, to become an illiberal democracy.'
'Vajpayee was fundamentally decent, tolerant and fair. He played by the rules of the game. Modi is a different story.'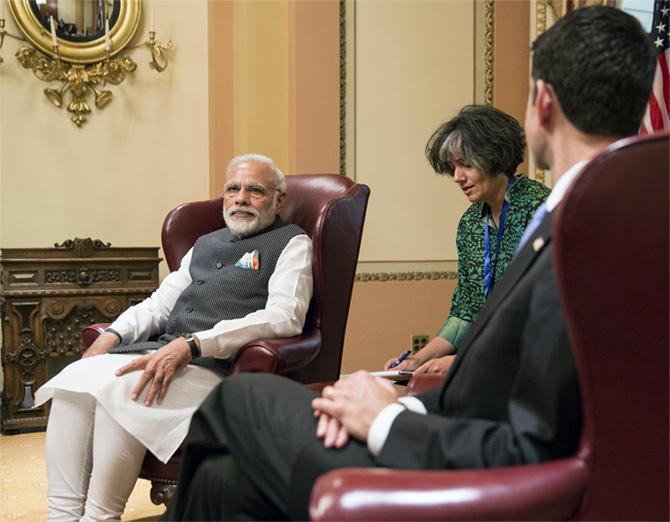 IMAGE: Prime Minister Narendra Modi with Speaker Paul Ryan of the US House of Representatives, Capitol Hill, Washington DC, June 8, 2016. Photograph: Press Information Bureau
Former Union minister Jairam Ramesh, who has just published his third book in less than two years -- Old History: New Geography on the bifurcation of Andhra Pradesh -- tells Rashme Sehgal about the state of the Congress party and how the bifurcation weakened the party in its Telugu bastion.
The Congress is in the throes of a major crisis.
Yes, we are facing a crisis of an unprecedented nature. We have faced crises in the past, but this crisis is unprecedented in its magnitude.
The Congress has never reached so low in the Lok Sabha and our strength in the Rajya Sabha is also at an all time low. It has depleted and will continue to deplete over the next four years.
Narendra Modi is not Atal Bihari Vajpayee. Vajpayee was fundamentally decent, tolerant and fair. He played by the rules of the game.
Modi sets his own rules -- that is if he has any at all. He is a different story. I don't think that we should minimise the seriousness of the situation.
Modi's idea of India is to make it less liberal, less tolerant and a less accommodative of diversity.
We are headed, if Modi continues, to become an illiberal democracy.
As it is, we have moved from a prime ministerial form of government to a presidential form without the checks and balances.
We have been waiting all these months for Rahul Gandhi to take over the Congress party.
I am also at a loss to understand why there has been such a delay. Frankly, even the Congress President Sonia Gandhi is expecting he will take over.
I am a little mystified at the delay. He took time to meet 200 to 300 people to select his initial team of 50 people to run the All India Congress Committee.
'I am a little mystified at the delay in Rahul Gandhi taking over the Congress.'
'It is not inevitable that he will marry, but it is inevitable that he will take over as Congress president.'
In all, he has shortlisted 50 people. That exercise took time, but he has identified them. Now he just has to do it.
I think the Congress party is waiting for him to take over, frankly the country is waiting for him to take over and the Congress president is waiting for him to take over.
He has been taking over progressively greater responsibilities. But he needs to take on this mantle of Congress president as this has its own institutional importance.
It is not inevitable that he will marry, but it is inevitable that he will take over as Congress president.
Is this not dynastic politics?
We have many leaders in the Congress party. But I believe the day of the magic wand is over, the day for quick fix solutions is over.
It's going to be a gigantic collective effort, a long haul process and all of us have to be ready to be marathon men.
There are going to be hard knocks along the way, but I am sure we will get out of this.
Is Priyanka Gandhi planning to enter politics?
I have no idea. This is a decision she will take on her own. This is not something I will be privy to.
'From the Congress point of view, the bifurcation of Andhra Pradesh was a disaster. If at all, there is a case of spectacular suicide, then this is it. We were wiped out in Andhra Pradesh and we performed much worse than our expectations in Telangana.'
As an Opposition party, why does the Congress lack punch?
We are raising issues. To cite an example, we have been raising the issue of the Krishna Godavari Basin scam where Rs 20,000 crore (Rs 200 billion) in bank loans were spent on gas exploration and there was no gas. I agree that we need to be more aggressive.
From the Congress point of view, the bifurcation was a disaster. Bifurcation was inevitable. There were historical, political and socio-economic reasons for the bifurcation, but from the Congress point of view, it was an unmitigated disaster.
We were wiped out in Andhra Pradesh and we performed much worse than our expectations in Telangana where we won 26 per cent of the popular vote.
If at all, there is a case of spectacular suicide, then this is it. Andhra was a bastion of the Congress, a citadel. Andhra made United Progressive Alliance-1 and UPA-2. That is why I am saying, from our point of view, it was a disastrous self goal.
Then why on earth did your party have to push for this bifurcation?
We have to look at this issue from a larger perspective. We need to understand it from a historical context, from a socio-economic context and also from a political subtext.
All the political parties except for the CPI-M (Communist Party of India-Marxist) supported it. The TDP (Telugu Desam Party) gave two letters in favour of bifurcation.
The BJP (Bharatiya Janata Party) changed its stand. In 2000, they were against bifurcation. In 2000, L K Advani wrote a letter insisting his party did not support the creation of Telangana. But by 2008, after they had created Jharkhand, Chhattisgarh and Uttarakhand, the BJP had changed its stand.
The Congress was deeply divided on this issue. There was a strong bifurcation lobby because all the Telangana MPs supported it. Ghulam Nabi Azad was its biggest champion. The Andhra MPs led by the chief minister opposed bifurcation.
I have spoken to several Andhra Congress leaders and they say they were kept in the dark regarding the bifurcation of the state.
The issue was under discussion from 2004. The issue went back and forth for many years, but the death of (then Andhra Pradesh chief minister) Y S Rajashekar Reddy on September 2009 gave new life to K Chandrasekhar Rao. The then home minister P Chidambaran's statement on December 9, 2009 was the turning point.
Why did Chidambaram give it this push and why did he issue such an important statement so late at night?
He must have received a lot of intelligence reports. It was the tenth day of KCR's fast -- which by the way was taking place in an air-conditioned room at the Nizam Institute of Medical Sciences, and whether he was actually fasting or not is not known.
His (Chidambaram's) statement seemed to give an indication that the government had started the process of creating Telangana. From that point onwards, things started moving.
Up to October 2013, I was not involved in this in any way. My involvement started when the GOM (group of ministers) was constituted under the chairmanship of the prime minister and I was a member of it.
For the next seven months, I became the face of the GOM and its prime mover. The Andhra Reorganisation Bill 2014 was passed by the Lok Sabha on February 18 2014, and it was passed two days later by the Rajya Sabha. I remained involved with this till May 16 2014 up to the point I quit.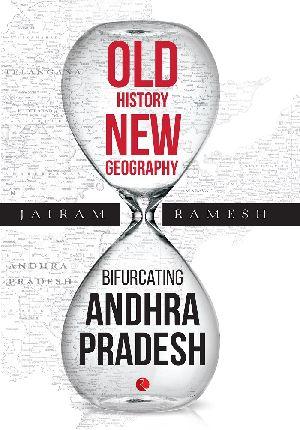 But you cannot deny that the decision making on this subject seemed to have been done primarily in New Delhi. The Congress has been criticised for this.
This is all doublespeak. We talked to all the MPs and MLAs. The demand for Telangana was included in the 2004 consultation. YSR gave a statement in the Vidhan Sabha.
During the 1960s, (later Andhra Pradesh chief minister) Dr M Chenna Reddy started a Jai Telangana movement where he wanted to separate the Telangana states from the coastal states.
In the early 1970s, a Jai Andhra movement was started where the coastal states wanted to separate from Telangana. P V Narasimha Rao was then chief minister of Andhra and he lost his job because of it.
There is no doubt that the Congress has paid a heavy political price because of this bifurcation.
I hope this does not mean Uttar Pradesh will not bifurcate. By 2050, UP will have a population of 450 million.
Already, in its current shape it is ungovernable. That is why Mayawati had proposed the creation of four more states because given its present population of 200 million, it is completely ungovernable.
In hindsight, would you say the division of Andhra Pradesh was a wise decision for the Congress party?
We cannot take a decision in a two-year perspective. Development had become excessively Hyderabad centric, hopefully now other cities will take off.
A few castes dominated Andhra politics, hopefully following bifurcation, political power will now be exercised by other groups, especially by the more disadvantaged groups. I hope more tribals and SC/STs groups enter mainstream politics.