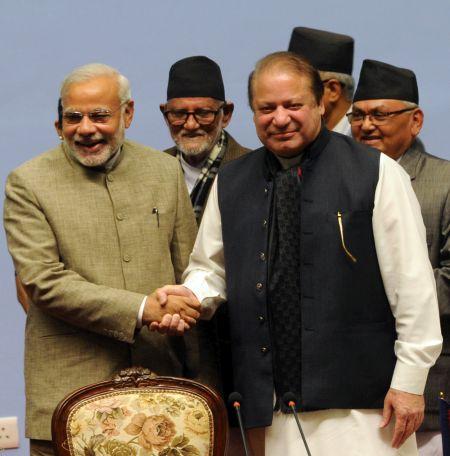 'Modi has said he has been made the PM of India not to do small things but big things. What bigger thing can there be than to have peace with Pakistan and in the neighbourhood?'
The final part of former Pakistan foreign minister Khurshid Mahmud Kasuri's fascinating interview with Sheela Bhatt/Rediff.com
Don't miss part 1 of the interview: Exclusive! When India and Pakistan nearly reached an agreement
Afghan President Hamid Karzai while leaving office said that Pakistan wanted the Durand Line (the border between Afghanistan and Pakistan) to be accepted by the Afghans and Pakistan had reservations about Afghanistan's ties with India.
Let me put the record straight. The Durand Line is not an issue. It is an international border, India recognises it, the United Nations, America recognise it, every country in the world recognises it.
Afghan King Zahir Shah, in a private conversation, said to me, that in the 1965 and 1971 wars, Pakistan did not need to keep a single soldier on the western border. So that was the effective recognition of the Durand Line. What I am trying to say to you is that I don't want to say unnecessary things that annoy people.
I understand Afghanistan has a certain perspective, but then this is understood that this is an accepted international border, so I don't think it really matters what Mr X or Y may say.
It is not a mere Mr X or Y, but a former president saying it.
Yes, yes, I understand and I don't mean to disrespect anyone, I have had very cordial relations with Karzai, we met very warmly and in a very friendly manner. I mean by X and Y, when anybody, there are many people -- not Karzai -- who have raised this issue, but of no consequence.
It is not like Kashmir, it is not like so many other issues which are considered bilateral disputes.
The strategic depth that India seeks in Afghanistan is questioned by Pakistan, Karzai said.
Pakistan would not mind in the least if Afghanistan and India developed close relations. As long as we were satisfied it was not against us.
My aim was to change the Pakistan-India paradigm. If you change the paradigm, then the threat of any negative activity by India or Pakistan in other territories will disappear. And it will be like Canada and the US.
India and Pakistan should have such a relation. This is what Mohammad Ali Jinnah wanted and that is what Mahatma Gandhi wanted.
What is the maximum or minimum that India wants from Pakistan to establish peace?
I think India wants that there should be no terrorist activity aimed at it. Pakistan wants there should be no need for terrorist activity. It is hurting us the most and we should solve the issues bilaterally.
How can it be resolved?
Read my book and you will figure out.
What do you think of Islamic State?
It is very dangerous idea. The idea of an Islamic khilafat, the idea of Muslims being one nation has been universal and has been there for 1,400 years now. But it has been peaceful. Even after the Prophet's time, there were times when there wasn't one Islamic State and there were times when there was one.
People had accepted the idea of spiritual unity -- they pray to one Allah, they have one Prophet and one Quran. But they were members of different States.
In the Islamic world there are 56 members in the Organisation of the Islamic Conference, there is not one. Otherwise, there would be no need for the OIC. There are 56 sovereign nations.
The Islamic State in Iraq and Syria is now actually trying to bring this about forcibly. And they are using violence, attacking Muslim rulers and governments. More than attacking non-Muslims, they are killing Muslims.
They feel Muslims rulers are agents of foreign powers and they attack all Muslim governments blindly.
This is a big existential threat, not just to Muslim people, but to the whole world. Another thing we must recognise and which Pakistan recognises is that there are linkages in these organisations.
So the North Waziristan operation that has been launched in Pakistan, I think in 4 or 5 months the Pakistan army has suffered many causalities, it is not an easy operation.
Around 1,200 terrorists have been killed. I think there must be 100 soldiers who must have laid down their lives in ground to ground combat, hand to hand combat. But their infrastructure has been destroyed. This is one good thing for Pakistan.
One thing I want Indians to understand, that regardless of what Indian complaints may be, maybe India will empathise more if it realises that Pakistan is a major victim of terrorism.
Our security establishments -- army, navy, air force, intelligence, police -- all have come under attack as have civilians. So we recognise the danger from terrorism. It is not that we do not see it, we experience it on daily basis.
What is your take on Narendra Modi? Do you think he is in a position to deliver the peace which you have been seeking?
When I completed my book, 2, 3 months ago, Prime Minister Modi had invited Nawaz Sharif to his swearing-in. I had taken into consideration what a lot of Indian writers had written about him -- that he is not (Atal Bihari) Vajpayee. I still concluded that Modi will play a major role and he wants to develop India economically.
And these two things do not go together. If you have instability, violence, you cannot achieve substantial economic potential. So I had concluded despite all in India who opposed Modi that he will carry the project forward.
In the meanwhile when the publisher sent the book back to me, foreign secretary level talks had been cancelled by Modi, over the issue of the Pakistan high commissioner's meeting with Hurriyat leaders. And I was asked to say something. I wrote only one paragraph that I have not changed my opinion.
General Musharraf said recently that Modi is anti-Muslim and anti-Pakistan.
Let me put this way -- our experience of India-Pakistan relations is that they will never remain like this. So during the absence of positive stimulus, unfortunately they will go on like this. That is why we were trying when I was foreign minister, that wide positive impetus is very essential.
Because you know we have a lot of baggage and it demands constant care.
And whenever there is anything like this, there is a lot of reaction. Lots of people say lots of things. Things they would not generally say.
After all, it was President Musharraf who started Kargil, was cursed in India, who was invited to come to Agra, and then turn into a hero. His maid servant was discovered, his Nehar wali haveli was discovered. He had to give $1,000 to the maid from his pocket as she had been discovered by the Indian media.
So there was a lot of hype. The same Musharraf then signed the Islamabad declaration with Vajpayee in 2004. So the same human being is capable of lots of things. Human beings are complex, they say something when they are angry.
Why did you fail to reach a peace accord?
Because very simply in 2006, Dr (Manmohan) Singh could not come to Pakistan. There were elections in UP and a few other states and he was politically probably advised not to come. Everything was ready. Manmohan Singh was to sign.
Just a few little issues would have been left to resolve. It would have provided great impetus to resolve everything. Then we decided he would come in March, but then the legal movement started in Pakistan.
What makes me confident is that we have done extreme detailed work. Commas, full stops had been done and there have been many drafts exchanged.
Now both countries would know each other's bottom lines. There is no bluff, no poker.
But now there is Narendra Modi at the top.
Modi is a human being like all of us and human beings have a desire to do good in life.
He has got 282 seats. He is talking from a position of strength.
It doesn't matter. It can be a position of strength for goodness. Why not?
I am thinking that it will be a position of strength for goodness and I was told at the conference here that he has issued a statement that he has been made the PM of India not to do small things, but big things.
What bigger thing can there be than to have peace with Pakistan and in the neighbourhood?
We will be able to lift at least 600 million people living below the poverty line as China has done. The socio economic indicators in South Asia in some cases are worse than sub-Saharan Africa.
In your lifetime will you see India and Pakistan at peace with each other?
Inshaallah!
Image: Narendra Modi and Nawaz Sharif at the SAARC summit in Nepal. Photograph: MEA/Flickr