100 days have passed since the current unrest in Kashmir began.
As a tentative normalcy returns to the valley, Kashmir remains on edge.
Tariq Hamid Karra, who resigned from the PDP and as the Lok Sabha MP from Srinagar, reveals why he feels totally irrelevant in Kashmir.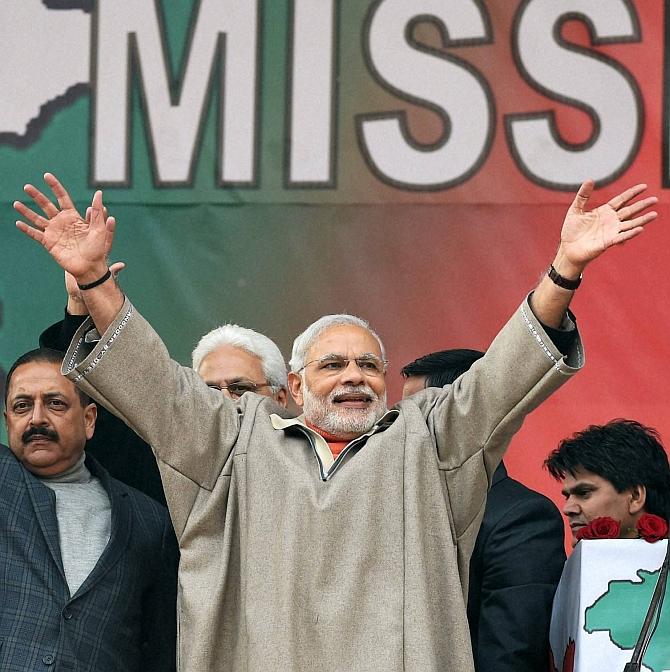 IMAGE:'Modi has missed the bus in Kashmir,' says Tariq Hamid Karra. Photograph: PTI Photo
Even as Jammu and Kashmir Chief Minister Mehbooba Mufti tried to find ways to calm the unrest that erupted in the valley after Hizbul Mujahideen terrorist Burhan Wani was killed, Tariq Hamid Karra resigned from the Peoples Democratic Party and as the Lok Sabha MP from Srinagar.
Elected to the Lok Sabha in 2014, Karra was a close aide of the late chief minister Mufti Mohammed Sayeed and was one of the PDP's founding members.
Karra told Rediff.com's Syed Firdaus Ashraf why he resigned from the party and his Lok Sabha membership. This telephone interview was recorded a couple of days before the terrorist attack on the army camp in Uri, in which 19 soldiers died.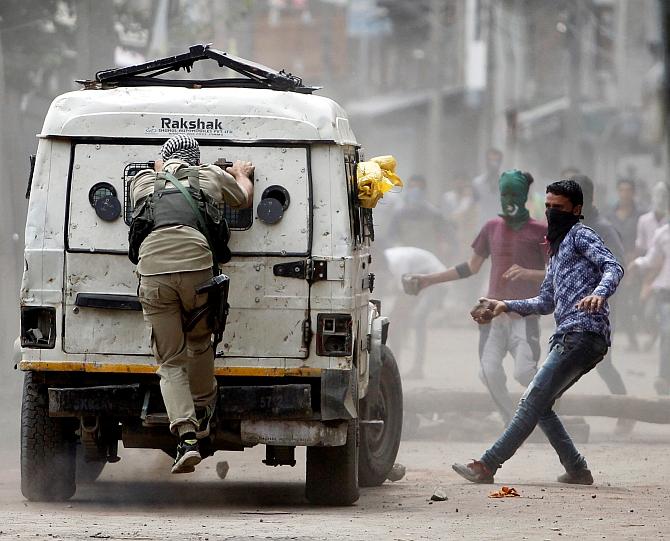 IMAGE: Demonstrators try to hurl stones at a police vehicle during a protest in Srinagar. Photograph: Danish Ismail/Reuters
Why is a leader like you who defeated National Conference patron Farooq Abdullah in the 2014 general election disillusioned with the PDP?
There are two reasons. First, the PDP alliance with the RSS (Rashtriya Swayamsevak Sangh)-driven BJP. This issue I have been raising for the last 16 months now.
Second, the present dispensation's killing of innocent protestors and the extent of brutality.
Were you unhappy with the PDP joining hands with the BJP to form a government when Mufti Mohammad Sayeed was alive?
Not at all! The PDP was floated on a certain premise and that included:
Facilitate the resolution of the Kashmir issue within the parameters of the Constitution;
Bring the Hurriyat and the Government of India to the table to negotiate the returning of power projects, as we have been suffering losses due to the Indus Water Treaty;
Return of our Pandit brethren back to Kashmir;
And (deal with) the excesses meted out to people during Dr Farooq Abdullah's National Conference government.
We had created the PDP as a buffer, as on the one side there were the separatists and on the other there were hyper-nationalistic forces.
We wanted to have a political breathing space for the people of Jammu and Kashmir. We were often branded as being soft separatists as well.
After the 2014 election, we swept all three Valley seats. I was one of them, the second was Mehbooba Mufti and Muzzafar Baig was the third person. We fought this election against the National Conference.
When we fought the state elections, the focus of our campaign was to keep the BJP out because the Narendra Modi wave had come into state politics as well by that time.
We sought a vote against the BJP and the people responded to that. We emerged as the single largest party.
Later, we shook hands with the same party whom we opposed in the elections to form the government.
What was the compulsion to align with the BJP and form the government?
Muftisaab gave an argument that as far as building relations with Pakistan is concerned, the Congress will not be able to help us because they were out of power.
He further said that we would need liberal funds to fill the gap of infrastructure and other administrative issues because Kashmir had suffered in the devastating floods of 2014.
As far as I am concerned, I was clear that getting into an alliance with the BJP would be a danger because of their past and their political ideology.
I suggested that we sit in the Opposition rather than get into an alliance with the BJP.
Muftisaab did not listen to me, but others followed him and got into an alliance. I publicly requested him and had warned him of dire consequences.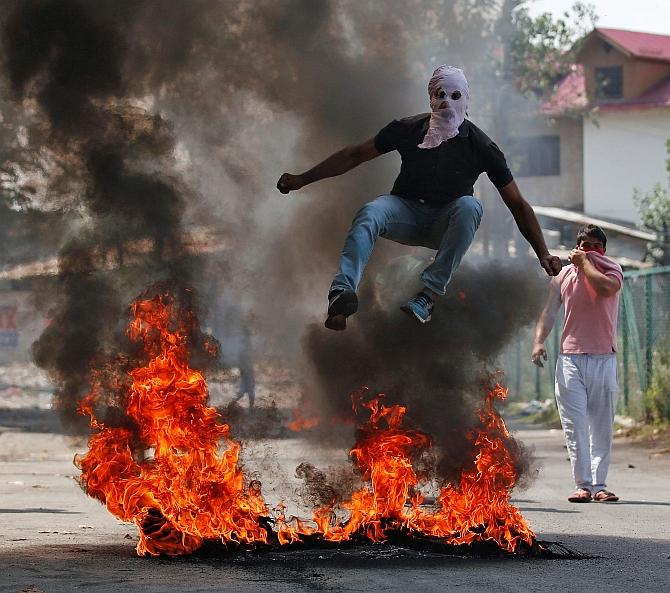 IMAGE: A protestor in a balaclava jumps over burning debris. Photograph: Danish Ismail/Reuters
How would Muftisaab have handled this situation after Burhan Wani's killing?
I cannot comment on that. Burhan Wani became a trigger. It was not that big an issue, but I do not want to undermine it.
Wani's death was a flashpoint. The alienation started from day one when the BJP got into alliance with the PDP.
It was an alliance between diametrically, ideologically and temperamentally opposite people.
The Kashmiri temperament does not accept hyper nationalism.
That does not mean Kashmiris are communal -- they are one of the most secular people on Indian soil, but they cannot accept the ideology of the RSS which I call cultural ingression, administrative ingression, ideological ingression and even religious ingression which is very visible all over India.
We Kashmiris are not against Hindutva, but against Hinduisation.
Modi has been, since the last two years, playing politics to Hinduise India.
But Kashmiri Pandits were driven out by Kashmiri Muslim fundamentalists.
How can you say Kashmiris are secular?
I have a counter-question. Radicalisation of Hindu extremism in India is termed as nationalism and glorified, but radicalisation of Kashmiris is called terrorism?
Kindly do an appraisal of what is defined as extremism in Kashmir and what it means in the rest of India?
Why are PDP leaders not coming forward and solving problems in Kashmir? After all, the people voted for your party in the last elections.
You need to come to Kashmir to seek an answer to this. Every mainstream politician has become irrelevant today in Kashmir.
You have to go to the genesis of the problem. We are simply pruning the branches of the tree. We are not going to the root cause.
The alienation has political history behind it. It has a history of broken promises, brutality and discrimination. We have so much of bitter history.
Forget about others, I am a mainstream politician and today I feel totally irrelevant (in Kashmir).
We also have a history of Pakistan-sponsored terrorism in Kashmir.
I do not deny that. Pakistan's involvement in Kashmir could not have been possible had there not been a fertile ground for it.
Passing everything on to Pakistan rather than accepting India's failure in Kashmir is not a smart policy.
5 percent of Kashmiris instigate terrorism and 95 percent want to live in peace. How far is this true?
Who said that?
(Chief Minister) Mehbooba Mufti said that...
She has not explained this (theory). Why was curfew not lifted for the 95 percent? Why were they not allowed to perform their religious rights (on Bakri Eid)? This is contrary to what she has said. This is absurd.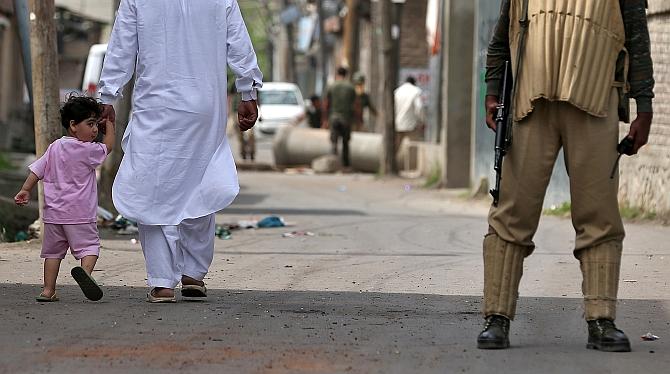 IMAGE: A boy looks back at a member of the security forces in Srinagar during curfew. Photograph: Cathal McNaughton/Reuters
One fear is that Kashmir may end up resembling the Tahrir Square in Egypt if curfew is lifted. Is this possible?
This (issue) has been mismanaged from day one. This is the total failure of the government. The BJP's mindset of non-denial is adding fuel to the fire (in Kashmir). They are using veiled threats, which is infuriating the people.
What can Prime Minister Modi do to win the hearts of Kashmiris?
He cannot! Modi has missed the bus in Kashmir.
He was rather never interested in winning over Kashmiri hearts.
But he spoke of peace and went to Lahore to meet Pakistan Prime Minister Nawaz Sharif.
(Interrupts) Jingoism never works in politics.
Has the government erred in making the Hurriyat leaders irrelevant in Kashmir's politics?
The Centre and the state government made the biggest blunder by making the Hurriyat irrelevant. They (the Hurriyat) could have played a positive role despite whatever we say about their politics.
By saying that they should leave for Pakistan, and that they should do this and that. This is against the national interest.
Hinduisation will not be accepted by the general populace of India.
Indian taxpayers' money provides for the security, safety and other facilities of the Hurriyat leaders who time and again raise anti-India slogans.
You have to solve this problem politically. Jingoism will not work.
If someone shouts anti-India slogans, it hurts me as an Indian...
This is not only in Jammu and Kashmir. You have been going through this since Independence, in the north-east and with the Maoists.
You talk to them, but are shy of talking to Kashmiris.
You talk to these people unconditionally, but you put pre-conditions on Kashmiris. I don't think this is going to work.
You seem to be disillusioned with the situation in Kashmir. As Ghalib would say, 'Koi umeed nazar nahi aati, Koi soorat nazar nahi aati'
My uncle G M Sadiq was the state's chief minister. My aunt Zainab Begum was a minister in the Sheikh Abdullah cabinet.
I have held ministerial positions like finance, law, forest, ecology, planning, tourism, housing and urban development.
Our family has enjoyed power since 1947 and nobody has raised a finger against us.
My sister-in-law is also in the present government, but I have not asked her to come out of the government.
I have thrown an appeal to all elected people to peep into their conscience and act accordingly.
If a person like me is so disillusioned, you can imagine what other Kashmiris must be thinking.
I am telling you this is the last chance India has.
You can eliminate terrorists, but not terrorism.
You must have a heart and adopt a humane policy.
You have to show the maturity of (then prime minister) Atal Bihari Vajpayee to solve the Kashmir problem. He too was from the BJP and had an affinity with the RSS.
Modi has an attitude like Alexander the Great for Kashmir. This will not work in Kashmir.