'Let us not say that Modi has not delivered on anything; he has delivered something and in parts substantially, but he has to also deliver on a large number of his electoral promises.'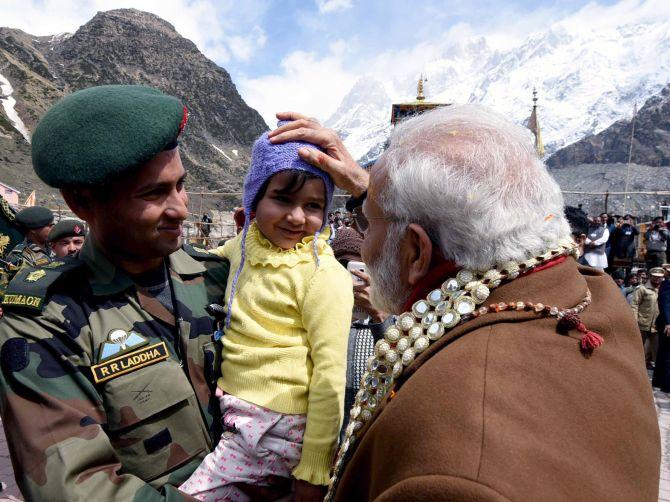 M R Venkatesh, chartered accountant and political commentator, discusses three years of the Narendra Modi government with Rediff.com's Shobha Warrier.
If you were to give a report card to Narendra Modi after completing three years, what will it be?
If you look at the performance of the Narendra Modi government, I would say it has done spectacularly well in certain areas and has room for improvement in some areas.
Put pithily, it is a good government on its way to greatness!
For instance, in the fight against corruption there can be no complaint against it. There are no major allegations even by the Opposition against the prime minister or for that matter any of his Cabinet colleagues.
But that is not the only mandate the NDA got; the mandate was not just to be clean, but also take action against those who were party to the loot during the UPA regime.
This is where I feel the Modi government can do better.
Strangely, it is willing to strike but for some inexplicable reason is unwilling to wound.
Several Opposition leaders seem to be enjoying a peculiar sort of confidence that somehow or the other, the system will contrive and protect them.
Narendra Modi cannot overlook this portion of the 2014 mandate.
He has not only to act but also destroy the perception that his government is slow to act on past corruption cases.
Do you think he is afraid of people perceiving it as a witch hunt, and fears it would have a negative impact on the government?
Probably, that is the reason. Narendra Modi must have had his political baptism in the 1970s. He must have seen the kind of sympathy wave for Indira Gandhi post her arrest by the Janata government.
It was the hasty arrest that subsequently led to her political resurrection. So, Modi probably believes that unless there is a huge public demand for action against a particular leader, he doesn't want to take the risk.
But he must understand that 2017 is not 1977.
I am sure the nation will be with him if he were to take action against all those corrupt backed by evidence and proper investigation.
He had promised in 2014 that he would bring black money back to the country. Do you think he has done enough on that?
Demonetisation has been a resounding political success.
There were naysayers right from the first day, but he has won election after election whether it was at the state level or panchayat level.
Narendra Modi, the politician, has come out unscathed in the aftermath of demonetisation.
Looking at it from the economic point of view, the Budget of 2017 gives us some clues; That one-and-a-half lakh people have deposited around Rs 5 lakh crores.
We have to wait for some more time for these people to be assessed.
I understand from my sources that the enforcement directorate, the corporate law ministry and the income tax department have been able to collect a lot of data post demonetisation.
Analysis is going on now. Zeroing in on those who are party to the loot of the nation over the past several years will take time.
On one hand, we want instant judgement. On the other hand any action is also termed as political vendetta.
My guess is that it will take some more time for any action to be visible.
The way the data has been collected and being put to use subsequently, even the hardened critics of Narendra Modi admit that it was a huge success in the fight against black money.
You said demonetisation was a political success. But Modi's critics say he somehow managed to make the poor of India believe that demonetisation was against the rich and for the poor.
According to his critics, demonetisation has not achieved anything like fighting corruption, terrorism or black money.
Critics said he hurt the poor the most and challenged that he would lose all the state elections.
After the UP and other state elections, his critics have lost credibility in the eyes of the public even to criticise Modi.
The larger issue is, today even to take action against the corrupt, no government department had adequate data or information based on which they could have made an objective analysis.
Remember, we are not playing a T20 match, but a 5 day Test match.
As a chartered accountant, I understand why it is taking time, but the common man may wonder why no news about black money.
That's why I want Narendra Modi to take action against the low hanging fruits.
That must be visible and perceptible. It would make people see that the crooked are being punished and the law of the land prevails.
In 1977, people were patient and the Janata government took a hasty decision and made a mess of itself.
In 2017 the people are in a hurry and I hope the Modi government takes a decision in line with the mood of the nation.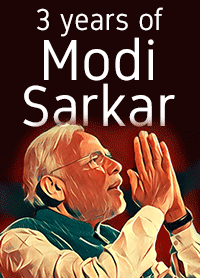 Another plank on which Narendra Modi fought the elections was job creation. He had promised to create millions of jobs. Where does he stand on this promise?
Unfortunately, jobs are not getting created. And that is a fact.
But this is complicated economics.
For instance, 20 years back, to lay a kilometre of road, you might have used say 100 people.
But today, thanks to technology, you need only 30 or 40 people to do the same job.
Technology and automation are revolutionising the jobs market.
But that's not the only issue. The government is also wanting in job creation.
And for that we need skills. And you cannot create skills overnight. I would say this lack of skills is the legacy of the past 30, 40 years.
My grouse with this government is that it has not properly brought the performance of the previous Congress government to the attention of the nation.
When it took over in 2014, my view was that it should have come out with a white paper so that people of India would have known the precise state of the economy.
For example, there are some 10 to 12 business groups in India which owe around Rs 7 ½ to 8 lakh crores to various banks, but most are not reportedly earning enough to even pay the interest on their loans.
India's NPAs (non performing assets) and banking problem can be sorted out only when you settle the issues of these 10, 12 business groups. This is the 800 pound gorilla in the room.
Unless we settle the NPA problems, banks will not lend.
Unless business houses borrow, they will not invest.
Unless they invest, the investment cycle will not pick up.
Unless the investment cycle picks up, the employment cycle will not pick up.
While we all talk of unemployment or NPA problems, no one blames the previous government for its profligacy and the way it messed the economy.
When you have around 50% of the population below the age of 30, will lack of jobs affect Narendra Modi when he faces the election in two years' time?
It is not only jobs, but industrial growth and Make in India also.
If I am disappointed with one issue with the Modi government, it is water.
If you travel from Haryana to Rameswaram via Rajasthan, Gujarat, Madhya Pradesh, parts of Andhra, Telengana, Karnataka down to the interiors of Tamil Nadu, as many as 200 to 250 districts are perennially water starved.
But we are not thinking of taking the basic steps in dealing with water in these areas.
What was the water position in May 2014, it is the same in May 2017 also.
So, if you start dealing with water as a subject, unskilled labour can be used.
For that to happen we must repair, restore and rejuvenate our water bodies.
That is how you create employment. Once you store water, you create water bodies, farming will be more intense.
When agricultural production goes up, there will be a cascading effect on the economy.
Whenever we talk about jobs, it doesn't mean only factory jobs.
Whenever we mean infrastructure, it doesn't mean roads and national highways.
There are at least a million water bodies that need to be restored and rejuvenated. But strangely, water is not a focus area of this government.
I would prefer the prime minister himself to give attention to this crucial subject as he did when he was the CM of Gujarat.
Is it true that India faces an agrarian crisis?
Yes. But let us understand that since Independence we are facing an agrarian crisis.
Even today, agriculture uses the largest manpower in India. And we are one country that can have three crops.
We have the potential to export vegetables and fruits to the world, not to speak about cereals.
But if you look at the agricultural policies of Sharad Pawar and distinguish it with that of Radha Mohan Singh, one will surely conclude that there is no significant difference between the two (agriculture ministers in the UPA and NDA governments respectively).
To tackle this water-agrarian-rural employment crisis, Modi has to concentrate on water.
Though the economy is growing, it is jobless growth.
Unfortunately, it is the truth.
The only place where you can create jobs and growth, it is in the SME sector (small and medium-size enterprises) which Professor Vaidyanathan describes as India Unincorporated.
Unfortunately, they are starved of finances. Mudra scheme is not yet evolved fully.
These are the areas, the Niti Aayog and the advisor to the prime minister's office should look into.
Another drag from industry's perspective is that ease of doing business has not improved substantially.
Even today, every businessman is looked at with suspicion by government departments and it is the onus of the businessman to prove that he has done everything under the law.
There are weak areas in our manufacturing sector. Consequently, our industrial growth is tepid.
Exports have marginally gone up, but that was only in March 2017. I would only pray that the Modi government comes out with a far more industry-friendly policy, especially for MSMEs (micro small and medium enterprises).
Banking and financial institutions are consequently in a huge flux and we still have no clear idea how to deal with it.
Unfortunately, we are happy with solutions that last for half a day and not looking at composite long term solutions.
On the other hand, if you take coal, mining, power, ports, roads or railways, the government has done wonderfully well.
When the UPA demitted office in 2014, we were laying 2 km of highways a day. Today, the figure is approximately 32 km per day and is expected to touch 50 km by next year.
Unfortunately, the growth in these sectors are not translating into overall job growth.
To sum up, let us not say that Modi has not delivered on anything; he has delivered something and in parts substantially, but he has to also deliver on a large number of his electoral promises.
---
---
Another criticism against Narendra Modi is about the Hinduisation of India. Critics say it is only because of polarisation that the BJP wins state after state.
The sad part of Indian politics is that unless you abuse Modi, you are not an intellectual.
The fact is the much talked about Mahaghatbandhan (grand alliance) is trying to polarise the country against Narendra Modi and not the other way around.
When others polarise, Narendra Modi will obviously be a beneficiary.
Everybody should realise that polarisation is not a one way street.
India is going through a phase leading to a binary polity.
The more the Opposition Mahaghatbandhan gives the colour of pseudo secularism and by pampering the minorities, it will become the pan Indian Muslim League of the 1940s with the sole exception that this crowd will be in search of a Jinnah to lead them.
In this scenario, if Modi benefits, is it his fault?
So, you agree that Hinduisation or consolidation of Hindus is happening?
I will say minority-ism practised by the so-called secular parties has given rise to a Hindu consolidation.
Let us understand the cause and the effect. The more the Opposition pampers and protects the minorities at the cost of Hindus, Hindus will get consolidated under Narendra Modi.
Is this what is happening in states like UP?
Yes, Hindu consolidation is happening on a massive scale.
That is why I say the pseudo-secular parties should do deep introspection for their own good.
This consolidation was waiting to happen and Hindus were waiting to get consolidated under a person who has appeal across all castes.
Narendra Modi has appeal across all castes. And that virtually makes him electorally invincible.
This Hindu consolidation is not something new. It had happened during Bal Gangadhar Tilak's time, it had happened during the Mahatma's time, it had happened during Netaji's time, it had happened during Indira Gandhi's and Rajiv's time and it is happening now under Narendra Modi.
Hindu consolidation has happened throughout our history, but only when it happens under Narendra Modi, it acquires monstrous overtones.
The more minority-ism, the more the consolidation.
Do you feel Muslims in India feel insecure?
I wouldn't say they are feeling insecure because of Hindu consolidation, but because their political bosses are transferring their political insecurity to the Muslim community.
The mullahs, religious leaders and pseudo-secular parties who had been manipulating the minorities for decades are the reason for this feeling of insecurity in the Muslims.
Mark my words, sooner or later, the minority communities will see through this game and would join the majority community disregarding their political bosses.
That will lead to a healthy development of a polity where Muslims and Christians will not vote for X party and Hindus will not vote for Y party, but all communities will vote for the best candidate and the better party.
That will be the ultimate crowning glory for Indian democracy.
The BJP talks about a Congress-mukt India, Opposition-mukt India.
In the early years of India when there was no opposition to the Congress, we saw the repercussions.
Don't we need a strong Opposition and a strong ruling party for a healthy democracy?
I fully agree with you; for the healthy functioning of democracy, we need both.
What can we do when the main Opposition party is hell bent on destroying itself?
It is not the job of the BJP to sustain the Congress, let us be very clear on this.
I was talking about (BJP President) Amit Shah talking about a Congress-mukt Bharat...
It is a very legitimate political line that Amit Shah wants to decimate the Opposition.
But tell me whether the government is doing anything to destroy the Congress party?
On one hand, we lament that the government has not taken any action against the corrupt Congress leaders.
On the other, we say the government is destroying the Opposition.
As the leader of a political party, Amit Shah can talk about destroying the Opposition.
But the crucial question is whether Narendra Modi as head of the government is using the agencies of the State to destroy the Congress based on false cases?
The answer to this question is, no, he is not.
IMAGE: On his way back from Kedarnath, the prime minister greets a soldier's child. Photograph: Press Information Bureau