'Rahul Gandhi has openly supported anti-nationals.'
'Freedom of speech cannot be in favour of anti-nationals.'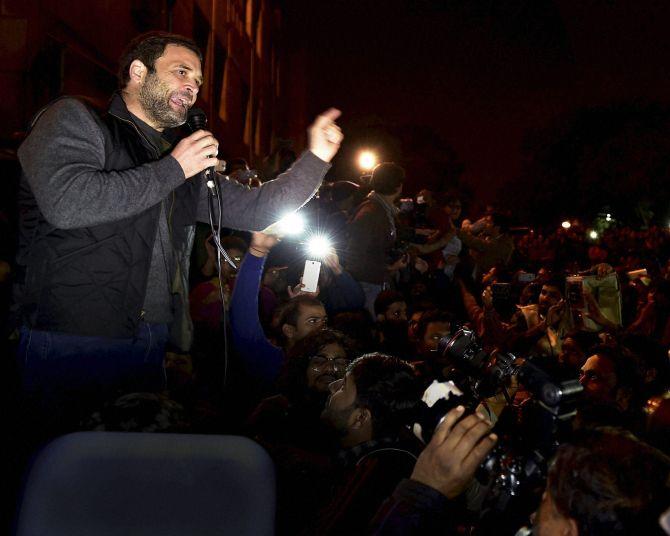 Congress vice president Rahul Gandhi addressing students at the Jawaharlal Nehru University campus following the arrest of student leader Kanhaiya Kumar. Photograph: PTI
Advocate Sunkari Janardhan Goud is an angry man. He has filed complaints of sedition against Congress vice president Rahul Gandhi, Communist Party of India-Marxist general secretary Sitaram Yechury, CPI's D Raja, Janata Dal-United MP KC Tyagi, Delhi Chief Minister Arvind Kejriwal, and Congress leaders Ajay Maken and Anand Sharma for extending their support to the cause of Jawaharlal Nehru University student leader Kanhaiya Kumar.
The Cyberabad police has registered Goud's complaints after the XI metropolitan magistrate of L B Nagar ordered the cases to be filed under Section124A of the IPC following his complaint and posted the matter for hearing on March 4.
"My blood boils when I hear slogans such as 'Bharat tere tukde ho' and 'Pakistan Zindabad' which were uttered at the JNU campus," says Goud (image, below).
"It was wrong of Rahul Gandhi and other Opposition leaders to express their solidarity with these JNU leaders and therefore I have filed a case of sedition against them," adds Goud.
The Hyderabad-based lawyer spoke to Syed Firdaus Ashraf/Rediff.com.
Why did you file this case?
Rahul Gandhi has openly supported anti-nationals (Kanhaiya Kumar and Umar Khalid) who are accused in sedition cases. They have raised slogans against the nation and therefore I have filed the case against Rahul Gandhi.
What is wrong if he visited JNU to show his support to students?
It was absolutely wrong for Rahul Gandhi to visit JNU. I have filed this case against him because he should not involve himself in such cases in the future. Being a politician and Opposition leader, he should focus on policies and not on anti-national issues like JNU. They (the JNU students) were talking about the destruction of India and not any political party.
It has been reported that the video showing Kanhaiya making alleged anti-India statement was doctored. So how can you call him anti-national?
I don't think that tape is doctored. It is an original one. The Delhi police has also confirmed it. They have registered the case only after seeing this video (of Kanhaiya making anti-national statements).
There is a debate going on in the country over freedom of speech. What does it mean to you?
Freedom of speech means you can express your opinion. It cannot, however, be in favour of anti-nationals (like Afzal Guru).

But Rahul Gandhi went to JNU in favour of students and for freedom of speech. He says the Bharatiya Janata Party government wants to suppress the voice of students and dissent.
This programme was conducted for Afzal Guru. They shouted slogans like 'Bharat ki barbadi tak' and 'Pakistan Zindabad'. All these slogans I have seen. And knowing about these slogans, these people still went to JNU and openly supported the students.
Therefore, I filed a case against Rahul Gandhi.
You are a lawyer and if I am not mistaken, the case of sedition must be applied only when violence occurs.
Students have raised slogans against the country which is very offensive. Therefore, I have filed the case and it attracts the charge of sedition.
The courts have stated that if no violence occurs following a statement, then the sedition law does not apply.
That is in a different context. This case is offensive in nature.
How is this different from what happened in the Hardik Patel case?
That is a very different case. That is a social cause, a reservation issue. They have not supported any other country.
What is freedom of speech according to you?
It has to be within limits. It should never be anti-national. Freedom of speech means a right to express opinion, but not against the nation.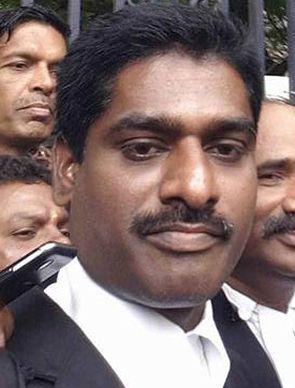 Hyderabad-based lawyer Sunkari Janardhan Goud

What part of Rahul Gandhi's speech made you file a case against him?
The entire issue is against the nation. Your intention itself amounts to a crime. Rahul Gandhi went there to support Afzal Guru.
Since you speak of Afzal Guru, are you satisfied with his trial and ultimate punishment?
After an elaborate and exhaustive trial, Afzal Guru was hanged after proper judicial proceedings. After this, some people are saying it was judicial killing. What is judicial killing? He was involved in the Parliament attack with the support of Pakistan.
Will your case against Rahul Gandhi be registered in Hyderabad or Delhi?
The director general of police made a statement on Sunday that the FIR has been sent to Delhi.
You are a lawyer and you have sought legal action against Rahul. Your colleagues in Delhi beat up Kanhaiya in the Patiala House court premises. How do you feel about that?
That is a small thing. It is a petty case. Let them file a case and they will face trial.
Do you think those lawyers beat up Kanhaiya?
In that kind of situation, they might have beaten him (Kanhaiya) up.