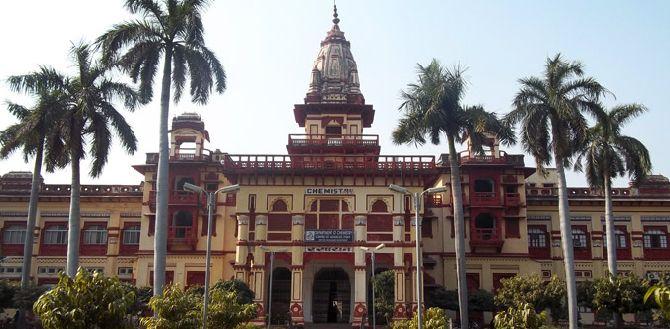 IMAGE: The Benaras Hindu University.
'If I am not there, the RSS would do that job. They are obviously in power, they can do anything.'
Magsaysay Award winner Sandeep Pandey's teaching contract at the Indian Institute of Technology at Benaras Hindu University was terminated abruptly.
Dr Pandey, below, left, alleges he was termed a 'Naxalite and an anti-national' by the university management.
A PhD in mechanical engineering from Berkeley University, Dr Pandey was a visiting professor at IIT-BHU for mechanical and chemical engineering classes.
He spoke to Syed Firdaus Ashraf/Rediff.com about his removal.
What exactly happened? Why were you sacked from IIT-BHU?
There was a board of governors meeting in which there were three people associated with the RSS.
They kind of pressurised my director that my contract should be terminated. The charges levelled against me were that I am a Naxalite and involved in anti-national activity.
Did they say these things in the termination letter that was sent to you?
They have sent me a letter, but it does not mention those things. These charges could not be proved, they are unsubstantiated. The letter only says that my contract stands terminated.
You are known for your Gandhian views and yet you are saying that you were sacked because you are a 'Naxalite.' Are you just assuming these things? Do you have any proof such charges were made against you?
They just needed some excuse to get me out. They have found this a convenient excuse because there are rumours floating to that effect online about me.
What they did was that they used one student to file a complaint against me. They got that complaint published in a local newspaper, they then carried that newspaper to the board meeting. Without verifying the charges, they just repeated what was printed in the newspaper.
Did they call you to explain your stance?
No, not at all. My job was not permanent. I was working on a contract basis, it was a yearly contract, to be renewed every year. This was my third year.
Since they were not obliged to seek my explanation, they took the decision unilaterally.
What I am saying is that if these charges are true, then in addition to expelling me they must register an FIR (First Information Report) and send me to jail.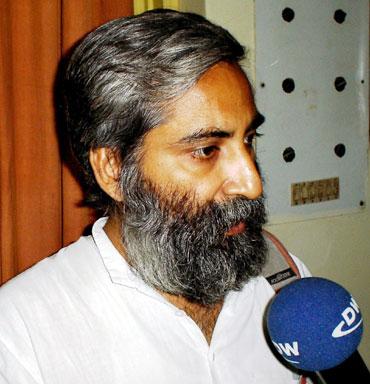 I was getting signals ever since this government came to power. There were complaints against me to (Union Human Resource Development Minister) Smriti Irani. About five months back, when 40 BHU employees were expelled, I showed my solidarity with them.
The VC (Dr G C Tripathi) got angry and said I had no business to go there. He told my director that he will stop my entry into the university. Dhananjay Pandey (the dean of faculty affairs) alleged at the meeting of deans of the IIT that people who should be in jail are visiting faculty here.
When he was asked for the name, he refused. He did not renew my third year contract for three months and ultimately the director had to sign it.
Do you feel there is an RSS agenda for the education sector and that is why your contract was terminated?
Yes, that is the clear reason. The real reason is that they felt threatened by my presence on campus. I was interacting with students. I was running a programme called 'Acharya Narendra Dev discussions' every week. I was working with local communities around BHU. I was running a course where students were told to go to local villages and do projects.
The writers association outside the BHU gate were associated with me. We had taken up the issue of residents who were living within 200 metres of the Ganga. Their homes were served demolition notices. I was helping them to campaign to save their houses. Because my activities were expanding in and around BHU, they felt threatened.
If I am not there, the RSS would do that job. They did not want me to take away people from the RSS. They are obviously in power, then they can do anything.
What about the charges that you exceeded your brief as a professor?
I was not doing anything illegal. The kind of activity I have done is rehabilitating a homeless woman who was on streets with three children. I was helping NREGA workers to get their wages. We helped a couple of people to get support from the chief minister's office. These were my activities and this was an official part of my course called development studies.
What about the allegation that you had planned to screen the controversial documentary, India's Daughter,, on the BHU campus?
I was going to screen it in my development studies class because I think the issue of violence against women has to be discussed openly and not suppressed. But after the police came, the film was not screened, but a discussion did take place.
So you feel that your contract was cancelled because you did not toe the RSS/BJP line?
Yes, that is the clear reason. These people not only cannot tolerate any dissent, but also any disagreement.
The debate about intolerance in India -- do you feel there is an air of intolerance?
Of course. If you cannot allow any other viewpoint to flourish, then obviously it is intolerance.
What about Smriti Irani? Why don't you approach her?
What is the point in talking to these RSS and BJP people? They are all hand in glove.