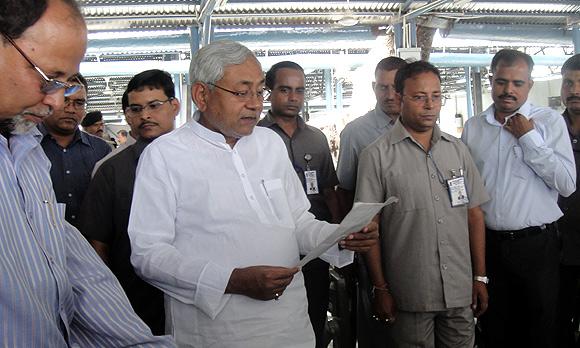 'Nitish Kumar's government will be at stake. The JD-U is working with a very thin majority, which is a borrowed majority. With just two seats Nitish Kumar has no moral right to stay on,' says Professor Prabhat Ghosh.
Professor Ghosh tells Archana Masih/Rediff.com how the Modi wave has demolished both Nitish Kumar's vikas and Bihar's caste factor.
Narendra Modi's huge majority in Bihar seems to have broken the stranglehold of caste in the state.
"Modi is getting 75, 80 percent of the seats and that cannot be only on the basis of the caste factor. Caster factor can mobilise up to 40, 45 percent votes and with that you cannot have a landslide victory," says Professor Prabhat Ghosh of the Asian Development Research Institute, a think-tank based in Patna.
The Bharatiya Janata Party alliance is winning 31/40 seats -- leaving the spoils for Lalu Yadav who has not been able to improve his party's tally and has witnessed the defeat of his wife and daughter on Friday. Chief Minister Nitish Kumar is teetering with just 2 seats.
Professor Ghosh discussed the poll result in the crucial state of Bihar with Archana Masih/Rediff.com
Will 2014 go down as a landmark election?
Of course, it will! Not because who has won, but because the last time it happened was in 1984. But the 1984 results was a consequence of Mrs Indira Gandhi's assassination and was a sympathy wave. There is no sympathy factor here and it is absolutely to the BJP's credit that they have been able to do it.
In Bihar itself the BJP has done very well -- getting 31/40 seats, something they have never achieved before?
They are getting 75 per cent of the seats which is a big win. I had also said there was not much of a Modi wave in Bihar, but I have been proved wrong.
There is a wave in Bihar and almost everyone has been wiped off.
What does it mean for Chief Minister Nitish Kumar now?
It is going to be very troublesome for him.
There are two reasons: Firstly, the animosity between the two parties (the BJP and Janata Dal-United) will be revived.
Secondly, his government will be at stake. They are left with only one year and it's quite possible that they will not wait for that long. The JD-U is working with a very thin majority, which is borrowed majority.
Even if they win all the five by-elections -- even a simple majority of 2, 3 doesn't matter because it is a weak government electorally. In any case, with just two seats Nitish Kumar has no moral right (to stay on).
Won't he be under pressure to resign?
I think there will be. The BJP might feel they don't need to pressurise and that the JD-U government will fall because of its own problems.
The JD-U is going to have internal problems also because all those who have been saying yes to the chief minister will no longer do it that well. So the chief minister's authority is lessened and he won't be left with much choice.
Is this the worst situation Nitish Kumar has had to face in his political career?
Of course. Secondly, the trouble with a party like the JD-U is that it is not a stabilised party. Suppose it fails in two consecutive elections -- and suppose they lose in the coming assembly election which is at most one year away -- the party itself will be in jeopardy.
The feeling in Bihar was that people will vote for Modi in the national election and for Nitish Kumar in the assembly election. Does that still hold or has the quantum of victory made it doubly difficult for Nitish Kumar?
Informally many people have said that, but now that the victory is so strong and sweeping, people might forget that promise.
Also, now that Modi has got a thumping majority, people like Sushma Swaraj and L K Advani will agree to what the party says. They cannot throw their weight now.
What about Lalu Yadav who said he would stop Modi's charge in Bihar?
Lalu's position is slightly better. He has four seats (with the Congress, the alliance has six seats in Bihar). To that extent his story is slightly better than Nitish Kumar's.
It was thought the Muslims-Yadavs and all those who did not want to support Modi would support him, but that hasn't happened.
In Bihar, caste has remained a big factor. Do you think that has been disproved in this election and the Modi wave has been stronger than the caste wave?
Oh yes. Such a huge majority cannot be had only on the basis of caste equations. He is getting 75, 80 percent of the seats and that cannot be only on the basis of the caste factor.
The caste factor can mobilise up to 40, 45 percent votes and with that you cannot have a landslide victory.
The Bahujan Samaj Party has been wiped out in Uttar Pradesh. This is completely contrary to what you think of the BSP's political base.
The BSP has a strong social base with committed voters who vote for their party even if they know it is going to lose, but Modi has completely marginalised the BSP. If the Samajwadi Party has managed to win some seats it is because they are in power.
In Bihar, they (the BJP) have completely marginalised the JD-U, and also Lalu.
So has Modi demolished the belief that Bihar votes on caste lines?
Not only in Bihar, but in many other places. I don't agree that Bihar politics is caste based. UP and Karnataka politics is also caste based. This election was done as if it was a presidential election, but in such an election you have to make a choice between two people.
Here there was no second man, it was Modi versus anyone other than Modi. The party was not important, caste was not important, any other issue wasn't important. Of course, they were trying to sell development, but if development was the issue, then Nitish should have won.
They did not talk about Hindutva, but below the surface it was always there -- like Modi contesting from Varanasi.
What happens to Nitish Kumar's political future?
If you see the social coalitions in Bihar in the last 20, 25 years, several social combinations are possible. All those who have deserted Nitish Kumar, their returning to him is not an impossibility.
One of the reasons Lalu hasn't been able to do much better is that people have still not forgotten the negative image that he had created.
I won't write off Nitish Kumar for two reasons because a large section of the people are not with the traditional elite or the forwards castes, nor do they like Lalu -- and that's a huge number.
Do you think we are entering an era of BJP leadership after five-and-a-half decades of Congress rule?
People have a tendency to swing from end to the other. It is not at all unlikely that after five years of functioning people will realise he is too strong a person and why not go for a softer version.
The Congress always has this image of a rainbow coalition -- there is no caste, religion, region -- with which the Congress is formally associated.
Many regional parties have a caste image. The BJP has a religious image, but the Congress is free from the baggage of having a sectional image.
I don't think it will be wiped out because in a democracy no matter how strong is the leader, there is always space for the Opposition.
What about the Gandhi dynasty?
That is going to be severely tested. At this moment there does not seem to be any person who can emerge as an accepted leader for everyone. But one thing is sure even if the dynasty is there, the dynasts have to decrease their role.
They have to minimise their role and make space for a number of second rung leaders in different parts of the country.
Image: Bihar Chief Minister Nitish Kumar at his Janata Durbar in Patna. Photograph: Archana Masih/Rediff.com