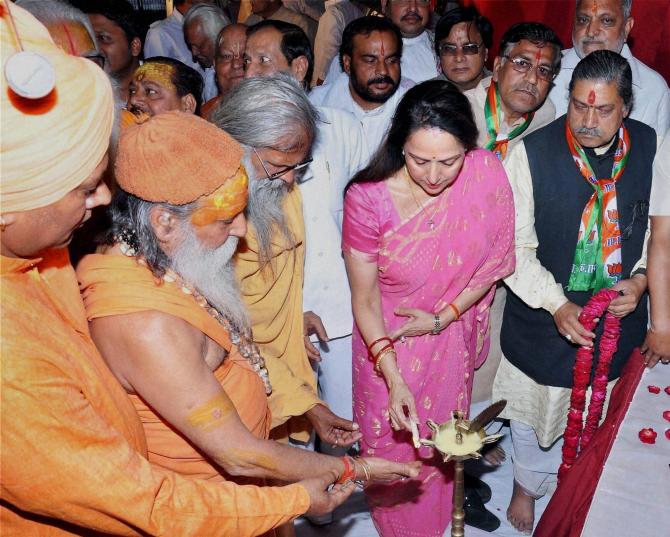 Hema Malini has been Bharatiya Janata Party's 'star campaigner' for the past several elections, pitching in whenever the party has called out for her. This time, however, she is debuting as a candidate from Mathura Lok Sabha seat where she is facing Jayant Chaudhary, the sitting Rashtriya Lok Dal MP for whom she campaigned in the last elections.
Her campaign has already started and she is creating a buzz because when the 'dream girl' comes calling, residents of Mathura do sit up to take notice. There are curious onlookers who wait to catch a glimpse of yesteryear heartthrob but the question is will her star power be able to get past the caste-equations in Braj-bhoomi, the land of lord Krishna.
Hema Malini spoke with Upasna Pandey about her preparedness and exuded confidence to win the election with "the grace of Lord Krishna and love of people of Mathura."
How does it feel to debut in Lok Sabha elections though you have experience as a member of Rajya Sabha earlier?
It feels good as so far I have been campaigning for different candidates in various elections, this is the first time I am campaigning for myself.
Why did you choose Mathura instead of Mumbai where you live or anywhere else?
Mumbai would also been good but when the party leadership asked me if I was ready for contesting elections, they offered the options of three seats, Noida, Ghaziabad and Mathura. I promptly chose Mathura as I am a devotee of Lord Krishna and feel connected to the city. I don't feel I am an outsider here or anywhere in the country, I have a connect with the people.
Earlier also, when I would think about contesting elections, I would think of Bihar in particular as I want to do work for the people of the state which is underdeveloped so there is no question of not having a connect there.
I have delivered on my promises as a Rajya Sabha MP also, I released funds for cleaning Juhu beach, and it was done, residents of the area remember me for this, they say "Hema ne karva diya."
What are your plans for Mathura?
I believe that there are issues of sanitation, power and water shortage which need to be tackled but the bigger issues are about cleaning up the Yamuna river, which I am committed to. Things cannot be changed overnight but I want to begin the act of improving the infrastructure in Mathura. I need support of people of Mathura to usher in the change.
There is a need for improving connectivity of Mathura through air as well as connecting neighbouring pilgrim sites such as Barsana, Gokul, Dauji through a single rail route. I would also push for Mathura to be declared a pilgrimage site and the maintenance of temples needs to be improved.
I want to work on improving the number of schools for girls and ensuring there are proper and clean toilets so girls are encouraged to come to school, I am told this is a major reason for girls dropping out of schools. The low sex ratio in UP is also an area which needs more attention and awareness and I also want to understand and devise long term self employment solutions for the widows of Mathura.
Jayant Chaudhary is seen as a heavyweight as he is grandson of Charan Singh and son of Ajit Singh. He also won by a huge margin in 2009 elections. How do you view him?
In the last election, I campaigned for Jayant. It is good to have a strong opponent and it is not an easy fight for both of us and we both have to put in our best efforts. I am definitely not scared or unnerved by this.
What is your take on the mood in the country about the 'Modi wave'?
Narendra Modiji has proved his skills and delivered on his promises in Gujarat and he has some very good plans for the nation. I am sure he will deliver on this if he becomes PM. People are fed up of the years of corruption and high inflation and want a change.
The Aam Aadmi Party has also been focusing on fight against corruption and price rise in the country, how do you view the Arvind Kejriwal-led party?
I don't want to say much about AAP, they moved out of Delhi in 49 days only. I think they need more experience in governance and then we can talk about them.
Will you be roping in your family and other members of the Hindi film industry in your campaign in Mathura?
I think Dharamji (her husband and actor Dharmendra) will definitely be here with me. I think I don't want to disturb anyone else from the film industry as someone coming in for a day or two will not make any difference to the campaign. But they are welcome to visit, though I am really not dependent on this. If I do win in the election, I think it would be more welcome to have Bollywood celebrities join in the celebrations with the people of Mathura.
What are your plans ahead post the elections?
I don't have any high aims or goals but I hope to continue my journey of multi-tasking as I have been doing so far as an actor, dancer and also serving people of the nation. I do know that if my party comes to power, I will be able to do much more.
Image: BJP candidate and actress Hema Malini lighting a lamp along with priests during her election campaign in Mathura on Monday. Photograph: PTI Photos