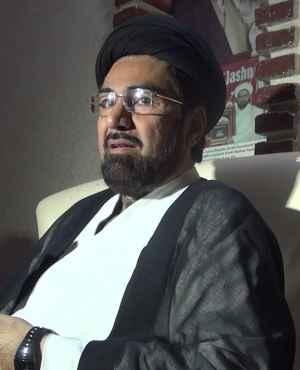 'Islam says the person who has been hurt has the right to pardon the accused. So don't ask me on whether I will pardon Narendra Modi or not. Go and ask this question to Gujarati Muslims who have been hurt.'
'Secular and non-secular is not an issue for Muslims. The day Muslims become strong, the non-secular guys will become secular. And if Muslims are weak, the same secular guys will cut the throats of Muslims.'
'The secular character of India can never be finished. India is secular by its nature. Whoever comes to power, he will have to become secular to rule,' Shia cleric Maulana Kalbe Jawad Naqvi tells Syed Firdaus Ashraf/Rediff.com
Prominent Shia cleric Maulana Kalbe Jawad Naqvi stirred up a hornet's nest when he said that Muslims would prefer a moderate face like Bharatiya Janata Party President Rajnath Singh for the prime minister's post over Narendra Modi, the BJP's prime ministerial candidate.
Naqvi made the statement after Singh, the BJP's candidate for the Lok Sabha Lucknow seat, met him, seeking support.
Naqvi spoke to Syed Firdaus Ashraf/Rediff.com about Gujarat, the Congress party and if Muslims should fear a Modi Sarkar.
You met Rajnath Singh and Imam Bukhari met Sonia Gandhi. It looks like there is a split in the Sunni-Shia clergy because Sunnis seem to be supporting the Congress and Shias the BJP.
Firstly, Imam Bukhari went on his own to meet Sonia Gandhi and Rajnath Singh came on his own to meet me at my home. That is the basic difference. My door is open and anyone can come.
He was not alone to come and meet me. Leaders from the BSP (Bahujan Samaj Party), Samajwadi Party, Aam Aadmi Party and even (Rashtriya Lok Dal chief) Ajit Singh have also met me. So I don't give much importance to these things.
In fact, I was't the only one whom Rajnath met. He also met some Sunni leaders in Lucknow.
Is it not true that you openly supported Rajnath Singh for the prime minister's post?
Actually, I was asked a question whom would I like to see as India's prime minister if the BJP forms a government, to which I said, earlier people used to prefer (Atal Bihari) Vajpayee over (L K) Advani and the same way, preference will be given to Rajnath over Modi because Muslims are scared of Modi.
I said this only replying to a hypothetical question. The reality, however, is that my single vote cannot decide whether Rajnath or Modi would become prime minister.
Do you believe Muslims are scared of Modi?
All maulvis are shouting in the mosques that Muslims are only scared of Allah. They should not get scared of Modi, but they must get scared of Allah. Since that is not happening, Muslims are being humiliated everywhere.
Muslims have become slaves of America, the Arab governments are scared of America and Israel.
You see all Gujarati Muslims are voting for Modi and people say they are scared of him and that is the reason they are voting for him. So I say, go and tell this to the Muslims of Gujarat to get scared of Allah and not Modi.
Is it true that Sunni Muslims are moving towards the Congress because of Imam Bukhari and Shia Muslims are going to the BJP because of you?
It is not a question of Shia-Sunni Muslims. It is a question of secular parties. The day you bring Shia-Sunni in this, the votes will get divided.
There should be only talk of secular and non-secular instead of any other issue. India is a secular country and it is secularism that must be protected.
Be it Hindu, Muslim, Sikhs or Jains, secularism must be protected.
It is said that you have always opposed the Congress party.
I am not against the Congress party but against the atrocities of the Congress government. I feel in 57 years of Congress rule there were 57,000 riots in which 35 lakh (3.5 million) Muslims died.
On one hand you cry for the Gujarat riots of 2002, and on the other there are thousands of riots that have happened in the country in Congress rule about which nobody speaks. And they call themselves 'secular' and 'friends of Muslims'.
Should then Muslims support the BJP?
I am not supporting any single party. I just say Muslims must unite on one platform and then all political parties will come to them on bended knees. The trouble is that they don't have unity in them.
These parties use Muslims as vote banks and they are then discarded for five years after elections.
So what are the issues that Muslims must vote on?
Muslims must have a strong leadership. Muslims must have as many candidates as possible.
Muslims can form a government, but they don't have numerical strength to make a government fall. The day they have strength to do that, then nobody will be able to discard them.
What are the issues for Muslims this election?
During Independence Muslims had 35 percent employment in government services and that has now come down to 1.5 percent.
Who killed Urdu in India? The Congress did (Mashallah). They killed Urdu with slow poison.
There is a law that if any Dalit converts to Islam, he will lose all rights to reservation. Who made this law? The Congress party. Even Muslims don't know this.
If any Dalit becomes Buddhist, his rights are intact as a Dalit. The same rights apply to him when he converts to Sikhism or for that matter Jainism. But the day any Dalit converts to Islam, all his rights as a Dalit are taken away.
I agree that during the BJP rule in Gujarat there was a horrifying riot, but during the Congress rule worse riots have taken place.
Is Narendra Modi an option for Muslims? Should they accept him as their leader?
You see there are many views on this issue. Some say he should be pardoned and some say no, he should never be forgiven. Some say Muslims' hearts are very big and therefore he should be forgiven. However, we should know what Islamic law says about this issue.
If someone slaps me, then it is only me who has the right to forgive that person and not you. So it is Gujarati Muslims who have the right to pardon him and not anyone else. No other maulana in the world has the right to speak on this issue.
Islam says the person who has been hurt or aggrieved has the right to pardon the accused. So don't ask me on whether I will pardon Narendra Modi or not. Go and ask this question to Gujarati Muslims who have been hurt.
If they don't forgive him (for the 2002 riots), then it is their right and if they forgive him then, that too is their own right.
I am nobody to pardon Modi on the 2002 riots.
Is Modi an acceptable leader to Muslims or not?
There are certain issues that matter about him. Like BJP leader Giriraj Kishore who said those who don't vote for Modi must go to Pakistan. That was a very wrong statement.
The same way, (Vishwa Hindu Parishad leader) Pravin Togadia said Muslims have no right to stay in Hindu localities. I feel when such leaders make these kinds of statements they are hurting Narendra Modi.
He should, I feel, come out in open and say what he has to say about these leaders.
You have been trying to bring unity among Muslim religious leaders, but you failed. Why so?
They are not willing to share a stage together, forget about coming together on one platform.
You have criticised the Congress party. However, you are not giving a clear answer on whom Muslims should vote for in this election.
I cannot give name of any party as to whom the Muslims must vote for. In case I say support one party and then if that party indulges in wrong doing after winning elections, then people will hold me accountable for my views.
My grandfather never voted in his life. He always said if I vote for any candidate and he indulges in corruption, then I too become a part of that corruption because I voted him to power. So, he never voted.
I feel elect good candidates, good people. Don't vote on religious or caste lines.
Muslims have harmed their interests the most because after getting elected they come and slaughter Muslims.
You see Aligarh University has lost its minority character and who did that? A Muslim did that. And then you come and tell us, vote for Muslims.
Muslim politicians have been the biggest traitors for Muslims.
Do you think the day Narendra Modi becomes prime minister secularism will be dead in India forever?
It is not possible. The secular character of India can never be finished. India is secular by its nature.
Whoever comes to power, he will have to become secular to rule.
Let me remind you that Vajpayeeji was very much against Pakistan before he became prime minister. Our country had the best relations with Pakistan during his tenure.
People say something when they are in the Opposition and do something else when they are in power.
If the people of India have decided Narendra Modi will become the next prime minister, then what can you do? You cannot throw him out of his chair. You cannot do anything.
One should never have so much enmity with anyone that there is no possibility of reconciliation.
Is it not possible that he will finish the institutions of India and bring RSS (Rashtriya Swayamsevak Sangh) ideology in ruling the country?
Everyone is running on RSS ideology. Do you think those who call themselves secular are different from the RSS? No. They are all under the RSS.
The RSS has divided these people into different parties. They say you go and fool people from that party and the other must go and fool people from some other party. However, I will not name any party.
Do you think Muslim votes will get divided into different secular parties?
I feel secular and non-secular is not an issue for Muslims.
The day Muslims become strong, the non-secular guys will become secular.
And if Muslims are weak, the same secular guys will cut the throats of Muslims. This is what I believe.
Image: Maulana Kalbe Jawad Naqvi. Photograph: Asif Ansari