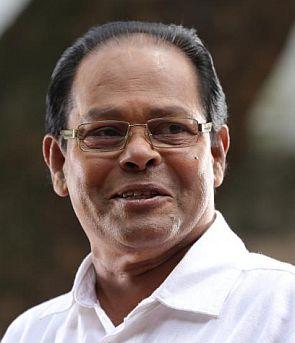 Popular Malayalam actor Innocent has decided to throw his hat in the ring for the April 10 Lok Sabha election. Not everyone is happy about it, discovers Vijay G.
Veteran Malayalam actor Innocent Thekkethala, who has acted in over 500 films, is set to take the plunge into mainstream politics.
The actor, known for comic timing, is slated to be the Left Democratic Front candidate from the Chalakudy Lok Sabha constituency.
He has been president of the Association of Malayalam Movie Artistes for 12 years now.

Innocent's Lok Sabha candidature has come as a surprise to many.
Prominent film director Vinayan questioned the LDF's decision, alleging that Innocent has "only been working at the behest of the superstars."

"Does the party (the Communist Party of India-Marxist, the main party in the LDF) expect Innocent, who acts more like an agent of superstars, to do comedy inside Parliament?"
"Is the people's party in such a dilemma?" Vinayan asked. "We can now clearly understand the CPI-M's ideology in the current scenario. The current leaders are just spoiling the party built up by the great Communist leaders by making such people contest as their candidate."

Actor-comedian Jagadeesh, who is trying for a Congress ticket, has reportedly announced that he is ready to take on Innocent in Chalakudy.
Image: Malayalam actor Innocent