'The last ten months show that India is not going to trust China.'
'Our military commanders are not going to believe that all is well till it actually is.'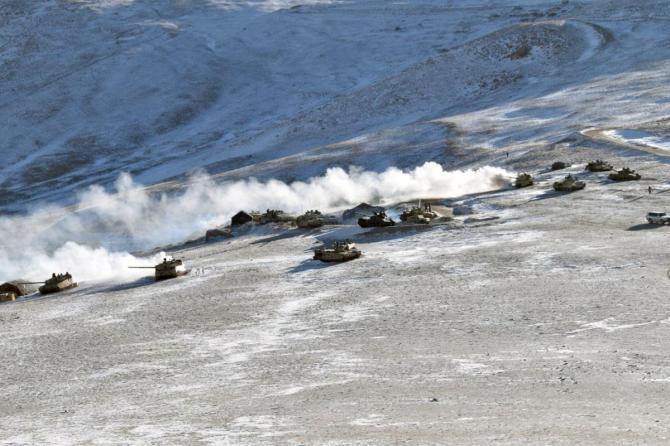 "It is only after the Chinese troops move out, post the 10th corps commanders' meeting or subsequent meetings that we will know whether restoration of the status quo has been achieved," says Lieutenant General P J S Pannu (retd), former commander of the Leh-based XIV Corps.
The General served several tenures on the Line of Actual Control during his four decades of service in the Indian Army and also commanded a brigade at Uri on the Line of Control.
He discussed the phase-wise disengagement and what Indian troops need to be cautious about at the LAC with Rediff.com's Archana Masih.
At this point, in your assessment, what is the status of the LAC?
The status of the LAC is going to be defined by how the Indian Army positions itself post the disengagement.
The process of disengagement is going to happen in phases and the status of the LAC will only be clear after the disengagement is complete.
How did you receive this news and what is your understanding of the disengagement process?
I am happy that two nations intend to disengage in a very mature manner. Both sides have seen an escalation at the border for the last 10 months and only time will tell what has been gained by both the countries.
If the Chinese wanted to prove that they have an edge over us and can strike at will and go back -- they have also learnt that it is not possible for them to do so.
They have understood the ability of the Indian troops to react and retaliate which has put the Indian Army at an advantage.
China has learnt its lesson that they can't walk in freely to achieve what they want. Therefore, they have been compelled to pull back after 10 months.
Maturity lies in going back and having a peaceful border. We are both nuclear armed neighbours with a chequered history where we agreed to have peaceful borders for which many negotiations have happened, but we need to settle the boundary issue so that we can live peacefully.
Was it the doggedness of the Indian military that compelled the Chinese to withdraw?
The Chinese credibility has taken a beating in the post-Covid world. China's primary security concern is in the South China Sea and they cannot continue to be deployed at LAC in perpetuity.
The areas where they are disengaging, are they not very important to the Chinese?
At the moment, they are disengaging from Pangong Tso. The area in the north where they are withdrawing from is less significant -- more significant is the south where India has an advantage.
By pulling back, the Chinese have only gained, but as far as Indians are concerned, if we pull back from the south we should secure an assurance from the Chinese that they would clear PLA deployments in Depsang, Gogra-Hot Springs and other areas. South of Pangong Tso is the only bargaining chip that we have and we must use it.
Has the status quo ante been restored in the Pangong area?
In a manner of speaking, yes, but there is a moratorium which means that Indian troops will not go beyond Dhan Singh Thapa post and will not be able to dominate our claim up to Finger 8.
We will have to rework the behaviour of our troops and protocols so that our areas of claim are either settled or kept under surveillance.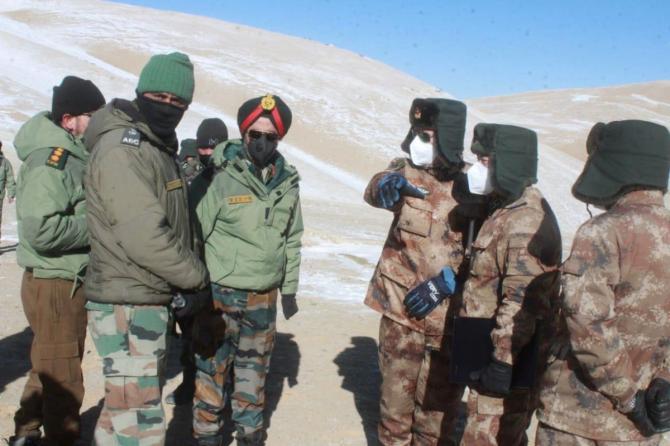 What do you mean when you say 'rework the behaviour of our troops'?
It means rework patrolling protocols so that face-offs do not happen, and we have a larger agreement of a more peaceful conduct of the border rather than having clashes and face-offs.
What concerns you about the disengagement?
What concerns me is that if we disengage from south of Pangong Tso, the Chinese troops are much closer and their reactions can be much faster because the terrain favours them.
The mobilisation is more favourable to them.
If Indians vacate south of Pangong Tso, it will put our troops in a difficult position in the current realm of mistrust.
I will not trust the Chinese commitment that they will not occupy any heights.
In 1962, 13 Kumaon fought at Rezang La, 1/8 GR fought at Gurung Hill and Finger 8, 5 Jat fought at Hot Spring and Galwan. We have had clashes in these areas and subsequently both sides went back.
We suffered more casualties because we were ill prepared and we were not as capable, but we are no longer the army of 1962.
The Chinese cannot occupy areas which we had taken defences in 1962 or in 2020.
Is the Chinese occupation of Depsang worrisome? How can they be evicted from Depsang?
We are better placed in Depsang than in the past because our infrastructure is in place. As a result China is worried about our deployment and infrastructure in that area.
Our infrastructure will enable us to defend Daulat Beg Oldie much better.
Their deployment in Depsang is a source of worry because that will deny us access to certain patrolling points. At some point they will have to go back to barracks. I think this matter will be settled in the next corps commanders talk.
Why did India not insist on a Chinese withdrawal from Depsang as a quid pro quo?
It is a very complex matter. Monitoring and verification of a larger area on such a broad front may not be possible.
If they are going to do it step by step, they will have to verify whether the PLA has fully vacated and there are no incidents.
Phase wise disengagement is more manageable than complete withdrawal all at once which could result in new friction points.
The two senior commanders would have thought through to do this in a phased manner which makes it more controlled in a systematic manner.
Why did India vacate the upper heights of the Kailash range where it had a clear advantage? Do you think that was a deal breaker in the disengagement process?
Probably, because this was the only advantage we had that may have resulted in the Chinese agreeing to withdraw.
Senior commanders must have taken certain guarantees from China that they would not break these protocols in the future.
Is the Chinese disengagement a feint? Can they move in when we are not looking or has India learnt its lesson and will not leave our positions insecure?
The last 10 month show that India is not going to trust China. Even if they are trying to create a smokescreen or even if they are sincere, China will know that India will consider it as a smokescreen.
Our military commanders are not going to believe that all is well till it actually is.
What are the chances of restoring the status quo ante April 2020?
We will only know after the 10th corps commander level meeting. Past experience shows that in the 9th corps commander meeting it was never known what the intention was.
I think the Chinese decided that they would pull back on their own at a time that suits them and would have done their own deliberations.
It is only after they move out, post the 10th meeting or subsequent meetings that we will know whether restoration of the status quo has been achieved.
The Chinese are known to alter the status and create new parameters that all negotiations happen in their favour. Time will tell if they managed to create new historical evidences and benchmarks for discussions.
The next meetings will establish new protocols for both military and diplomatic levels.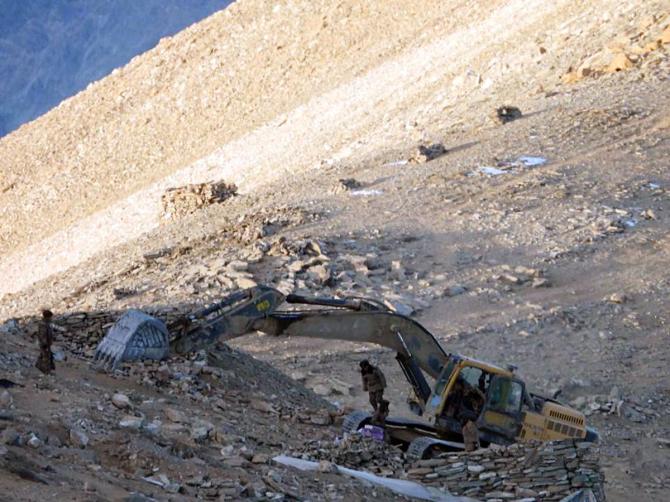 What must be the mood among officers and men after the news of disengagement came in?
Soldiers and military officers are a very special class. They think differently. Most would have enjoyed the experience they have had of serving on the LAC during the standoff.
Young officers and men take an oath to go and fight for the nation and look forward to these opportunities because this is what they have been trained for.
They will be secure in the thought that they were with their units when the nation needed them.
This is the only way military men look at such situations. There is no other way.
Had you been a commander today, what advice would you have for your men?
I would tell them to be constantly ready for any offensive by the Chinese. The Chinese are unpredictable.
Do not take the Chinese at face value. Read between the lines, read their body language and their spoken language very carefully.
Even when you do monitoring and verification, do not land in a trap that may have been laid for you. Avoid misunderstandings because both do not speak the same language.
Therefore, we need to understand that accidents should not be allowed to happen because of lack of understanding of the adversary.
All commanders should understand the behaviour of China as a nation, the behaviour of the Chinese military, behaviour of their ground soldiers and commanders so that we work towards our advantage of knowing the adversary rather than trusting them blindly.
That is what they should be mindful of.
Feature Presentation: Aslam Hunani/Rediff.com