'Nitish Kumar thinks the matter will keep Lalu in check and that he will remain in power without any challenge from the RJD.'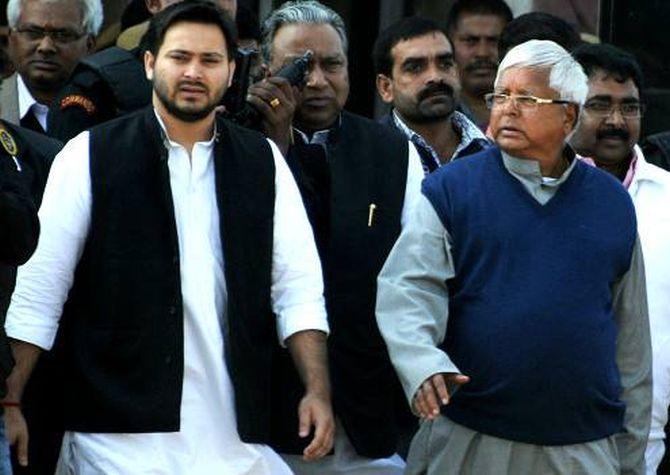 "Lalu Yadav and his family amassed properties using shell companies set up by other people and then bought back the companies along with the landholdings," BJP leader Sushil Kumar Modi tells Satyavrat Mishra.
You have levelled serious allegations against Lalu Prasad Yadav and his family. Yadav has refuted your charges. Your take?
He has not denied any of my allegations. In fact, Prasad and his spokespersons have so far been silent on a majority of my allegations.
For example, A K Infosystems and A B Exports are currently owned by Prasad's family, but were initially set up by liquor baron O P Katyal and A K Banthia.
Both companies have land assets worth crores of rupees.
The ownerships of these companies were later transferred to Deputy Chief Minister Tejashwi Yadav and Health Minister Tej Pratap Yadav.
Prasad has so far been silent on the matter.
Furthermore, Tej Pratap also concealed both from the Election Commission and the state government the fact that he owns prime land worth Rs 15 crore (Rs 150 million) in Aurangabad district of Bihar.
I asked how the minister got the money to buy the land at the age of 20. The family has been mum on that too.
On the other hand, the RJD chief has accepted that his family owns half of the shares of an under-construction mall in Patna, which has been dubbed as the biggest mall in Bihar.
I have presented all the related documents to prove my allegation, but instead of explaining his own deeds the RJD chief started blaming me.
Yet, he has said no words on my specific allegations on A K Infosystems, A B Exports and the undisclosed landholding in Aurangabad.
What do these charges deal with -- morality or legality?
Prasad and his family members have no respect for morality.
I still remember the day when the first chargesheet in the fodder scam was filed and he was named in it.
People asked whether he would resign on moral grounds; Prasad retorted by saying he had heard of football grounds, cricket grounds, but not moral grounds.
This is no case of moral or immoral.
It is a clear-cut case of acquiring benami properties through shell companies and then turning them into white money by round tripping.
Prasad and his family amassed the properties using shell companies set up by other people and then bought back the companies along with the landholdings.
The matter is related to the Enforcement Directorate and the Central Bureau of Investigation along with the Bihar government.
The Prevention of Corruption Act enables the state government to act on its own.
The Bihar Special Courts Act, 2009, also allows the state government to confiscate properties amassed through corrupt practices or unknown sources.
Now the Supreme Court has set aside the Jharkhand high court order which had dropped conspiracy charges against him (Lalu Yadav in the fodder scam.
It's the end of the road in politics for Lalu Prasad as he is sure to be convicted in three other cases of the fodder scam and would be debarred from electoral politics for many more years.
I would urge the state government to act on the matter.
So far, I have written two letters to Chief Minister Nitish Kumar and will write three more to urge him to act.
If he fails to do anything, I will approach the central agencies.
You have been vociferous about Lalu Prasad and the RJD. However, you have not yet questioned Chief Minister Nitish Kumar's silence on the matter. Why?
That's not true. I have been raising the issue in all of my press conferences.
I have demanded that the CM act against his ministers.
I have asked him to appoint an all-party committee to probe the soil scam.
I have also demanded that Kumar oust Tej Pratap Yadav over his concealment of land assets in Aurangabad.
I have regularly questioned Kumar's silence on the matter.
He is protecting his ministers to protect his government.
He is trying to take maximum benefit from the opportunity.
The CM thinks the matter will help keep Lalu Prasad in check and that he will remain in power without any challenge from the RJD.
Kumar understands that until the matter settles down, Prasad will have to support him unconditionally.
He will have a free hand in the transfer and posting of state government officials.
In return, Kumar will not say anything and the state government will not act against the Yadav family.
We don't have any sympathy for Kumar nor should he expect any leniency from us.
We would continue to attack Prasad and Kumar equally.
The BJP is under no misapprehension about Kumar. His occasional 'soft signals' towards the BJP are meant to keep Prasad under control.
We will not be used by Kumar. We know he is not going to join hands with us in the near future.
In one of your press conferences, you mentioned that someone in the government is giving you the information. Can we know more about this source?
Some of these allegations were first made by then state JD-U (Janata Dal-United) chief Rajiv Rajan alias Lallan Singh and former MP Shivanand Tiwari.
At that time, they even met then prime minister Manmohan Singh and handed him a memorandum.
However, since it was the UPA (United Progressive Alliance) government, the allegations were swept under the rug.
Some of the elements present in the government are providing us information regarding the wrongdoings of Lalu Prasad and his family.
Not just politicians, but also bureaucrats and other people have given us information.
We began with a single piece of information about the soil scam on April 4. It has been more than one full month since and people are coming to us with information.
They are the people cheated by the RJD and Lalu Prasad.
Many of them are unhappy with the present state government and want action against the guilty.
However, we have also cross-checked the information given and gathered independent documentary evidence.
The RJD also levelled some serious allegations against your family members.
The RJD spokespersons have not made a single allegation against me or my immediate family.
As far as my brothers and nephews are concerned, they are adults and not my responsibility.
I am not a director or stakeholder in any of their companies.
My charges are directly against Rabri Devi, Tej Pratap Yadav and Tejashwi Yadav.
I have made specific charges and I have furnished documentary evidence to support my charges.
Where is their evidence?
IMAGE: Lalu Prasad Yadav, right, with his long time associate Prem Chandra Gupta, centre, and Bihar Deputy Chief Minister Tejashwi Prasad Yadav, left.