'Whatever happens in Delhi happens in India. It affects India.'
'What kind of person is Kejriwal?' Kiran Bedi, the BJP's chief ministerial candidate for Delhi, asks Rediff.com contributor Rashme Sehgal.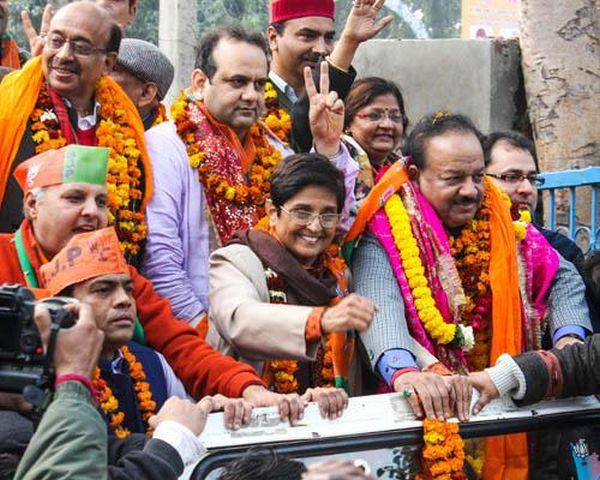 The Bharatiya Janata Party has served a googly by projecting former police officer Kiran Bedi as its chief ministerial candidate.
Bedi is no stranger to controversy and can handle difficult situations with aplomb. Her refusal to be drawn into a public debate with Aam Aadmi Party leader Arvind Kejriwal has earned her some brickbats.
But a feisty Bedi drove confidently through the streets of the safe constituency of Krishna Nagar on Wednessday, January 21, to file her nomination, exhorting the public in a mixture of Hindi and Punjabi to vote for her and even stopping before a chaiwallah and a newspaperwallah to seek their votes.
When asked why she had opted for such a safe seat, which has been nurtured in the past decade by BJP leader and Cabinet Minister Dr Harsh Vardhan, Bedi said, "This was the choice given to me by my leadership. My choice will be my party's choice. These are my party's decision. I opted for entire Delhi."
Bedi sees herself as a "gardener" who will take care of this constituency on Dr Vardhan's behalf.
Delhi, she cites, is one of her key reasons for entering politics. "Whatever happens in Delhi happens in India. It affects India. It has been (in the past) all about confrontation, it's all about Rajpath dharnas."
"What kind of person is he (Kejriwal) who says 'I am an anarchist'?" she asks, forgetting to add that only a year ago he had wanted her to become the AAP's chief ministerial candidate.
She insists she has not joined politics to adopt a confrontational approach. "I go with positive energy, Prime Minister Modi has 100 per cent of that."
It is obvious that the BJP chose to dramatically parachute Bedi from the top, primarily to cut into the vote bank of its main rival, the Aam Aadmi Party. BJP leaders believe her no nonsense image will help the party wean away the vital middle class voter who had chosen to back Kejriwal in the 2013 polls.
Bedi refuses to get drawn into controversies, especially on how she was a key member of the Anne Hazare team and the anti-corruption movement in which Kejriwal also played a significant role.
"I live in the present, I have to correct the past and move towards the future. I was inspired by the leadership of Prime Minister Narendra Modi whose vision of transforming the country has helped me to take the decision to enter politics," she says.
Bedi has put together files to track governance and has a special file highlighting Modi's chief ministerial and prime ministerial performance to explain her decision to join politics, going on record to state that she has been studying the prime minister's leadership qualities as also the work being done by his Cabinet.
She sounds like a school teacher when she talks about a six-P formula of People, Politician, Police, Prosecution, Prison and Press which will work in tandem to improve governance.
"When I say people, I mean parents, school principals, community leaders and faith teachers who can play a key role," she says.
"We need politicians to strengthen the law against sexual violence and the police for both response and prevention. The reason for this increase in crime against women is slow delivery of justice, so we need to fast track courts and to ensure justice is delivered in a time-bound manner. I also believe fast track courts are required to ensure quick justice," Bedi explains.
As Delhi's police commissioner, she helped put a civil mechanism system in place which assisted the police in patrolling duties in each mohalla (locality).
Explaining these details, she says, "We can help deploy 50,000 citizen police who can wear yellow T-shirts and be given an honorarium of Rs 200 per day. They can assist the one lakh (100,000) police in manning our streets."
Not that Bedi's announcement has not evoked some criticism. There were some rumours that Rashtriya Swayamsevak Sangh chief Mohan Bhagwat was opposed to her projection as chief minister. But she spoke out in the RSS's favour by claiming they have played an important role in India's history and also helping in ensuring the country remains intact.
Her dramatic entry has created some resentment amongst both the BJP leadership and its rank-and file. She prefers to take this in her stride. 'My suggestions for Delhi's development have been accepted by the PM. They include videoconferencing centres in every district through which people can contact the PMO,' she told party workers in her interaction with them at the BJP headquarters.
At present the campaign strategy is being worked out along with senior BJP leaders. "My priority is to connect with voters," she adds.
Bedi says she is brimming with ideas. She wants to make Delhi 100 per cent literate and if she wins, plans to start a massive literacy campaign. She also wants to start a 24-hour grievance redressal system.
She has publicly confided that 'It has been a mystery how her thoughts changed and I decided to join politics.'
Her dramatic entry has heightened the stakes in this key electoral battle. She may not want to enter into a US presidential type of debate with Kejriwal, claiming she has joined politics to be part of a positive brand of politics and not in the kind of politics that involves in bickering.
And while she refuses to entertain any question regarding her former mentor Kisan Baburao 'Anna' Hazare, her explanation for joining the BJP is weighed in by rationality. "The Anna Hazare movement had ended. We could not waste time anymore."
Bedi believes her brand of positive politics will help her emerge a winner. The results to be declared a fortnight away will tell us whether her decision has been a correct one.
Image: Kiran Bedi with former Union minister Vijay Goel, the BJP's Delhi unit President Satish Upadhyay and Union Minister Harsh Vardhan on her way to file her nomination papers. Photograph: @drharshvardhan/Twitter.