'The people of the state can be won over by love, and not by swords.'
Mohammad Shafi Pandit's soft-spoken erudition flows through the telephone line from Srinagar.
It is only later I learn that militants had tried to assassinate him in September 1995.
He was then the additional chief secretary, finance, Jammu and Kashmir, and was visiting his sister's home in Pampore, 12 km south of Srinagar.
Once he entered, within minutes, the house was surrounded by 30 armed militants.
One militant came in and demanded three things from the civil servant: A Kalashnikov rifle, a walkie-talkie set and Rs 500,000
Pandit's response was that if he could spare Rs 500,000, he wouldn't be in government service.
"As regards the other two items, I told them they could take these, but over my dead body. This enraged them and what followed was a volley of bullets on the house," Pandit reveals in an e-mail exchange.
A grenade was lobbed into the house which fortuitously fell into water.
The police arrived three-and-a-half hours later.
"I barely managed to stay alive," he remembers.
Pandit had remained in the forefront of the J&K administration and had faced threats before, but this was close. He was awarded the medal for distinguished service in 1996.
He served the J&K administration for 40 years and retired in 2009.
In 1969, he became first Kashmiri Muslim to enter the Indian Administrative Service -- and was amongst the top five in his batch.
Since his retirement he has been involved in promoting people's engagement between Kashmiris and the rest of India.
He was recently appointed chairman, J&K Industrial Technical Consultancy Organisation in order to revive this enterprise.
In 2016, he led a delegation of retired bureucrats to meet Union Home Minister Rajnath Singh after violence rocked Kashmir in the wake of Hizbul Mujahideen 'commander' Burhan Wani's killing.
In conversation with Rediff.com's Archana Masih, Mohammad Shafi Pandit discusses the brutal murder of a child that has shaken the conscience of India, and its deeper intent at killing the idea of India.
Citing from Persian couplets and Kashmiri ballads, he says there is not much difference in the hearts of Kashmiri Hindus and Kashmiri Muslims, and emphasises -- with poetic lament -- that if there is one thing Kashmir needs from the central government it is sensitivity.
Has any incident in J&K generated such outrage as the rape and murder of the child in Kathua?
Never.
The leadership woke up after a huge delay, 40 days after the crime, that too after there was a public outcry, reflected through the media.
The facts were known, the FIR was registered.
The fact that lawyers wanted to thwart the filing of the chargesheet by the police, the protest by the Hindu Ekta Manch with support from people from the ruling party for the rape accused.
The message that came out was that this was not just rape and murder, but much more.
It amounted to killing the idea of India.
It was an attempt to do away with plurality by driving out a people, a community by those who wanted a singular identity.
There has also been an attempt in the past to create polarisation between the Jammu region and the Kashmir valley, and the majority community in Kashmir with those in Jammu, but it did not succeed.
At that time, some elements in Jammu had said they would blockade supplies to Kashmir, but they soon realised that Jammu is also, economically, to an extent, dependent on Kashmir. There is a huge market in Kashmir
This time also, a majority of people reacted with a sense of compassion.
It is unfortunate these incidents didn't get noticed at the highest level in the country earlier, across political parties.
Even Rahul Gandhi did the midnight vigil much later.
Even the rape in Unnao wasn't noticed earlier.
The message that flows out is not good if the idea of India has to be protected.
The crime generated national outrage...
I don't know if that is an adequate term to describe it. There is much more to that.
It is not just a crime of rape, it is premeditated, and heinously implemented.
They kept her captive almost for a week in the precinct of a temple, can you believe it!
As facts come out in the media, you get to learn that it was a conspiracy.
The worst possible thing is they added religious rites to it and she was raped one more time by a policeman when she was almost dead.
It is sickening.
Does the national outrage it has provoked mark a turning point on the Indian discourse on Kashmir, which has often been dominated by the 'us versus them' binary?
I don't know if single incidents can do that, but I hope so.
This has really shaken the conscience of India.
What has come out of this incident is that people who have been trying to divide Muslims from the rest of India -- even within Kashmir between Kashmiri Muslims and Kashmiri Hindus -- can see that Pandits have also come out against what happened to the child.
The lead person carrying out the investigation is a Kashmiri Pandit. He and the lawyer who is defending the case have shown tremendous grit.
The sad thing is those who are responsible for protecting the law tried to block the filing of the chargesheet. I am glad the Supreme Court has taken notice of this.
We must also thank some of the TV channels who took this as a mission to tell the rest of India and the world about what had happened. Even the UN secretary-general was prompted to call it a horrific crime against humanity.
Very rightly, V K Singh, the minister in the central government said 'we have failed her as humans'.
I hope it will give some positive signals for the future and opens the eyes of the leadership that you cannot deal with issues of the minority or Kashmir with insensitivity.
That is not possible. It will not last.
The world is a global village and this particular case has shown that. I really hope it becomes a game changer.
One always knew of differences of some kind between Jammu and the Kashmir valley, but has the division become more pronounced after the BJP gained ascendance in Jammu in the assembly and parliamentary elections?
It has become very, very, pronounced. It was never so.
In Jammu, there was generally no law and order problem. There would be a bandh for half the day and the rest of the day the city would remain open.
It is only since 2008 that this polarisation has taken place.
The people of this state have generally been living in peace.
The unfortunate situation in the early '90s that forced the Kashmiri Pandits to leave has been used by certain divisive forces to create a further gulf between the Muslims and Hindus in Kashmir.
But I still feel there is not much of a difference between their hearts. Their hearts are one. That is what gives hope about the people of India.
This crime has sensitised people that we don't have to behave like beasts.
Neither in Hinduism, Islam or Christianity are crimes against women tolerated, leave alone encouraged.
Has the Hindu versus Muslim rhetoric obliterated the moral compass that it does not make people stand up for a child who has been brutally raped and murdered, but for those who allegedly carried out the crime?
It is not only a problem of this place. This place has acquired a certain sensitivity because it is J&K.
What about the rest of the country? Look at what is happening to the Dalits.
I was shocked to see how the posters of Dr Ambedkar are being used for political reasons, by different political parties. They are all making political capital out of him.
Nobody is really interested in the oppressed or the Dalits, they are only interested in their vote banks.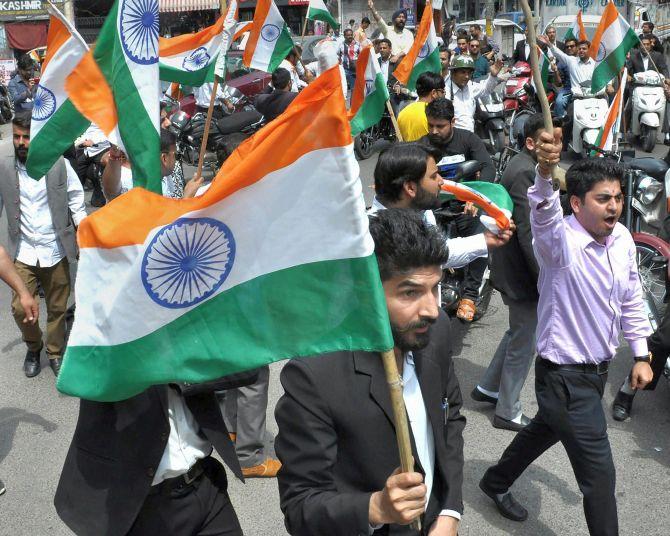 How long do you think the PDP-BJP government will last?
Only time will tell. To stay in power they will cling to a single thread if it is available.
But that is beside the point, the question is about implementing the provisions of the Constitution of India.
If they want to give respect to Dr Ambedkar, then they should respect the Constitution he drafted, and respect the idea of India.
The idea of India is not of total homogeneity, it is plurality.
It is about a thousand flowers blooming in a garden.
As conveyed through the couplet:
Chaman mein ikhlat-e-rang-o-bu se baat banti hai
Hum hi hum ho to kya hum hai, tum hi tum ho to kyat tum ho
A garden of flowers, takes its beauty from diverse colours and fragrances
What if only I exist and you don't, and vice versa, only you exist and I don't.
That is the message.
In your opinion what have been the gains and losses that have accrued to the Kashmir valley in particular and J&K in general as a consequence of the BJP-PDP alliance?
You don't have to look at gains and losses in terms of arithmetic of what one gains and what one loses. Politicians can say we have given so much funds on this item and that item.
It is not about making structures of brick and masonry. It is about joining hearts.
They had said they wanted to warm up to the hearts of the people, but unfortunately that is not happening and the alienation is growing.
And that message should go loud and clear to the PM and everyone in this country.
The people of the state have shown a lot of resilience.
People as a whole can be put down for some time, but not all the time if you see from a historical perspective.
J&K's union with India was based on certain safeguards to protect the identity of Kashmir.
Why are young Kashmiri boys throwing away their futures and choosing the path of militancy?
Because they are fed up.
Like that phrase 'marta kya na karta' -- he sees death staring at him either way whether he throws a stone or throws a bullet or even if he doesn't.
If he doesn't, he is made a victim which is seen as a part of collateral damage.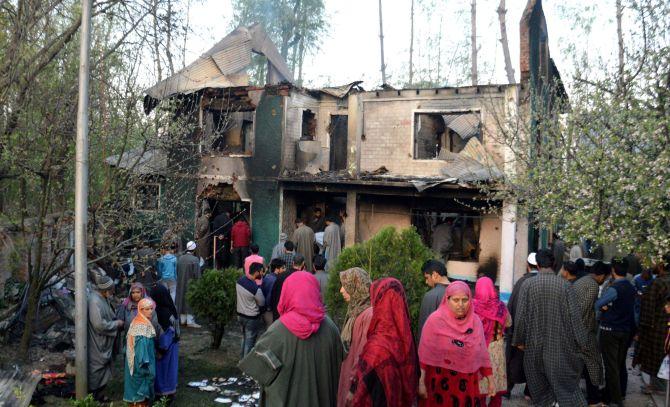 Is it anger against the Indian State...
Please don't say Indian State, it is not against the Indian State, it is against the wrong actions of the State.
Let me tell you this -- people in this state are not secessionists. They are not terrorists.
They only want a place of respect in the comity of states which they were promised at the international level.
Why should there have been 28 resolutions about Kashmir?
Tell me if there is any state in India in regard to which the UN security council has had to pass resolutions.
The position of the state should not be diluted or done away with.
Over a period of time if you become close to the hearts of the people they themselves may want to give up some of these provisions.
But if you do it with force, it will never work.
The people of the state can be won over by love, and not by swords.
You can find mention of this even in the Raj Tarangi (the earliest historical source on Kashmir).
This alienation is growing.
If you deal with a situation in Kashmir, you use pellet guns. In Haryana or Tamil Nadu when even more arson takes place you have never used pellet guns.
We brought this to Home Minister Rajnath Singh's notice in 2016.
Their protests are not against the Union of India. Like any other part of the country they are protesting for their rights.
Today Andhra Pradesh is agitating for special provisions. The argument given is that Kashmir has special provisions like the protection of sale of land for state subjects, but it also exists in Himachal Pradesh, Sikkim, the north eastern states.
In terms of employment, Telangana and Andhra had the 'Mulki rules 'from the very beginning, nobody points out that. (The rules debarred non-natives from government jobs in Hyderabad state, then ruled by the Nizam.)
If I were to ask what is one gesture New Delhi can make to Kashmiri youth, what would you suggest?
Treatment of love, respect and trust.
You have to remove the mistrust, but unfortunately what is being done is to create more and more avenues for mistrust.
The flow of money will not remove the alienation of the people.
The numbers of foreign militants has dwindled, but more and more young Kashmiris are picking up the gun which is a very dangerous trend.
If you look at history, outside elements have succeeded in Kashmir only and only when there is local unrest.
Infiltration from outside worked from 1988 onwards because discontent and unrest had built up inside the valley.
It never worked in 1947. The information about the raiders was given by the Kashmiris.
Similarly, in 1965, Mohamaduddin from Poonch was the first to inform about infiltration.
During the Kargil war in 1999, it was the Bakherwal nomads who informed the Indian Army about the infiltrators.