'We will do well and form the government.'
'I trusted people but they backstabbed me. Then, who do I trust?'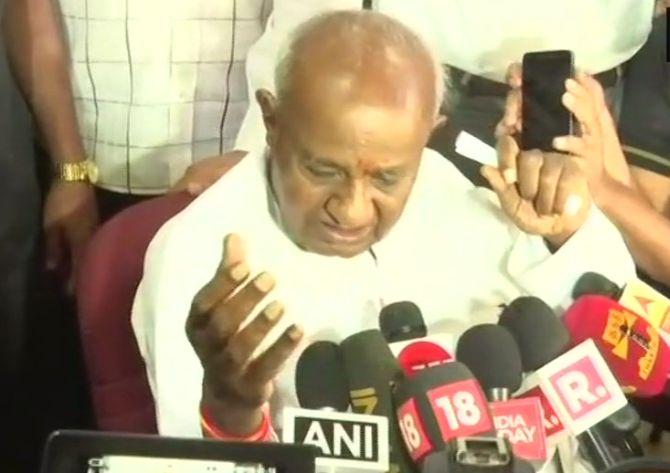 In the midst of the poll battle for Karnataka, former prime minister H D Deve Gowda, who also served as state's chief minister, talks to Archis Mohan on the prospects for his party -- the Janata Dal-Secular.
Your party is accused by the Congress of being the 'B' team of the Bharatiya Janata Party.
They are saying it out of frustration. The Congress is trying to create this impression to scare the Muslims and other minorities from voting for the JD-S. They have spread the propaganda in some places that voting for the JD-S is (akin to) voting for the BJP.
We are working hard to dispel this.
Opinion polls have forecast a hung assembly. You would need to align with either the BJP or Congress after the election.
The Shiv Sena is upset (with the BJP). The Telugu Desam Party has come out of (the BJP-led) National Democratic Alliance.
(H D) Kumaraswamy (his son and former CM) had suffered when he joined hands with the BJP. All kinds of regional parties are suffering at either the hands of the BJP or the Congress.
I have also suffered (by aligning with/supporting the Congress). With this bitter experience, we don't want to have one more bad experience.
What would be the impact of Prime Minister Narendra Modi and UP CM Yogi Adityanath campaigning?
Over the past four years, the euphoria created (in the name of) Modi isn't the same. He doesn't enjoy the same popularity. So, don't harp on this.
Your assessment of the election?
There are 224 seats. In (the) old Mysore (region, to the south), there are 108; Hyderabad-Karnatak (region) has 52. In southern Karnataka, we will get 80 per cent of the votes, while in Hyderabad-Karnatak, we would win 20-22-seats.
Our position is good.
You may ask how? In (the previous poll of) 2013, I was bedridden and Kumaraswamy our only star campaigner. We lost 48 constituencies by margins of less than a couple of thousand votes.
This time, I am there. The party has also aligned with Mayawati's Bahujan Samaj Party. It is contesting 20 seats and will help us win seats that we lost by small margins. It might also win a couple of seats.
Telangana CM Chandrasekhara Rao and Andhra CM Chandrababu Naidu have asked Telugu people living in Karnataka to vote for my party. My friend (All India Majlis-e-Ittehadul Muslimeen's) Asaduddin Owaisi has also announced his support and he will also campaign.
We will do well and form the government.
But, is there any anti-incumbency mood against the Siddaramaiah government? The social welfare schemes are being praised.
It is one of the worst governments I have seen. There is widespread pilferage, 60-70 per cent, in these schemes. Once the scheme is launched, spoils are shared.
These schemes have turned out to be useless. Law and order is bad. There have been daylight murders. Senior citizens have been murdered.
Are you saying the CM is weak?
I don't think he is weak. He has allowed all this to favour his followers. Even his ministers have been unable to stop him -- 'yatha raja, tatha praja'.
How do you compare this government to that of the B S Yeddyurappa-led BJP government?
Yeddyurappa made some mistakes. He (then) went to jail. But, Yeddyurappa is not as shrewd as Siddaramaiah. Before he started, Siddaramaiah demolished the (ombudsman body) Lokayukta and made it toothless. He constituted an anti-corruption bureau which is headed by the CM.
Yeddyurappa started his tenure with corruption. Everybody remembers his 'operation lotus', where Rs 50-100 million were spent to purchase legislators. Seven of my own party's legislators had crossed over.
If Yeddyurappa and Siddaramaiah had given good administrations, people would not now be looking at Kumaraswamy.
I do not say this because he is my son but Kumaraswamy did good work during his 18 months as CM. He took on the mining mafia.
The BJP and Congress accuse yours of being a family-run party.
Agreed. This wasn't always so. I trusted people but they backstabbed me. Then, who do I trust?
Money is playing a big part in this election?
Today, I am unable to fund my party's election campaign. We are starving, believe me.
At times, I don't get sleep. In some constituencies, people are helping us.
This government has ruined everything in Karnataka. There is no administration, only money, money and money.