'We had to respect the sentiments of the people of Jammu as our party was elected from Jammu.'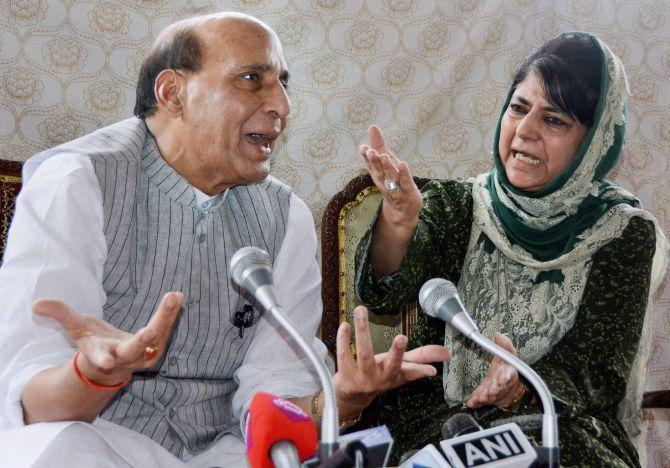 The sudden announcement by the Bharatiya Janata Party to pull out from the coalition government with the People's Democratic Party in Jammu and Kashmir has come as a shock for its suddenness, but the party's former state president Sat Paul Sharma says that somewhere, the sentiments of the Jammu and Ladakh regions were not being properly represented by the alliance government in its three-year rule.
Speaking to Rediff.com's Syed Firdaus Ashraf, Sharma said, "We formed the government three years ago to bring peace in Kashmir. One important agenda of the alliance was that we wanted all the three provinces -- Jammu, Kashmir and Ladakh -- to be represented equally, but that was not happening in the alliance government."
"Jammu and Ladakh were not given equal treatment, so we withdrew support keeping the interests of the nation in mind," Sharma declared.
The PDP-BJP formed a coalition government in March 2015 with PDP founder Mufti Mohammed Sayeed as chief minister.
Sharma was the state housing and urban development minister, a portfolio he continued to hold in Mehbooba Mufti's government formed after Mufti Mohammed Sayeed passed away in January 2016.
"The alliance government in particular did not represent the interests of Ladakh region which has a different language and ethnicity, and we felt development did not take place in that region so we felt it was time to withdraw support."
"We wanted the development of all three regions equally which did not happen."
In the 87-seat state assembly, the PDP has 28 MLAs and the BJP 25. The National Conference has 15 MLAs and the Congress 12.
The BJP won most of its seats from Jammu whereas the PDP won most of its seats in the Kashmir valley.
Asked about the sudden withdrawal of support when the government was seemingly running successfully for three years, Sharma said, "We had to respect the sentiments of the people of Jammu as our party was elected from Jammu while they (the PDP) were elected from Kashmir. There were some shortcomings in representing those sentiments and therefore we split."
Asked whether the withdrawal of support was because of the PDP's stance on not withdrawing the ceasefire in Kashmir, Sharma said, "No, that was not an issue. I don't know what the PDP's viewpoint is on this issue."
"Even though a ceasefire was on, there was no respite in terrorism," the BJP leader added. "The terrorists killed civilians as well as security forces."