'The Haji Ali dargah verdict will help Indian women from all faiths and backgrounds.'
'It is our firm belief that Islam is a religion of gender equality.'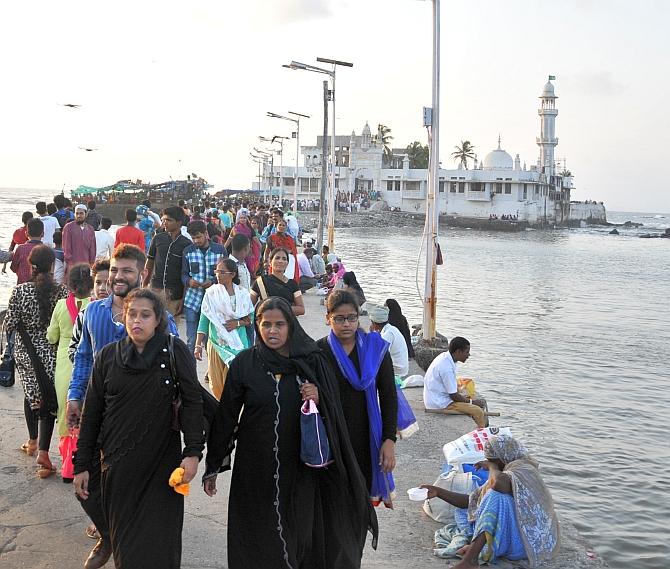 IMAGE: Devotees walk out of the Haji Ali Dargah in Mumbai. Photograph: Sahil Salvi/Rediff.com
On Friday, the Bombay high court, reversing the ban on women entering the inner sanctum of the city's famed Haji Ali dargah, said, "The ban is contrary to Articles 14, 15, 19 and 25 of the Constitution of India. Women should be permitted to enter the dargah on par with men."
The words brought much cheer and joy to petitioner Zakia Soman, founder of the Bharatiya Muslim Mahila Andolan, who has waged a lonely battle for gender equality.
Soon after the historic verdict, Zakia told Syed Firdaus Ashraf/Rediff.com that the ruling will help in the reform of Muslim personal law.
How do you view the Bombay high court verdict that allows women to enter the sanctum sanctorum of Haji Ali dargah?
This is quite a historic judgment. It has restored the old order where women's right to enter the mazar (tomb) has been restored. This is a historic judgment because it talks about Muslim women's equality. The whole issue of reforming the Muslim personal law will be helped by this. This judgment will help all Indian women from all faiths and backgrounds. It will help women who are seeking entry into the Sabrimala temple and all other religious places in the country.
It is a truly historic judgment.
The people who opposed you said that Muslim women have no right to enter the sanctorum or to touch the tomb. What do you have to say to them?
Why then were we going to Haji Ali mazar (the saint's tomb) till 2011? Why do we go right up to the Kaaba Muazzama (Grand Kaaba) when we go to to Mecca perform the Hajj?
There are so many sufi dargahs in Mumbai and across the country where women go right up to the mazar. They have no argument. They never saw this problem before 2012.
Muslim women can read the Holy Quran, they can interpret it and they can educate themselves. Muslim women will not accept these kinds of patriarchal norms anymore.
But there is a general belief among Muslim women that they are not allowed inside religious places.
Who believes this? It is not our belief nor is it the belief of Sufi Islam. Sufi Islam is humanist Islam. It is Islam of peace, love, brotherhood and harmony. Sufi Islam is not exclusionary.
We do not follow extremist Islam. Their Islam excludes women. We believe in humanist Islam and we believe in Islam where all human beings are equal irrespective of gender, language or background.
Do you feel the people who prevent women from entering the sanctum sanctorum want to reinforce male domination over Islam?
Our society is highly influenced by patriarchy. This includes the entire Indian society cutting across religions. We are a male- dominated society, but it is beginning to change.
This changed in Shani Shingnapur and we are going to see (the change) in Sabarimala.
In our country, the religious custodians have always been males. Be it Hinduism, Islam or Christianity, it is the male version of religion which is prevalent and ultimately it is the males who are arbiters. This is beginning to change now and our Constitution enables that change. What has happened today in the high court is an example of that change and therefore this is a historic judgment.
The people who lost the case against you are saying that courts must not interfere in religious matters.
We are also saying the same thing. The men who were barring us from entering the mazar are also interfering with our right to religion.
Islam is meant for both men and women, it is not exclusively for men. Actually, they have interfered in women's right to religion and women's right to religious freedom.
Do you know how many Islamic countries allow women to enter graveyards?
We go for Hajj. All Muslim men and women go for Hajj. The holiest place of Islam is the Kaaba. Men and women perform Hajj together. They go right up to the Kaaba. All these arguments are meant to obfuscate the truth. All these arguments are meant to continue the denial of justice. All these arguments are made to discriminate against women.
But I am asking about graveyards, not Hajj.
I have grown up going to my grandmother's and my mother-in-law's graveyards.
During Shab-e-barat (when Muslims visit the graveyard to pay their respects to the dead) all of us go to graveyards. As children we went, too. That is what I am saying.
Why should we follow their version? We are ourselves capable of reading the Quran, interpreting it and implementing it in our lives. That is what more and more women are doing now and quite a few men are supporting them.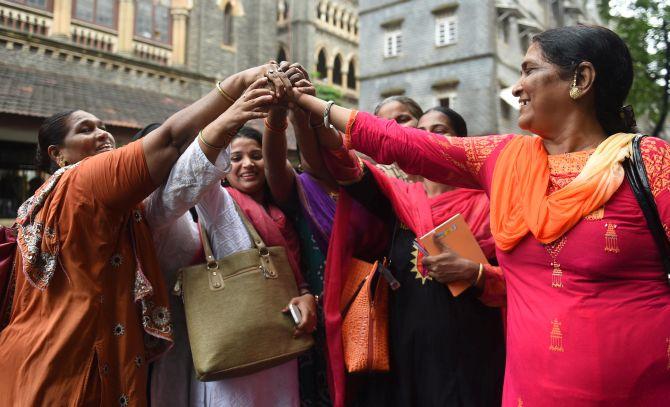 Women outside the Bombay high court celebrate the court's decision. Photograph: Sahil Salvi/Rediff.com
Is it written anywhere in the Quran or Hadith (sayings of Prophet Mohammed) that women must not enter graveyards?
No. It is not written. They are misinterpreting the Quranic injunctions. They are distorting the Quranic verses and they are giving it their own male dominated, patriarchal thinking colour. It is our firm belief that Islam is a religion of gender equality and the males are not arbiters of that belief. And this is our faith.
So how did this culture come about where women were not allowed into graveyards?
This is because we are a backward society, we are patriarchal, we are male-dominated, we do not have education and we do not have economical empowerment. This pertains to South Asia and India as all societies are male dominated in South Asia.
How does this judgment help in the ongoing debate on triple talaq (divorce) cases which are seen to be regressive and against women?
This judgment will help and build the climax for reform and gender justice for all women. It will help.
Could this verdict lead to public protests as we saw following the 1986 Shah Bano case?
I don't think so. I think the majority of the Muslim community is ready for change. The majority of Muslim community wants change. They have suffered on account of this kind of extremist and conservative beliefs that have been imposed on them.
A lot has changed since Shah Bano. Today, the average Muslim wants education and jobs. They want to live a life of dignity.