'These inhuman people will never find a place in Jammu & Kashmir or hold in any sway over the youth here.'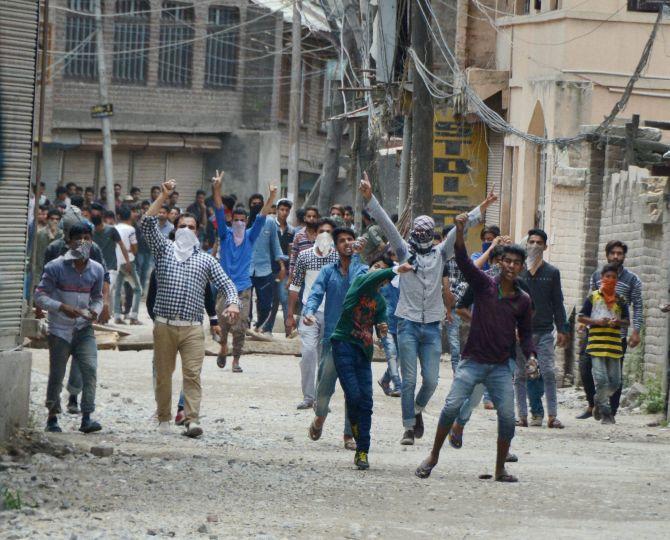 IMAGE: Protesters hurl stones at a police vehicle after Burhan Wani's death. Photograph: S Irfan/PTI
Shayk Dr Abdul Lateef Al-Kindee (he is a PhD in Islamic Studies), secretary general, Jamiat Ahle Hadees, an Islamic religious outfit that espouses pristine Islamic teachings, spoke to Rediff.com's Prasanna D Zore about how peace can return to the Kashmir Valley and the reasons why controversial preacher Dr Zakir Naik has not succeeded in influencing the youth of Jammu and Kashmir.
Do you think Burhan Wani's death will attract more Kashmiri youth towards the gun as is being made out by some people?
The Jamiat Ahle Hadees has always preached peace and non-violence in the valley through our religious discourses and message to the awam (the people of Jammu & Kashmir) from mosques. We are opposed to terrorism and militancy.
Whatever is happening in Kashmir today is a political issue, though, and we appeal to all the political parties to sit across the table, engage in a dialogue and debate the issue to reach a peaceful settlement.
We would only request all the parties involved here that they should not indulge in any act that gives an excuse to the other to use violence and justify the same.
We also appeal that there should be no excesses against anybody or any section or any stakeholder who are out in the streets of Kashmir.
Violence has no place in our jamhooriyat (democracy).
Do you think Burhan Wani's death will attract more Kashmiri youth towards the gun as is being made out by some people?
I don't think so.
Dr Zakir Naik has visited Jammu & Kashmir for his religious sermons. Do you think he has a wide following in the state as the Jamiat Ahle Hadees too has worked with him during his visits to the valley?
You must understand that currently the media runs the reins of this country. And there are many people who take whatever is told to them by the media at face value. And as far as teachings -- whether good or bad -- are concerned, there are always followers of both the traits.
I personally don't follow or believe in whatever he says, but a large section of Indians, Muslims as well as non-Muslims, who understand English, follow him or listen to his sermons.
Only those youth who understands English and has easy access to the Internet approach his preaching to listen to him. And there are followers who believe in what he says or preaches.
I can only say that there are a few people in Jammu & Kashmir, who understand and learn English, follow and listen to Dr Zakir Naik.
But it is just media propaganda that the terrorist who slain people in Dhaka were influenced by Dr Zakir Naik's teaching. I have not heard even a single discourse of Zakir Naik that emboldened Muslims to become terrorists or indulge in acts of terror.
Isn't he preaching on television and the Internet? Or does he have a secret medium of preaching too?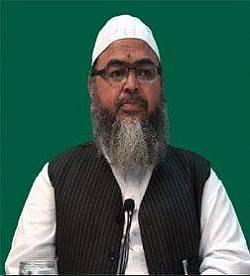 How can we trust a terrorist who inflicted pain and misery on innocent lives? Have you heard Dr Zakir Naik's name being dragged into any other terror attack?
I am surprised that the media has put its blind trust in a Bangladeshi terrorist. This is no way of doing justice (to the man).
Does Dr Naik have a hold over the youth of the state?
No, he doesn't have too many followers here or are beholden to his teachings.
Do you identify with the school of thought of Islam that Dr Naik preaches?
We don't agree with all the things that he says about Islam and Islamic jurisprudence. He has a different style of reaching out, a different way of preaching the tenets of Islam. We have our own style and beliefs.
What would be your message to the youth of Kashmir who are out in the streets, pelting stones at security personnel?
Here's my humble appeal to all those intellectual and peace-loving people: Don't create a point-of-no-return situation. People want peace and mutual co-existence. This is a political issue and must be tackled at the political level.
Neither am I a politician nor does Jamiat Ahle Hadees has any political footprint or aim in the state. We are a religious outfit and believe in peaceful co-existence of human beings.
We have made an appeal through various popular newspapers in Kashmir that people should act with patience and engage in any activities that harm the interests of the youth of Kashmir.
By 'any activities,' do you mean acts of violence?
We are not on the side of violence. We want everybody to abdicate violence and find a solution to this issue by sitting across the table, one which is based on rationale and intellect. Strong emotions cannot be a solution to an issue like this one.
Jamiat Ahle Hadees had protested vociferously reports that the state government was tapping the phones of the ulemas (Muslim scholars) in the valley.
We were reacting to reports in the media. On the one hand, they (the state government) were saying that there should be reforms of imams and on the other hand they are tapping our phones.
The only thing we want to say is that Islam is an apostle of peace in the world. And the imam (religious teacher) or aleem (servant of the omniscient) is the naib (second in command) of paigambar (Prophet Mohammed). Which means an imam always preaches about peace and brotherhood.
So what message are you sending to the people by tapping the phones of imams?
Politicians spoil the environment on the ground and then the lightening falls on the imams.
We think politicians should help people find employment, food and housing and not interfere in the affairs of religious people.
Why has Islamic State (Da'esh) not succeeded in swaying the youth in Jammu & Kashmir?
Why do we need such people in my state? What noble deeds have they done for people to get enamoured of them?
These inhuman people will never find a place in Jammu & Kashmir or hold in any sway over the youth here.