A few nights ago rioters in Tours, France broke two sightscreens of Professor Narayanaswami Ranganathan's car.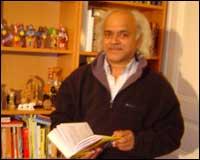 An Indian immigrant, who went to Paris as a student in 1976 and is now a French citizen, Professor Ranganathan is hoping his car is not targeted often. "As it costs me 300 Euros to replace sightscreens!" says the professor who is head of the laboratory of mechanics and rheology at the University of Tours.
Three weeks since the worst kind of rioting erupted on the streets of France, the violence has finally quelled but has left the country scarred and shaken. Disgruntled youth -- mainly second generation of west and south Africa origin -- set ablaze over 6,000 cars and burned restaurants, shops and buses, angry with the lack of jobs and living conditions.
Professor Ranganathan, who is an alumnus of IIT-Madras with over 100 research publications, has worked in collaborative research projects with Aérospatiale, PSA, Renault and Hutchinson.
Having faced discrimination himself in his early days, he says he doesn't think he suffered from any discrimination in his professional field.
In an interesting e-mail exchange with Assistant Managing Editor Archana Masih he said most racism originates from a communication failure and ignorance of the cultural origin of the man in front of you.
You live in France, what is your reading of the situation? How have the past two weeks been? What precautions are private citizens taking in the nights?
I think the people were surprised with the risen in violence in the first few days. It is very reassuring to know that the police did not shoot at the rioters. Most of us avoid going out unnecessarily in the nights.

In what way has daily life been affected for residents?
Life, in most parts, during daytime is quite normal.

You are an immigrant yourself, why do you think the second generation west and north African populous has not integrated into French society?
It is difficult to integrate into a society which cannot offer you a job and a decent life.
The rioters do not want to burn cars -- they want to be heard and they want to be given a chance to lead a normal uneventful life.
Some of them are totally disoriented with (apparently) very little parental authority and some of them have lost all hope and become desperate.

Why is it that unlike say the UK, one doesn't see many non-Europeans in public life, television or films?
This is an incorrect statement. Yes, we do see non-Europeans in public life -- I am not aware of the percentage as compared to say, UK or elsewhere. I know of non-Europeans being mayors, university presidents, heads of big firms etc.
It is largely perceived that the cause of the unrest in France is due to the social and financial alienation of second generation Muslim youth, do you see any other reasons that have contributed to the present situation?
I think it is very simplistic and dangerous to pinpoint the unrest on second generation Muslim youth. Lots of people are unhappy in France. Raising prices and rampant unemployment seem to be the main reasons.
What do you think are the reasons for the unrest and rioting?
From what I understand, it all started with the death of the two youths who panicked while being chased by the police and got electrocuted.
What are the biggest difficulties faced by immigrants in France?
It is the same for all others -- rising costs and unemployment. The costs have sometimes multiplied by a factor of 10 with the introduction of the Euro. Jobs are scarce. Industry is getting delocalised. I know even of people with PhDs who are unemployed.
What do you see as the government's failings that has led to this situation?
Maybe the government's efforts to help at different levels were not sustained or were not understood. There apparently has been a communication gap between the authorities and the poor and needful living (mostly) in insalubrious conditions.
What have been your experiences as an immigrant in France? When did you come here, how long have you lived in France? Was it difficult for you to establish yourself here?
I left India during the Emergency. I was working in the civil aviation ministry in Delhi. Being an immigrant in 1976 when I came to Poitiers was not quite easy. I had about 1,000 Francs (scholarship) to live on and I paid a rent of about 500 Francs.
I had to live through a few 'racist' attacks -- sometimes physical. Even at the university there were sometimes unpleasant remarks. But I had some good friends and some colleagues who helped me.
To make people know who I am, I organised Indian cultural events to help people understand my culture (concerts, drama, organising meetings etc). My feeling is that most of racism originates from a communication failure and ignorance of the cultural origin of the man in front of you.
Things became easier after my first doctorate and I was offered a teaching assistantship at the University of Poitiers. This helped me prepare the Doctor of Sciences degree in 1985 and I was then offered a full time associate professorship.
I got married to Barbara who is of Polish origin and I became a French citizen in 1988. I came to Tours in 1997 as a full time professor.

I think I have had a normal career evolution (I was an associate professor even before taking French papers) and I don't think that I have suffered from any discrimination in the professional field.

What is the situation of Indian immigrants in France? What are the fields, kind of jobs that the Indians mostly do?
Indian immigrants in France are mostly from the former French colonies like Pondicherry, Karaikal etc. There is no general rule about their occupations -- I have met people of Indian origin in all kinds of fields. Quite a few of them do higher studies and have a successful career. They are considered to be peaceful and well integrated.

It must be difficult for Indian immigrants to make a start there since unlike a sound knowledge of English, few understand the French language. Is there a ghetto culture among Indians or Asians as well?
It is difficult in the beginning when you don't speak French. But the French prefer you talking in "bad French" rather than in English. And for most Indians learning French is quite easy as most of us speak at least three languages (I speak eight). I don't think there is a ghetto culture among Indians.

French Interior Minister Nicolas Sarkozy has been criticised for his comments and hardline stance against the rioters, can a tough stance bring an end to the rioting? How can the simmering discontent among the people be addressed?
It is difficult to understand his motifs when he talked of 'racaille (translated in the English media as 'scum') and cleaning them with karcher'" (water hose). A tough stand can lead to a temporary respite but this is not going to lead to any long term solution. It is important to establish a dialogue with the discontent people.
I can imagine (this is my personal view) a permanent police booth (with unarmed police) who are there to listen to the complaints and demands which are then collected and treated by the government at a priority basis. This police forces can be made of mainly from the communities of the rioters.
Another way of establishing dialogue is to create schools where the initial education is in Arab. This can help people understand the society they live in a language more familiar.

How badly has this damaged the image of France -- a country that gave the slogan of Liberty, Equality, Fraternity to the world? What is the reaction of the native French population to what is happening in their country?
I think the damage is quite significant. But the problems are going to be the same in the whole of Europe. Haven't we seen riots in Birmingham, Liverpool and in Los Angeles quite often where there's a strong immigrant population?
I have travelled in most countries in Europe and the USA and in Canada. The most peaceful country I have been to is Norway -- where people don't even shut their doors (they feel so secure). The country where I had problems at the customs was in England where the officer would let my wife (then my girlfriend) in and not me! But then that's past.

The French are sad and attentive, especially with presidential elections being held two years from now.

As a resident yourself, what are the changes you have seen since the rioting began?
Someone just broke the two sightscreens in my car! Hope they won't do it often as it costs me 300 Euros to replace them!
The immediate changes are not visible in daily life except for the television being explicit with the images. Long term changes will materialise once the government takes concrete measures.
The only solution to the world's problems is the establishment of a truly egalitarian society -- something probably Karl Marx would have dreamt of. This would come probably after a period of dark nationalism (the riots of today may lead to such ridiculous governments emulating the kinds of fascist Germany).
With around 5 to 6 million Muslims in France, which is almost one-tenth of the country's population, the French government is being blamed for its neglect of this population -- but it is also believed that the government has perhaps worked harder than other EU countries to integrate Muslims, where do you see a gap here?
I am not competent to reply.