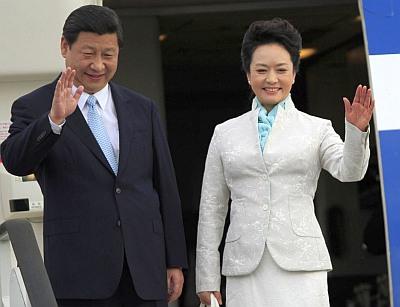 'India and China have to make concrete progress with regard to the border issue, addressing the trade deficit, and facilitating people-to-people interactions. This has to happen in the next two, three years.'
China expert Tansen Sen tells Sheela Bhatt/Rediff.com how India and China can take their relations to the next level.
Do you think India and China are, at last, ready to take the relation to the next level?
Yes, I do. But this depends on what happens after President Xi Jinping's visit. The two sides have to make concrete progress with regard to the border issue, addressing the trade deficit, and facilitating people-to-people interactions. This has to happen in the next two, three years.
If no concrete progress is made within that period, we will be back to square one. ;The key will be the long-term commitment the two leaders are willing to make for taking the relations to the next level.
In a recent column you said, 'Mutually suspicious bureaucrats have hesitated to facilitate people-to-people, industry-to-industry or sub-region-to-sub-region exchanges and collaborations.'
Some critics and analysts may question this argument. There are memories of 1962. Then, the border disputes are real. There is a territorial dispute over Arunachal Pradesh and it is quite serious. Stapled visas is another sour issue.
The Dalai Lama and the Tibet issue are not fully settled in spite of India's One China assertion. China's clever play of the Pakistan card is another contentious issue. There is an unsustainable trade balance which requires China's sincere efforts. So the premise of your article has raised many questions.
There are several reasons why I made that comment, which pertains to bureaucrats in both India and China. First, I think most of the issues you highlight have to do with the failures of the two governments to reach appropriate solutions in over 50 years.
Such failures should not impact legitimate people-to-people interactions, some of which are actually promoted thorough government MoUs. The exchange of teachers between Indian and China universities is, for example, hindered because of the delays in issuing visas to Chinese scholars. The Chinese on their part should repeal the practice of stapled visas that is also a hindrance to people-to-people exchanges.
Second, it has to be acknowledged that the trade deficit between India and China cannot be resolved by increasing the export of Indian goods. There aren't many items that China could potentially import from India. The issue can perhaps be addressed by letting Chinese companies invest in India. Here too, the bureaucrats have to let these investments take place in multiple sectors of the Indian economy.
I think this aspect is finally being recognised, with possible Chinese investments in Indian infrastructure. At the same time, however, China has to allow Indian pharmaceutical companies into Chinese markets. Third, the failure of the Bangladesh-China-India-Myanmar initiative so far seems to be related to the Indian government's reluctance to allow sub-regional collaborations.
Yunnan province is eager to collaborate with/invest in northeastern and eastern states of India, and even though these states are interested in such collaborations, the fear of the Chinese, and not necessarily any actual intelligence report from the region, seems to have made this innovative initiative impotent.
Finally, even with the 1962 memories, do we continue to suspect each and every Chinese? There are now genuine Indophiles in China who are affected by the unnecessary delays in issuing visas. This makes it difficult to improve mutual trust and understanding.
One way to address this suspicious behaviour of bureaucrats in India is maybe to improve India's intelligence services, which should be skillful and have confidence in their abilities to monitor and not restrict visitors from China.
Do you think India will be able to carve out exclusive terrain to move forward with both Japan and China?
I am not sure about it. There is a lack of expertise on both Japan and China in India. While in the short term, leaders like Narendra Modi could perhaps direct a balanced policy, in the long term engagement and dialogue with qualified experts who are not associated with the bureaucracy is required.
Such independent views are needed to understand the terrain and 'move forward.' The media also needs to play its role in this. As far as I know, there are very few Indian journalists in China and Japan. Without this third element, it is difficult to have proper perceptions and 'carve out' policies to address multi-dimensional and complex issues associated with contemporary politics in Asia that have deep roots in the colonial past.
How do you read Modi's world view?
Modi's decision to start with India's immediate neighbours is a good one. Visits are fine, fast track is great, but what after that? Worldview consists not only visiting and meeting world leaders, but also resolving issues that impact the world.
Does he have a policy to address environmental issues? Will he join the US and other countries in addressing the global threat from Islamic State? After this 'fast' start he should be thinking about a long-term foreign policy, something India has lacked. We have to wait and see.
What will be the equation in the one-on-one meetings between Modi and Xi Jinping?
I think personal chemistry matters, especially when it comes down to discussing sensitive issues. Modi has past experience with China and it might be easier for him to establish good rapport with Xi Jinping, who is also a hands-on leader. It will be less about establishing a rapport with Xi than about watering what has been seeded during their first meeting in Brazil.
Do you think under Modi's leadership, India is more committed to support a multi-polar world and that's why India is likely to move closer to China than before?
Here, many Indian critics expect American counter-moves which will stagnate India's plans while Japan will side with America because it has its own issues with China. In spite of so much colour and atmospherics during Modi's Tokyo visit, Japan did not agreed to a civil nuclear agreement.
It is too early to figure out what Modi's commitments are. But he should indeed be committed to a multi-polar world, one in which India's national interests are balanced with addressing regional needs and global concerns.
Much of this depends on how Modi constructs his China policy. India seems to be so infatuated with China that if no progress is made in that arena, India will stay on this loop of moves and counter-moves of other countries.
After returning from the US, Modi might have to take some time to evaluate the complexities of contemporary geopolitics, assess his domestic priorities, and work out a foreign policy that is prudent, far-sighted and not just all hype.
In the post-Manmohan Singh era, do you find economic issues taking centre-stage and not security in bilateral relations with India's neighbours?
Yes, the economy did take centre-stage, particularly with China. Some key security issues were also addressed, including those related to preventing border skirmishes. But very little progress seems to have been made with regard to resolving border disputes or even making significant progress in nurturing mutual trust and confidence.
Do you think China is ready to give substantial political space in the region to India? Whether it's the Silk Road initiative, emerging financial institutions or in the surrounding region -- will China allow India its desired place?

That is up to Xi Jinping to demonstrate. China has already welcomed India's accession to the Shanghai Cooperation Organisation and agreed that an Indian should be the inaugural head of the BRICS Bank. It will certainly invite India to join the Silk Road initiative.
But I think the key aspect is if during his visit, Xi Jinping makes a statement saying China will support India's quest to become a permanent member of the UN Security Council. Within Asia, is China willing to let India get more involved in the South China Sea region? I am not sure if China is ready to do these as yet.
What is the minimum outcome you expect to dub Xi's India visit a success?
For the visit to be a success, there has to be at least two breakthroughs, one with regard to the economic relationship and one on the border dispute. Allowing China to invest in all areas and regions where other foreign countries are permitted will be a big step from the Indian side; the Chinese side should reciprocate by opening its pharmaceutical market to Indian companies.
On the border issue, the two sides should at least establish a time-frame within which the Line of Actual Control must be charted.
Image: Xi Jinping, general secretary of the Chinese Communist Party and president of China, with his wife Peng Liyuan.
---
Tansen Sen, below, left, is a globe-trotter in a quest for knowledge. He received his MA from Peking University and PhD from the University of Pennsylvania. He specialises in Asian history and religions and has special scholarly interests in India-China interactions, Indian Ocean trade, Buddhism, and Silk Road archaeology.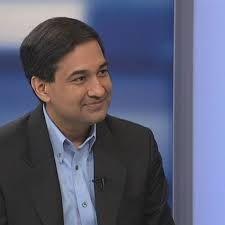 He is the author of Buddhism, Diplomacy, and Trade: The Realignment of Sino-Indian Relations (University of Hawai'i Press, 2003) and co-author (with Victor H Mair) of Traditional China in Asian and World History (Association for Asian Studies, 2012). He has edited Buddhism Across Asia: Networks of Material, Cultural and Intellectual Exchange (Institute of Southeast Asian Studies, 2014) and guest-edited special issues of China Report ('Kolkata and China,' December 2007; and 'Studies on India-China Interactions Dedicated to Ji Xianlin,' 2012). With Wang Bangwei he has co-edited India and China: Interactions through Buddhism and Diplomacy: A Collection of Essays by Professor Prabodh Chandra Bagchi (Anthem Press, 2011).
He is currently working on two book projects, one examines cross-cultural trade in Asia during the 14th and 15th centuries, and the second is titled India, China, and the World: Networks of Exchange and Interactions. He is also the co-director (with Brian Tsui) of a collaborative research project entitled 'Beyond Pan-Asianism: China-India Connections, 1911-1949.' He serves on the governing board of the Nalanda University, India.