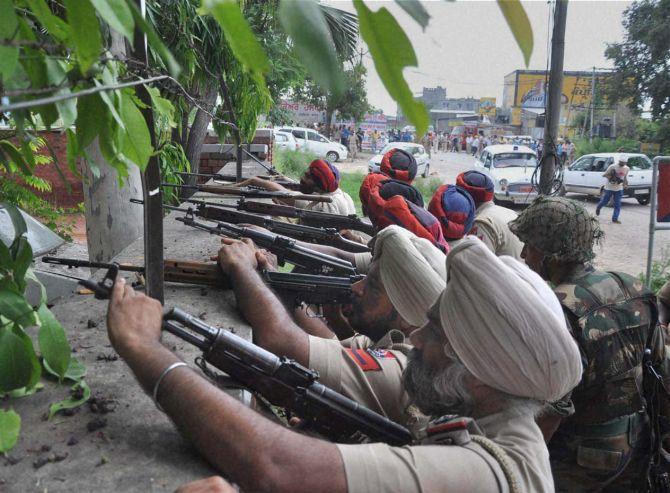 'Border areas should be policed properly. The police at the international border with Pakistan should be well-equipped.'
K P S Gill, the tough Punjab cop who led the battle against terrorism in the state in the late 1980s and early 1990s, speaks to A Ganesh Nadar/Rediff.com
Three heavily-armed terrorists attacked a police station in Punjab's Gurdaspur district on Monday, July 27, killing five police personnel and three civilians, before being killed by the security forces.
Punjab's former director general of police K P S Gill, below, left, the man credited with ending terrorism in the state in the late 1980s and early 1990s, spoke to A Ganesh Nadar/Rediff.com about the prevailing situation in Punjab.
A terrorist attack in Punjab after a long, long time. What do you have to say about the situation?
I think the Punjab police are responding well.
What action do you think should be taken to nip terrorism in the bud?
A lot of action is required. Border areas should be policed properly. The police at the international border (with Pakistan) should be well-equipped.
Local people should be involved so that those who cross the border cannot roam around freely. There should be definitive schemes for this. The Border Security Force can only do so much. Local citizens should be aware.
You think this is a one off incident, or will it continue?
If we don't wake up, it will continue.
Do you think political parties are causing the turmoil in Punjab?
There are certain people who go on hunger strikes in Punjab. There are various political parties that support them. This causes public turmoil in Punjab.
What is the solution to terrorism?
The solution is that there should be a national policy on terrorism. What is shocking is that all our political parties speak in different tones in reference to terrorism.
We need uniformity in dealing with terrorism and terrorists.
With a Bharatiya Janata Party-Akali Dal government in Punjab, do you think it infuses religion into politics?
Religion has always been there in politics in India. It has never been out.
Punjab is said to have a serious problems with drugs. How would you control it?
It is an all-India problem. It is a major problem. There has to be a social solution. It is not only a law and order problem.
You think there will be better co-ordination in fighting terrorism as the same parties are ruling at the Centre and in Punjab?
When terrorism was there in Punjab and I was the DGP, there was President's rule in the state. P Chidambaram came there as the Centre's representative.
He gave a long lecture to the police officers. After he left I told my officers to forget everything he had said and to listen only to me. The governor will have one idea, the ministers will have other ideas.
Anti-terrorism has to be handled by one person. He can consult any number of people. The party in power does not matter.
Image: Police personnel take positions during the encounter in Dina Nagar, Gurdaspur, July 27. Photograph: PTI