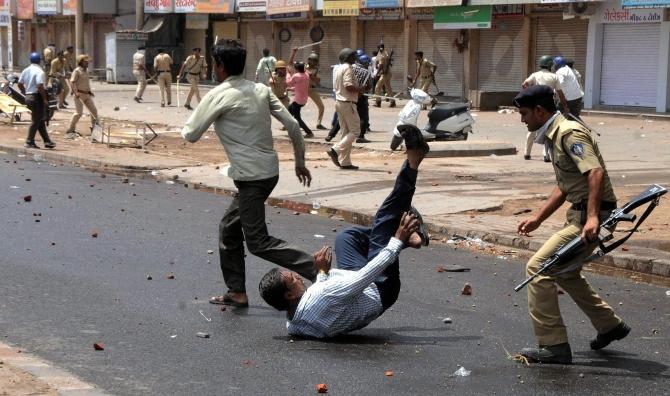 'People with vested interests in the BJP don't want the Patels to get reservation.'
'Only 30 per cent Patels are well to do; the rest are in a poor state. This fight is for the 70 per cent.'
A Jail Bharo Andolan call has been given by Lalji Patel, national president of the Sardar Patel Group, one of the prominent groups seeking Other Backward Class status for the Patel community.
The Patels seek reservation for their community and the immediate release of their young leader Hardik Patel, who is in jail since October 2015 on sedition charges.
As the andolan (movement) turned violent on Saturday, April 16, in Mehsana, Lalji Patel received head injuries in the police action that followed.
From his hospital bed, he spoke to Syed Firdaus Ashraf/Rediff.com
Reproduced in first person.
On Saturday, the Patel community decided to hold a march. Everything was going on peacefully. I don't know how the violence erupted. I feel some anti-social elements created a disturbance, I don't know who they were.
We had elders from the community leading the march. There were women and young boys present as well, so there was no question of them resorting to violence.
But it happened, and I have no idea who is behind it. The police reacted with a lathi-charge, and I got hit in the head.
Some leaders in the (Bharatiya Janata Party) government do not want this andolan to end, hence it is still going on.
The BJP has given reservation to Jats in Haryana, but not us.
People with vested interests in the BJP do not want the Patels to get reservation.
Only 30 per cent Patels are well to do; the rest are in a poor state. This fight is for the 70 per cent.
Patels don't get government jobs and there is no reservation for them in education either.
The agricultural farms owned by the Patels are not producing enough and it is a complete loss of business. Moreover, as our community has grown, there is no land left for individual Patels.
For example, if a Patel has two sons, then the land gets divided between them. Then those two sons have their children and the land gets divided further, so there is no land left for individual Patels.
We don't have any other option, but to get reservation in jobs.
We have been talking about this with the BJP government, but there is no result yet.
There are eight to nine states in India, for example Haryana and Tamil Nadu, where reservation is more than 50 per cent. So, we feel why shouldn't the Patels too have it?
It is sad that we have a Patel as the chief minister of Gujarat (Anandiben Patel), but she has forgotten about us after assuming office.
She has abandoned our cause. It is only during elections that every political party talks about reservation to the Patels and then forgets about it after they win the election.
The BJP will lose heavily in the next Gujarat election because they have neglected the Patels.
IMAGE: Police use force against members of the Patel ommunity during a 'jail bharo andolan' demanding Hardik Patel's release in Mehsana, Gujarat. Photograph: PTI Photo