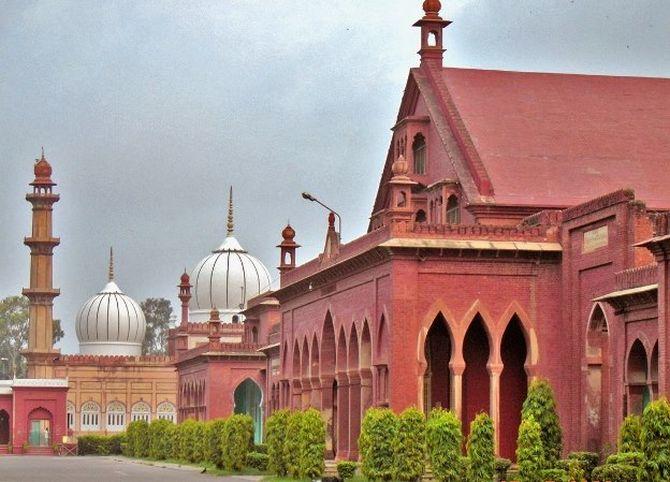 'AMU is a secular university with an Islamic ethos.'
'What is happening here will have a tremendous impact on Muslim minds. We are trying to integrate Muslims into the fabric of India.'
'We do not discriminate on the basis of religion. Let me tell you Muslims do not need reservations. They need affirmative action in education.'
General Zameeruddin Shah, the man who quelled the Gujarat riots for Narendra Modi in 2002, is now at the forefront of the battle to save the Aligarh Muslim University's minority ethos.
Aligarh Muslim University Vice-Chancellor Lieutenant General Zameeruddin Shah (retd) is in the forefront of trying to save its minority character.
Having retired as deputy chief of the army staff, General Shah -- actor Naseeruddin Shah's elder brother -- comes across as a no nonsense individual who is determined to make AMU the number one university in India.
The general, below, left, spoke to Rashme Sehgal for Rediff.com
There seems to be a great deal of confusion regarding reservations for Muslim students in AMU.
We have no religious-based reservations. We have reservations for students coming out of our ten AMU schools, alumni and for students from distant states.
Distant states?
Yes. The idea to get students from across the country and that helps to give an all India culture to the university.
You have no reservations for other backward classes?
We have no reservations for OBCs. It is permitted because we are a minority institution as per a Supreme Court stay order on a high court judgment.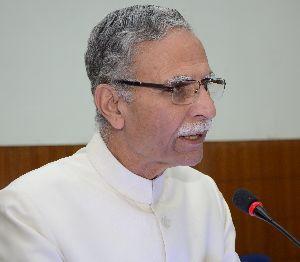 You were appointed VC during the UPA (United Progressive Alliance) government's tenure and have seen 20 months of the present NDA (National Democratic Alliance) government. Is there a continuation of policies especially in their approach to institutions of learning?
Certainly not. One is regarding inequitable funding which I have brought to the notice of the human resources development ministry.
The Banaras Hindu University, which is the same size as us, receives Rs 100 crore (Rs 1 billion) more. The Jamia Milia University, which is half our size, receives Rs 60 crore (Rs 600 million more than us.
The second issue regards inadequate funding of our centres. They are still in temporary accommodation. We are running three centres in Kerala and Bengal and one in Kisanganj in Bihar.
Is this something that happened recently?
No. It was always inequitable. Allocation of the 12 Plan grant was during the Congress time and I had brought it to the notice of the UPA government as also to the notice of the ministry. Ultimately, it is whatever the UGC (University Grants Commission) decides. But it is totally inequitable.
Has there been any attempt to saffronise education under the NDA regime?
I can't say there is saffronsation. In the case of the AMU, the government stand earlier was that it was a minority institution. The attorney general has since totally changed his stance.
On January 11, at a Supreme Court hearing, he totally turned 180 degrees. That indicates a stance which is anti-AMU.
If the Supreme Court ruled that the AMU is not a minority institution, what would be the impact?
It will be the end of AMU. The institution was founded by Muslims. It is a secular university with an Islamic ethos.
We have our own set of procedures for the appointment of the AMU VC. We have our own admission procedures for taking in students.
But you mentioned you do not have religious-based reservations.
We take students by holding an open competitive examination. We will never agree to a common entrance test. Rather, we have our own entrance test. Probably we are the only university which does so.
The reason is that we have found that there are many fly-by-night universities who are giving 99 per cent and 100 per cent marks to students, but when they came here we find they are totally inadequate.
Our staff prepares the syllabus for these exams whether they be for medical college or other institutes.
By that criteria, would you allow a situation where there were more deserving non-Muslim students in proportion to Muslim students at AMU?
No problem. We do not discriminate on the basis of religion. Let me tell you Muslims do not need reservations. They need affirmative action in education.
In AMU, we are ensuring just that. We are trying to educate them. The bulk of the Muslim elite has been educated at AMU.
Several commissions including the Sachar Commission have pointed out that education levels of Muslims were worse than Dalits.
You have spoken about the need to modernise the madrassa. How is that being done?
It is part of our agenda. We are trying to get madrassas to reform their syllabi. They were reluctant to do so because of inadequacy of teachers. They were afraid of change.
So what we did was start a one year bridge course. The students from madrassas are being given a concentrated dose of training in computers, social sciences and English.
In one year, you see a total transformation -- they were speaking English. Once you can memorise the Quran, you have a memory like a whale. They have a tremendous potential. Many have qualified for the English honours course.
This year, we have 75 boys and 25 girls. These students have become agents of change and have started going back to the madrassas where they can teach.
This bridge course has been accepted by the ministry of minority affairs. They have asked other institutions such as Jamia and Jamia Hamdard to follow our bridge course model.
If you are doing such good work, why would the attorney general want to change the status of the university?
With a change of government, they can do what they like.
You had sought a meeting with Prime Minister Narendra Modi.
Yes. Modi knows me from 2002. I was commanding the forces in Gujarat during the riots. He is convinced I did a good and fair job. We sorted out the rioters within 48 hours of landing and were able to ensure peace and tranquillity.
When I told him that allegations of corruption had been levied against me by some frustrated elements from AMU, he was very positive. He said, 'Please tell them I know you for the last 15 years.'
Did you speak about funding?
I did and we received a grant of Rs 60 crore for the centres. It has been sorted out to some extent.
If something like this were to happen, what signal will it send out to other minority institutions?
This is not the first attack on AMU. This has happened before. What is happening here can happen with other minority institutions. Other minority institutions had better watch out.
What is happening here will have a tremendous impact on Muslim minds. We are trying to integrate Muslims into the fabric of India. Muslims are emotionally attached to the AMU.
The entire Islamic world will be annoyed. Let me tell you the thoughts that emanate from AMU have greater weightage than anywhere else in the whole of South Asia.
What made you take on this assignment?
Entire generations of my family have been AMU educated. But AMU also needed a dose of discipline to put it on an even keel. Teachers also needed some discipline.
The university had been closed sine die for many months. There has not been a single day of academic loss in the last three years and nine months.
I felt I owed this debt to AMU for what it has done for generations of my family.
Let me tell you it is a very thankless and difficult job. But somebody had to do it
You have been accused of locking up teachers' chambers.
That was indiscipline. How many have we locked up -- three out of 1,400 teachers. These three were frustrated and indisciplined and not doing their job.
You denied girl students access to the library.
Rubbish. These undergraduate students have their own library. The other library is located at a distance of one-and-a-half kilometres. What was not highlighted is that Miranda House girls are not permitted to use the University of Delhi library. Similarly, undergrad girls in Mumbai not permitted to use the Ratan Tata library. Also, all AMU books are available online.
How many students do you have?
We have 34,000 students. Libraries here are open 20 hours a day and they are packed throughout. I was being targeted for no reason.
You have also been accused of not having an academic background.
This is a misconception that we (army officers) are uneducated buffoons. I have spent all my life educating people. As a young captain I taught graduates to become officers. I have taught majors, colonels and generals. I have been attached to five premier educational institutions of the army. Does that disqualify me from being a VC of a university?
Why was your appointment challenged?
It was not challenged in the first two years. A few frustrated teachers who did not get promoted encouraged their flunkeys to try and knock me off and create a law and order problem, thereby weakening the AMU's minority status case.
I am spearheading the case to protect the AMU minority status.
What is the non-Muslim-Muslim teacher ratio in AMU?
I would say around 60 per cent are Muslims while 40 percent are non-Muslim in the field of medicine, sciences and engineering. In theology, Quranic and Islamic studies it is 100 per cent Muslim. In Hindi and Sanskrit, it is 50:50.
Why has the debate on the AMU's minority status been revived? Why is there no closure on this minority case?
I cannot comment. The case is in court and the matter is sub judice.
I don't mean that. I am asking why there has been no closure to this case.
An act of Parliament restored the minority status of AMU in 1981. It was challenged in the Allahabad high court. They are quoting the Aziz Basha case which should been buried and closed by now. It is a question of the judiciary overruling the legislature.
You mentioned a problem with teachers.
We had selected 400 teachers from around the country. This is a huge number. There were 4,000 aspirants. Those who did not get selected have become my arch foes.
A large number of these are Aligarh based. They consider it is their birth right to be selected. We want to prevent inbreeding, rather there should be cross pollination.
Inbreeding?
In the sense that their grandfathers were teachers, then their fathers were teachers, now the grandsons want the job. There is also the whole issue of lawlessness in Uttar Pradesh.
My objective has been to restore AMU to its former glory and make it one of the best universities in the country. The Times Higher Education Survey ranked AMU as the second best university in India after Punjab University. We are not any old madrassa.
I want to make AMU the number one by 2017 which will be the 200th birth anniversary of our founder Sir Syed Ahmed Khan.
You mentioned that you helped quell the riots in Gujarat. What exactly was your role?
I was the commanding officer and reached Gujarat on January 2, 2002. Army troops were flown in on 59 aircraft. I met Modi that night at 2 am, driving straight to his residence in Gandhinagar. (Then) Defence Minister George Fernandes was there. We chalked out a strategy and deployed troops to quell the riots. The state government gave us support in terms of maps, police escorts and magistrates.
The AMU has started a school for children of riot victims in Muzzafarnagar.
The school will be starting in August. We succeeded in raising Rs 50 lakh (Rs 5 million). We want to start a chain of Sir Syed Ahmed schools across the country to improve the educational status of Muslims.
Photographs: Kind Courtesy Aligarh Muslim University/Facebook; Zameeruddin Shah: Kind Courtesy Mohammad Waseem Ansari/Wikipedia