'As long as there is misery, as long as people let themselves be exploited by rogues, this will continue.'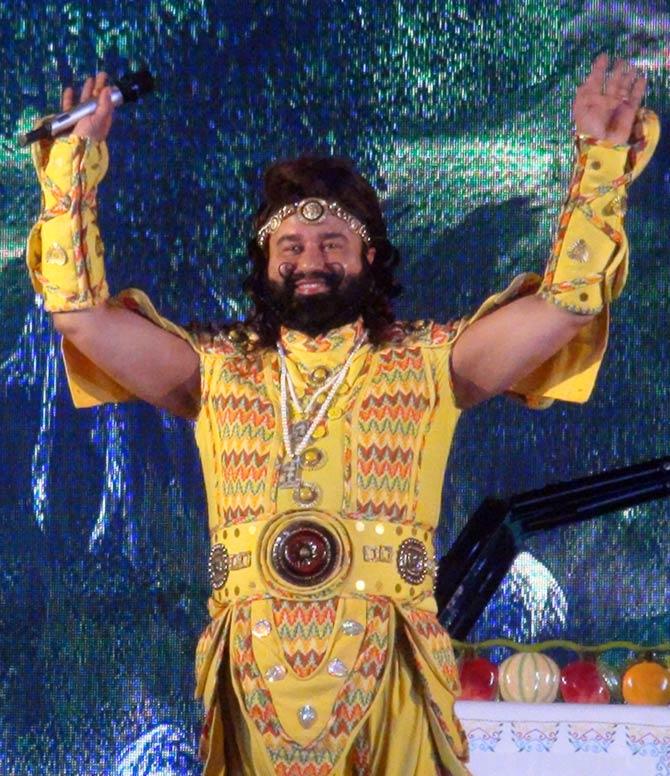 On August 25, thousands of Gurmeet Ram Rahim Singh's followers went on a rampage after he was convicted of rape.
Why do people blindly believe in godmen?
Why do they shut their eyes to the dubious behaviour of these so-called gurus?
Dr Lakshmi Vijayakumar, a well-known psychiatrist in Chennai and the founder of Sneha, an NGO that works to prevent suicides, explains the reasons behind such behaviour as Rediff.com's Shobha Warrier listens in.
Why do people elevate such men to the status of godmen?
If you look at most godmen, you will see that they make people believe they have supernatural powers. They achieve this impression through magic tricks.
The cult behaviour comes when hundreds of people indulge in group chanting, mantras, tantras, etc.
Such group chanting stimulates certain networks in your brain, which increases your emotionality and decreases your rationality.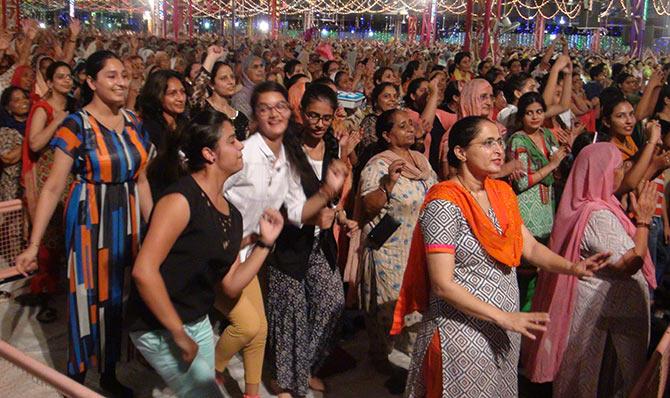 Is that why they go into a trance?
Yes, it is an altered state of consciousness which they think is beautiful and expansive and very different from reality.
It is like smoking marijuana to go to an altered state of consciousness.
And who are the people who go to these places? People in trouble.
Is it escapism or running away from reality?
Not exactly.
All human beings want to believe in something.
When you have poor health, when you are troubled, when your faith is shaken, you seek something new to believe in.
Are you saying that it is common human behaviour?
Yes.
When you are physically or emotionally stressed, you look for an outside support to hold on to.
The majority of those who go to these godmen have some problem in their lives at that point.
A lot of these godmen have some seemingly magical religious connotation in their behaviour -- like giving vibhuti (ash) or flowers for healing.
Sometimes, without even realising it, some people respond to these touches. That makes them believe that these godmen have supernatural powers.
Instead of treating them as gurus, they are treated as demi-gods which they are not.
It is part of Indian psyche, I would say, and even Western people fall prey to this.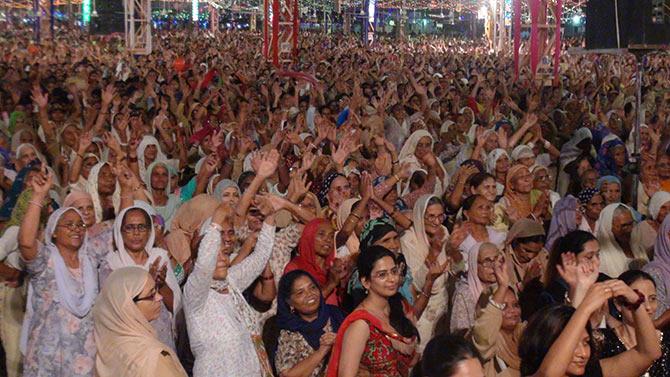 Why is it that even the most rational person falls into this trap sometimes?
It happens when the person is in trouble or depressed or stressed.
At that time, s/he will not behave in a logical manner.
It is as if you have you taken your brain out, kept it aside and are behaving in a certain way.
In India, we are reasonably superstitious too.
It is only in India that we see scientists doing a puja before sending a rocket to the moon!
So, when you are troubled, it gets exaggerated.
Why are these followers blind to the heinous acts of these godmen?
It is mainly because of denial.
They actually believe that the godmen they worship would never do such a crime.
These men manipulate gullible people to follow them, which results in a mass following, similar to that of a political party.
We also see them making the group into a profit-making industry, a business proposition.
It is then that politicians look at these godmen and their followers like a vote bank.
In our society, identifying yourself with a godman enhances your status; it's like giving an extra dimension to your personality.

We hear stories of rape, molestation, etc, from so many ashrams. Yet, people run to godmen.
I would say it is partly because of lack of administration by the government.
No political party has the courage to go inside an ashram and find out the truth as they do not want to antagonise the followers and lose their support and vote base.
We need an efficient administrative system to put an end to this nonsense.
When you have a huge population and many from the lower middle class live in difficult circumstances, these godmen offer solace and an emotional balm.
More than anything, these people are gullible and they go to these godmen when they are in distress.
They also become blind in their faith and lose their capacity to think rationally.
Do you think Gurmeet Ram Rahim Singh's punishment will open the eyes of people as far as godmen are concerned?
I don't know.
As long as there is misery, as long as people let themselves be exploited by rogues, this will continue.
If more and more such fraudulent godmen are exposed, perhaps people will slowly stop going to them.
The funniest thing is these followers move from one godman to another when something like this happens to the man they follow.
Unless society wakes up to the need of these distressed people, they will look for solace in one godman or the other.