'I like him as a person, and as a politician.'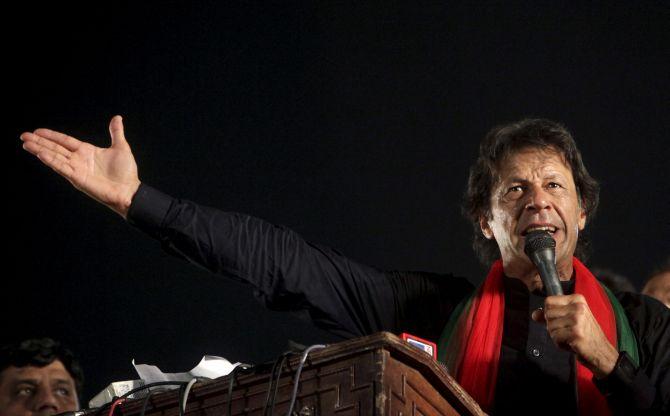 IMAGE: Imran Khan addresses a rally in Pakistan
After enjoying a hugely successful career as a cricketer, Imran Khan is now making waves in Pakistani politics.
The Pakistan Tehreek-e-Insaf chief speaks to Firoz Bakht Ahmed about the Kashmir problem, the strength of Indian democracy, and why the resumption of Indo-Pak sporting ties is a must.
You met Prime Minister Narendra D Modi last year. What do you make of him?
I like him as a person, and as a politician. I think he has won the hearts of the Indian masses.
Besides, in three years, I haven't heard him ranting against Pakistan.
It was lovely of him to land in Lahore to greet Nawaz Sharif's granddaughter on her wedding. It was a great friendly gesture.
However, he still has to transform his words into action.
Indo-Pak relations are going through a rough patch. Do you remember a time when this relationship was more cordial?
It's sad that for the past seven decades, we haven't been the best of neighbours.
Instead, we've fought three wars and learnt nothing from them -- we still indulge in proxy wars.
People-to-people contact and softer borders are crucial here.
Doing away with visas can act as a catalyst for strengthening ties between the two countries -- with no security compromises on either side, of course.
How do you view Indian democracy?
It's on a fast track.
Democracy in India has not only flourished, but is exemplary despite its own vicissitudes.
You produce more engineers annually than China and Japan put together.
Your electoral system is firmly cemented in democratic norms.
A culture of professional work ethic has permeated the minds of all the youngsters in India.
India's health care system, judiciary, media, et cetera are second to none in the world.
What is your impression of the situation in Jammu and Kashmir?
Kashmir is the core issue between India and Pakistan.
Even after the failure of so many talks and wars to sort out the Kashmir imbroglio, I'm confident that bilateral peace can prevail.
The dispute in Kashmir is a reality. Neither India nor Pakistan can deny it.
Our Kashmir perspective is based on the UN resolution and the terms of the Simla Agreement.
You must have your own view on Kashmir. However, lives have been lost in Kashmir and the population has remained impoverished.
The people have been left at the mercy of pellet guns and gun-toting Indian soldiers.
Somewhere in between, though, we can sort it out amicably.
Which Indian politician do you admire the most?
I have great regard for Atal Bihari Vajpayee for his peace initiative. Even today, he remains the most esteemed Indian politician in Pakistan.
In fact, right from 1977, Vajpayee was working to ensure peace between the two countries.
I respect Sonia Gandhi, too.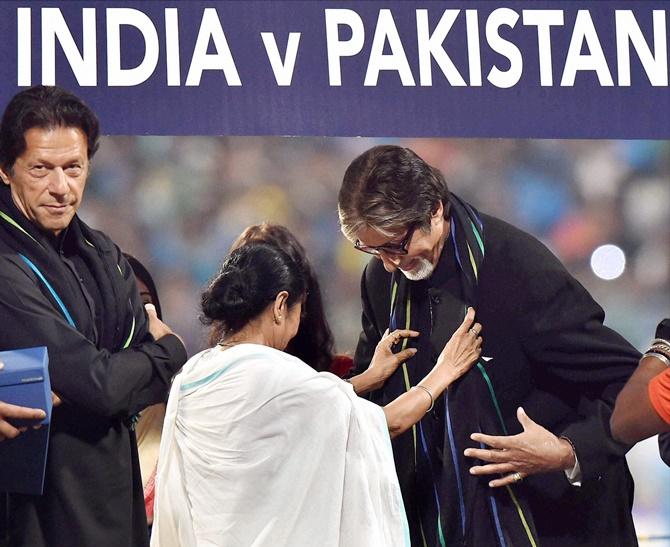 IMAGE: Imran Khan, left, as West Bengal Chief Minister Mamata Banerjee felicitates Amitabh Bachchan before the World T20 game between India and Pakistan at the Eden Gardens in Kolkata, March 19, 2016. Photograph: PTI
Why has Pakistani cricket declined after your exit from the game?
Even though Pakistan has won the World Cup (the Champions Trophy actually, in June 2017), I'm still not satisfied with the internal structure of the sport, a major reason why several talented cricketers fail to make it to the national team.
Back in 1992, I tried to build a team that could lift the World Cup.
The team's lack of success after that can be attributed to the absence of a stable domestic cricket structure.
Unless we develop that, we can't be successful.
For years, Australian teams have been built around just that.
India, for example, has so many domestic tournaments apart from the Indian Premier League.
Security is also a problem -- highlighted by the attack on the Sri Lankan team in Lahore in 2009.
What are your views on the resumption of Indo-Pak sporting ties?
There'll be nothing better than India and Pakistan playing cricket again. That must be extended to other sports as well.
Rohan Bopanna and Aisam-ul-Haq Qureshi have shown that can be done, gelling so well on the tennis court and winning trophies.
Sports and cultural ties must be revived. It's sad that after the Lahore attack, no one wants to play cricket in Pakistan.
I am, however, trying to get international cricket back to Pakistan.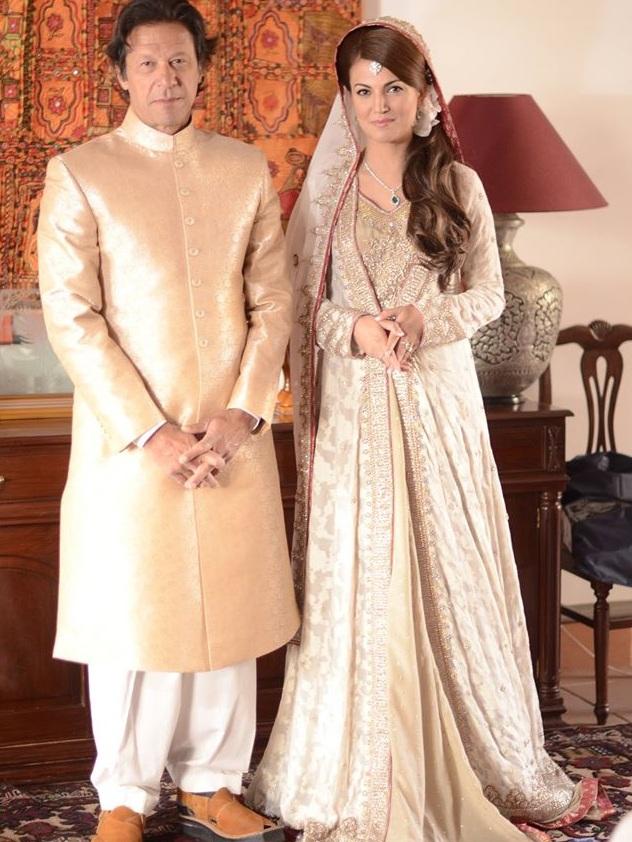 IMAGE: Imran Khan with his second wife Reham Khan, a former BBC journalist. The marriage didn't last. Photograph: Official Imran Khan/Facebook
Do you plan to remarry?
Now that I'm over 60, I've learnt to live alone.
I tried my best to settle amicably with Reham (Khan), but she had her own plans and it was better for us to call it off.
Previously, Jemima (Khan) and I tried to save our marriage, but somehow she couldn't settle in an Asian setup.
We have chalked out a system where our two sons live with her mother in London.
During vacations, they come over to live with me in Lahore.