'Modi is an uncivilised person who is ruling a fascist regime.'
'This is not a one religion country. We are a country of many religions, many cultures. India is not a country, it is a civilisation and that is what they are trying to destroy.'
Novelist Nayantara Sahgal on why she returned her Sahitya Akademi Award.
After Nayantara Sahgal decided to return her Sahitya Akademi Award to protest the Dadri lynching and the murders of rationalists, her phone has rung non-stop.
"I have been giving interviews non-stop and I am going back for an interview. So please be brief," Sahgal, below, left, tells Syed Firdaus Ashraf/Rediff.com on the telephone.
"I am a Hindu and I am very shocked and saddened by what Hindutva is doing to Hinduism. Hindu dharm is quite different than what these Hindutva folk are doing," she says.
Do you think the Dadri lynching is a blot on India's secular character and will be remembered for decades to come?
Yes.
I don't know about history, but it is very important that they remember it now.
People have to rise up against these kinds of things. Now is the time that Indians must raise their voice against these incidents where a poor man who had done no one any harm was lynched.
Some people have been arrested for it...
I am very happy to hear that and hope that justice will take its course.
The Dadri incident was horrifying, but even under the Vajpayee government, there was the horrifying incident when Graham Staines and his two young sons were burnt alive in Orissa. You did not return your award then. Why now?
In Vajpayee's time it was very different. The worst horror that happened in Vajpayee's time was the 2002 Gujarat riots when Narendra Modi was chief minister. Certainly many people protested against it.
I have raised my voice this time because things have gone too far under this government, which is insisting that everybody must line up under the Hindutva ideology. That is something Indians will not do.
This is not a one religion country. We are a country of many religions, many cultures.
India is not a country, it is a civilisation and that is what they are trying to destroy.
Things have become so bad that I had to raise my voice.
I also raised my voice because writers have been murdered. I am a writer and I want to support the families of these people. I want to make it known that the Sahitya Akademi should stand up for freedom of speech.
What is writing without freedom?
What is going to happen to books, to art, to culture if artists, writers and other people are not allowed to speak (their minds).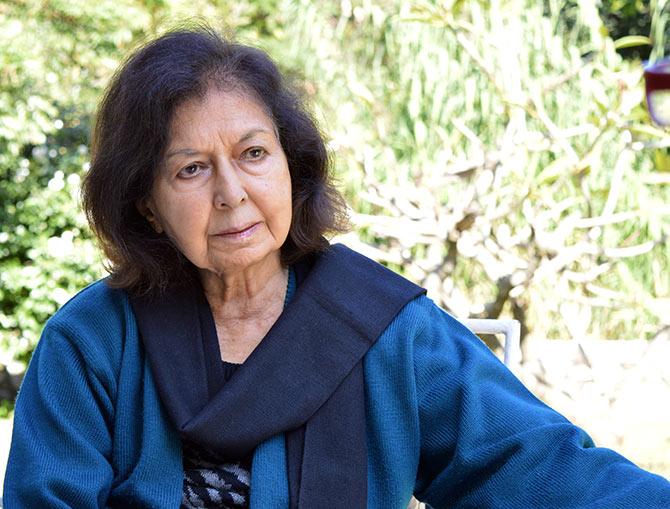 How different are the Vajpayee and Modi governments? What is the difference between Vajpayee and Modi as prime ministers?
Absolutely no comparison between the two. Atal Bihari Vajpayee was a civilised man. He was a man with an open mind. He was in many respects a wonderful person who understood the human factor in all situations.
Modi is quite a different kind of a character.
I will say he is an uncivilised person who is ruling a fascist regime. He has not spoken one word (against the Dadri lynching).
His supporters say the Dadri lynching occurred in Uttar Pradesh which is ruled by the Samajwadi Party. Why blame Modi, his supporters ask.
Of course, I have heard his ministers say this and it is such appalling nonsense. This is not a law and order situation for a state government to take care of. This is a rising tide of hatred against all people who do not fall in line with the Hindutva ideology.
And that is why these incidents are happening. In spite of this rising tide, the prime minister has not said a word.
Not one word.
Do you think if Modi says something, things will be different in the future?
The whole country is waiting for the prime minister to speak on this issue. He is speaking abroad on all kind of subjects. He is a great orator. Why can't he say one word in India about these horrors which are happening to Indians under a reign of terror that those who don't fall in line are either persecuted or threatened or shot?
Writers who stand by the prime minister feel it is not his job to speak on such issues. His job is to revive the economy and bring prosperity to the country.
I would like to ask those writers: Is the prime minister in charge of India or is he not?
If he is in charge, then all accountability stops with him.
He is not just the man in charge of the economy. That is absolutely rubbish.
He is in charge of the whole situation in India and the whole situation is deteriorating to such an extent that soon we will be robbed of freedom of thought.
There is an iron curtain coming down on the freedom of thought.
Do you think the pluralistic nature of India will be demolished?
Indians will not let that happen in spite of all those who have lined up with the BJP (Bharatiya Janata Party).
In spite of all that you say, Prime Minister Modi's popularity is very high. A lot of people love him.
I can't help if people want to love a dictator. Let them love him. A lot of people loved Hitler in Germany and said he was doing great things for the economy. So these things happen.
The Germans lived to regret it. World War II had to be fought to destroy Hitler.
We don't have to fight a war, we just have to vote him out of power.
Would you blame the BJP for the Dadri lynching?
This government has allowed an environment of hatred to grow in this country and because of that allies of this government are allowed to do these things (the Dadri lynching) and get away with it.
Will it make any difference to the BJP or the prime minister that you returned this award?
How can it affect the prime minister?
The prime minister is not affected when a man is lynched. He is not affected by that and he is not going to be affected by my returning the award.
I have done this for a simple reason -- that we have to take notice of this incident even if the prime minister does not.
We have to speak out against this kind of hate. I am a Hindu and I am very shocked and saddened by what Hindutva is doing to Hinduism.
Hindu dharm is quite different from what these Hindutva folk are doing.
As a Hindu, I resent what they are doing and I will fight it in every possible way.
REDIFF RECOMMENDS