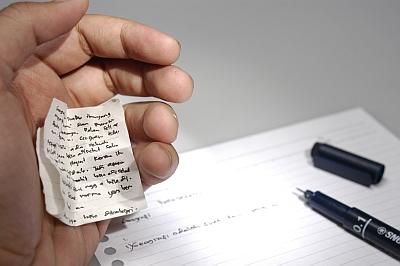 'Copying does not help students, it damages them.'
Anti-copying crusader Surya Pratap Singh tells A Ganesh Nadar/Rediff.com that the copying mafia's business runs into 'thousands of crores.'
Surya Pratap Singh is a senior IAS officer in Uttar Pradesh. Currently principal secretary in the Bureau of Public Enterprise, UP government, Singh has taken upon himself the responsibility of eradicating the 'copying mafia' from the state.
Singh -- who has been transferred six times in the last one year -- is supported in this endeavour by a group of intellectuals, the Voluntary Action for Social Transformation.
Do you have the mobile number of every student appearing for the 10th standard exams? We hear the students received an SMS asking them to support the cause against copying in exams.
The students had registered online. We had asked those who had mobile phones to give us their number and e-mail ids if they had one.
What exactly happened when you were principal secretary in the department of secondary education last year?
I was there for one-and-a-half months before I was transferred. I had launched a drive against mass copying. I told them there would be no more conniving with the copying mafia. All our employees took a pledge that we would stop it this time.
I undertook a tour of 23 districts with my head of department. There was enthusiasm in the whole department. The 23 district magistrates who I met on my tour are supporting me.
I realised that it was a business running into thousands of crores.
My minister Mehboob Ali was also happy with me. Then, he transferred me.
I was in the United States for eight years. I have written eight books and written for 26 publications.
The Uttar Pradesh government requested me to come back. I had the support of everyone, but the government transferred me six times in one year.
I am not a member of the NGO (Voluntary Action for Social Transformation). I only motivate them. There are well known intellectuals on it. I took leave from work.
I told the government what I am doing. I have international exposure and experience. Under the RTI Act, the whistle blower has to be protected.
We have to step out of our formal roles -- we have to make more effort. We have to beat our drums louder.
I was visiting the exam centre in Hardoi district and saw there was free for all copying.
What exactly is the problem according to you?
There are 65 lakh (6.5 million) students appearing for the board exams every year. They are supposed to be competing with CBSE and ICSE students who are far ahead of the UP board.
The problem is aggravated in the rural areas where it is very difficult to get 90 per cent which CBSE and ICSE students get regularly.
Those students are given exams every month. While the UP board conducts only two exams -- one half yearly and one final exam.
In the half yearly they are judged for 20 per cent of the marks and everyone gets all the marks.
In the final exams they are judged for 80 per cent of the marks. The students find it hard to score 90 per cent so they go for mass copying.
What is your solution to this problem?
I proposed a different method. 80 per cent of the marks should be for monthly, quarterly and half yearly exams.
Only 20 per cent of the marks should be for the final exams for 10th and 12th standards.
That is the way it happens in the ICSE and CBSE boards.
For only 20 per cent of the marks, the copying mafia will not come in. No one will pay.
For those involved it will be a big loss.
Why did you scrap many examination centres for the board exams in 2015?
I scrapped them because they were coaching centres and not schools. I had a report from the DMs about this.
Were any of these centres reinstated after you left the department?
Most of them have been reinstated again, they are functioning now.
What was the reason for the cancellation of registration of a large number of students?
There are 50,000 coaching centres in this state. You pay Rs 4,000 and get enrolled as a student. The DMs's report said these students were not attending regular school. Those registrations were cancelled.
Were these students allowed to write the exams after your transfer?
Almost all of them have been allowed to write the exams. The DMs don't know about this. They have not been informed.
How long has the copying mafia been active? How do you think this problem can be resolved?
This has been going on since 1992. To solve this problem we have to change the pattern of examination and evaluation.
We have to involve all the stake holders. We have to educate them that in the long run it doesn't help the students, but damages them.
We have to educate the students, teachers and people. Unless this is done, the 65 lakh board students will not be able to compete with CBSE and ICSE students.