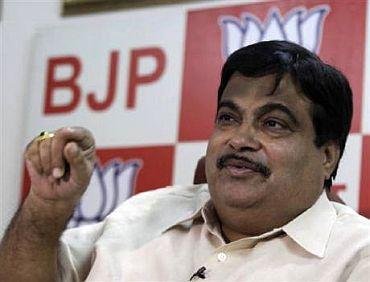 'Understand one thing, if you want immediately and magically that things should become cheap, it's not possible. It's a long-term policy.'
'Inflation is linked to the storage system and with the production system. Whenever production rises, prices go lower. So if we store when the prices are low and release them when prices rise, prices can be maintained.'
'The problem is that in our country fruits and vegetables worth Rs 110,000 crore go to waste as they rot. And grains worth Rs 85,000 crore rot. So the storage system is another big reason for inflation.'
Union Transport Minister Nitin Gadkari in an exclusive interaction with Sheela Bhatt/Rediff.com
Nitin Gadkari, the Union minister for transport with additional charge of the rural development ministry, left, is brazen in moving ahead with his decisions; he tries to give the impression that he is extraordinarily candid even when he is not.
For sure, he speaks much more than most Indian politicians. He is ambitious and has the blessings of the Rashtriya Swayamsevak Sangh. He is the 'outsider' who was made Bharatiya Janata Party president much before Narendra Modi, another outsider, arrived in New Delhi.
Over-burdened with responsibilities of the various ministries that he heads, Gadkari takes decisions by the hour. He delightfully exaggerates when he says he has cleared files worth Rs 40,000 crore of pending projects in the transport ministry.
He hates getting up early, but these days by 9 am the waiting room of his home in New Delhi's Teen Murthi lane is full. Gadkari, a native of Nagpur, is comfortable with the middle-India value system. He prefers to talk in Marathi whenever possible.
The day he met Rediff.com, a national newspaper had exposed the link between his decision to change the Motor Vehicles Act that bans e-rickshaws above 250 wattage in New Delhi. He wants unemployed youth to buy battery-run rickshaws upto 650 wattage and offered banks loans at three percent interest to fund them.
Gadkari claims that if the e-rickshaws idea clicks, then around 20 million people all over India will get employment. But his decision has given a huge benefit to Purti Green Technologies Private Limited. This is one of the companies in the Purti Group, Gadkari founded.
This company has been given a licence by the Council of Scientific and Industrial Research to manufacture and market battery-run e-rickshaws. Rajesh Totade, who runs the company, is Gadkari's brother-in-law. This is brazen by all accounts, but Gadkari has issued a denial saying there is no monopoly of manufacturers. He claimed his family is not involved in the said company.
As the Budget is awaited, the buzz in New Delhi is about taking speedy decisions, fast-track development and thinking big on all infrastructure-related industries. Gadkari spoke exclusively to Sheela Bhatt/Rediff.com, explaining how things are changing under a Modi sarkar.
How has the beginning been?
In the first month, I asked for pending files. Out of 265 projects worth Rs 80,000 crore that were pending, I have cleared projects worth Rs 40,000 crore. There were issues related to land acquisition, railways and defence properties etc.
I have called meetings of all the parties and we sat from morning to late night and tried to take fast decisions.
In some cases public-private partnership projects have not worked out. Private parties get loans at nine percent but government engineering projects can get loans at three percent so I have asked them to take over the projects.
In some cases banks have declared the contractors bankrupt, we are looking into such delayed projects.
In addition, the new land acquisition law has many issues. Even the Congress-led state governments have come to me to amend the clauses. Without touching the rehabilitation and compensation package, we will have to make changes.
We have cleared road projects which had issues over environment clearances. We have got the new technology, as practised in Gujarat, to uproot trees and re-plant them at different places. Cutting of trees was an issue, but now we will go in for machines that will safely transplant trees.
I have cleared some seaplane projects, especially in Mumbai. We have not been given permission till now. We need to get permission but I am asking people to come and see the project.
Our government is an aam aadmi government. Like the Bhakra Nangal dam near New Delhi, from there if you take a seaplane it will land in a water body in Mumbai somewhere.
It will have airport to airport kind of connectivity on water bodies; it will be dam to dam transportation. It will be cheap because the amount of money spent to build an airport will not be there. The water bodies are our landing spots. It will be very important for tourism. If you go to Andaman Nicobar, better use the seaplane there.
When you took over, what did you think of the previous government's record after going through the files?
I have decided that I am not going to waste time over what the previous government has done. Chhodo kal ki baatein, kal ki baat purani, naye daur mein likhenge hum milkar nayi kahaani (forget yesterday, it is a bygone era, in the new era we'll write a new chapter together).
I don't want to waste time. I am being positive and looking at how to take my thoughts forward.
What is the highlight of your first 35 days in office?
If you ask anyone in my department they will tell you. They said the amount of work they did in three days, they have not done this much in six months.
You said there was pending and stalled work worth thousands of crores...
You tell me... Talk about the e-rickshaw issue. Is it okay if a man pulls another man on a cycle rickshaw? He didn't have permission. I brought changes in the act and removed the restriction of wattage from the Motor Vehicles Act because of which the e-rickshaw can operate and which will give work to around two crore (2 million) people.
And mind you, now a poor man won't pull another man. It will be the opposite. He can even carry two quintals of weight on it.
But these drivers don't have driving licences, they don't know how to drive, it is not technically proved safe on the roads.
Tell me, what licence do you need for a cycle rickshaw? Even the handicapped and women can ride it. I have given guidelines that in every municipal corporation, the drivers and vehicles will be given a registration number and an identity card, there will be a dress code and they will have to follow traffic rules. And they can have four passengers at a time and carry 50 kg of luggage.
And where you pay Rs 50 for an auto, he'll take you for Rs 10, Rs 20. It'll be cheaper for poor people.
But then it will be unfair for auto drivers.
See, the potential of e-rickshaws is huge in villages and towns. In Bengal, in one rickshaw 15, 20 people sit and travel. This will provide new employment to people. See, this is so wrong that a man pulls another man. It is inhuman. Many cycle-pullers suffer from various diseases. An e-rickshaw costs Rs 80,000. It is safe travel. These vehicles are for short distances -- 4, 5 km from station to home. You will find the difference in New Delhi.
Give us a broad picture of the government and how it is working.
See, there are a lot of problems and even economic dangers. The dollar-rupee fluctuation is a big problem, inflation is on the rise, it is the highest in the world. Our exports are low and imports are increasing. In such a situation, I feel challenges are there.
But I say there are some people who turn problems into opportunities. And there are some people who convert opportunities into problems. We are converting all the dangers into opportunities.
You are not doing anything out of the box. Three shocks: Diesel prices increased by 50 paise, petrol by Rs 2 and the railway fare hike.
See, understand one thing, if you want immediately and magically that things should become cheap, it is not possible. It is a long-term policy. Petrol is imported. That is why we are trying to figure out how to increase indigenous sources.
We are trying to figure out what will happen to the auto-rickshaw in India. You have the answer to your own question. Auto works on petrol and we are giving you e-rickshaws, so petrol consumption will be low.
On the other hand we are talking about green fuel. We'll have ethanol added to petrol and diesel which should help. To implement these strategies we'll need time. Right now corporate projects involving 20,000 mega watts of power generation, which means projects worth around Rs 1.15 lakh crore, are shut because there is no coal. We ae importing $20 million (about Rs 120 crore) worth of coal.
We will have to increase production and we will have to make every sector right -- that will take time. The problems that have risen in the past five, seven years will take time to be solved.
To handle the economy we need time.
But you raised aspirations during the election campaign. You said achche din aayenge...
For achche din at least give us time. Give us at least a year before you start judging us.
Do you know why onion prices are rising? It is not related to inflation. Have you ever been to Maharashtra, to Nashik? Do you know how they store onions? It is not stored in godowns. They build a bamboo structure through which air passes.
Second, in a city like Delhi you media people never hit the main point. Do you know that the BARC (Bhabha Atomic Research Centre) has a technology, irradiation, that ensures that onions can be stored safely for six months?
The problem is the storage of onions. If 10 lakh tonnes of onions are stored, the price will be around Rs 5 per kilo.
When demand increases we can deliver the stored onions to check the price rise even if demand is high.
So in some places inflation can be handled through storage, pre-cooling plant... because like tomato, onion doesn't grow throughout the year.
So storing fruits and vegetables and releasing them during inflation is the solution. Inflation is linked to the storage system and with the production system.
Whenever production rises, prices go lower. So if we store when the prices are low and release them when prices rise, prices can be maintained.
The problem is that in our country fruits and vegetables worth Rs 110,000 thousand crore go waste as they rot. And grains worth Rs 85,000 crore rot. So the storage system is another big reason for inflation.
The United Progressive Alliance was saying the same thing, that's why the public voted for you...
That's why I'm saying... it will take time. You can't have kids two days after your marriage. You have to wait for some months.
Now tell me, when indigenous production of crude will increase, non-conventional energy will increase, production of power will increase, but it will take time. You have to understand things, when there is surplus production of a product, prices go down.
When the production is low, prices increase. This is one angle of inflation. For this we need cold storage, cooling plants etc. Somewhere there is a problem with the storage system, cooling plant and storage capacity.
We expected a different kind of sensitivity from the government.
100 percent your expectations are right and we will give you the results.
Is Amit Shah likely to be made BJP president?
I don't know. There will be a discussion with everyone in the party, it has already started. Rajnathji (Singh, the Union home minister and current BJP president) and I are discussing it with everyone.
Is he likely to be president?
Within all the names (that are circulating) his name is also there. The discussions are on. The process is going on...
Some cases are going on against him...
There are no cases against him, it's not true. Many cases were meaningless and he has been freed of all allegations in some cases.
Sharad Pawar met Modi. Do you feel that Pawar is going to be the chief ministerial candidate for the Congress-Nationalist Congress Party alliance in Maharashtra?
I don't know. Right now there's no question of Pawar joining us as there is the BJP-Shiv Sena alliance. And if Pawar meets Modiji, people have their personal relations, meetings happen. I don't think there is a political reason behind it.
Who will be your CM candidate?
We haven't decided yet, but soon we will.
You won't be?
Not me.
Why?
I don't want to go to Maharashtra.
There must be some political reason.
I was reluctant to come to Delhi. Now I have come to Delhi, I am reluctant to go back to Maharashtra. We'll find another candidate... You'll get answers to all your questions at the right time. I'm not going back.
Definitely?
100 percent. Not at all. I never lie. I say plain and clear things.
So you will definitely continue as a minister in Delhi.
I am here only. I didn't want to come, but now that I have come I have fallen in love with you people.