'Politics is full of struggle, especially for those from my background,' says Union Minister Kumari Selja in her first interview after Sunday's attack on her. 'It has always been a struggle and will continue to be so.'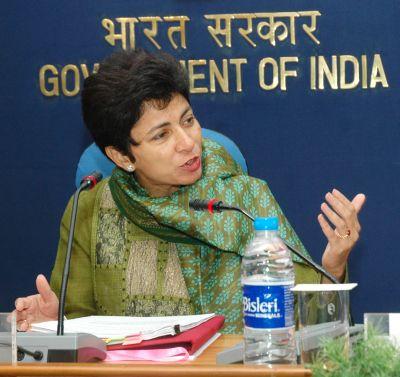 Union Minister for Social Justice and Empowerment Kumari Selja, who represents the Ambala constituency in the Lok Sabha, has always kept a low profile even though she has been in politics for 25 years.
She was first inducted into the Council of Ministers as a deputy minister in P V Narasimha Rao's government, has worked in various capacities in the Congress organisation when the party was in the Opposition.
Rising steadily up the ladder, she was elevated as a Cabinet minister in 2009. Not only is she the only Cabinet minister from Haryana in the present government, she is also the only Dalit woman from her state to occupy this slot.
On Sunday, October 6, Selja had a narrow escape after a stone was hurled at her while the minister was travelling on the Kalka-Sainagar Express train shortly after it was flagged off for the first time. The incident has acquired a political dimension as it comes against the backdrop of growing dissension in the Haryana Congress party.
Selja and other Congress leaders from the state like Rajya Sabha MP Chaudhary Birender Singh and the Lok Sabha MP from Gurgaon, Rao Inderjit Singh have been locked in a running battle with Chief Minister Bhupinder Singh Hooda.
It is ironic that the infighting in the state party unit should have reached such a pass; Selja was once close to Hooda and played a key role in his appointment as chief minister.
Hooda is currently under fire for allegedly promoting family members, playing the Jat card and for nurturing his constituency while neglecting those represented by his detractors. Congress President Sonia Gandhi has mediated to resolve these differences, but with little success.
In her first interview after she was attacked, Selja speaks to Rediff.com's Anita Katyal about her grievances with the state leadership. She stops short of naming Hooda though it is evident that the chief minister is the object of her attack.
The Haryana Congress party has been in the grip of bitter infighting for some time now. What is the genesis of this groupism?
I don't think there is any groupism as such in the state unit, but there are issues. I have been raising issues relating to my constituency and matters related to the scheduled castes and weaker sections for several years now.
I even referred to issues pertaining to the scheduled castes at an official gathering where the chief minister was present. But these matters continue to be disregarded due to the non-cooperation of the state government even in cases of projects which have been cleared by the Centre.
It is unfortunate that when efforts ought to be made to pitch in and see that the party gets the credit for this work, a deliberate attempt is made to belittle others.
There is no cooperation from the state government from the present dispensation in the state ...it is totally one-sided.
Instead of targeting the Opposition, they are targeting their own colleagues. The whole atmosphere has been vitiated and they have targeted me personally.
You had a narrow escape on Sunday when a stone was hurled at you. Who could be responsible for this attack?
I cannot say who was responsible, but it could have been an intentional attack. However, I refuse to play victim or martyr. I have been speaking up for the rights of my people and my constituency.
Has anybody from the state Congress party or All India Congress Committee got in touch with you after the incident?
Nobody has spoken to me either from the state or any of the agencies which are probing the incident. The AICC general secretary in charge of Haryana did call me up.
I have read media reports that enquiries are on to find those responsible for the attack, but it appears those entrusted with this task have concluded that this was the handiwork of some children.
I am not sure whether they are even exploring any other possibility.
Chaudhary Birender Singh has spoken out on several occasions against the Haryana government; Rao Inderjit Singh has gone to the extent of saying he wants to leave the Congress.
I don't know if Rao Inderjit Singh is leaving the party. If he is unhappy and there are issues about his constituency, these should have been addressed well in time instead of allowing things to come to such a head.
The Congress leadership made efforts to address these matters... what happened?
The Congress leadership has intervened on more than one occasion to resolve these outstanding issues, but the present regime in the state refuses to act.
I would say they have not shown disrespect to me, but to the party high command.
It is really sad that when efforts ought to be made to strengthen the party, loyalists are being cornered and pushed to the wall while outsiders are given prominence.
They are more comfortable with yes men and those who toe their line.
What happens next?
In politics, there is no beginning and there is no end.
Politics is full of struggle, especially for those from my background. It has always been a struggle and will continue to be so.
I would like to say here that the Congress president (Sonia Gandhi) has been extremely kind to me.
I am the only Cabinet minister from my state, but it is most unfortunate that this is being resented in the state.
One charge against Mr Hooda is that he only nurtures his constituency and is busy promoting his son...
I don't have any issues with that... that he promotes his family members or that he is developing his constituency. I have no grudge against them, but the development should not be at the cost of other regions in the state.
I am saying this because I have a sense of injustice. My limited point is that the issues raised by me about my constituency have been ignored.
What has been the role of AICC general secretaries in-charge of the state? A coordination committee was set up by the party to resolve all outstanding issues.
All these issues have been brought to the notice of the general secretaries and others in the party... some have tried to sort things out, some have failed and some have been openly partisan.
As for the coordination committee, it was meant to be a bridge between the state government, the organisation and all shades of opinion within the party. But this effort has not worked.
The coordination committee hardly meets, and even when it does, nothing comes of it.
The decisions taken at the meetings never see the light of day and even when it was decided that the panel should meet more frequently it never happened.
Image: Union Minister Kumari Selja. Photograph Press Information Bureau