'I served the Indian Army and I am an ex-serviceman.'
'I look at this as a battle I am fighting after I left the army.'
'I will not leave till I get her back as my daughter Akhila, and I believe it will happen one day.'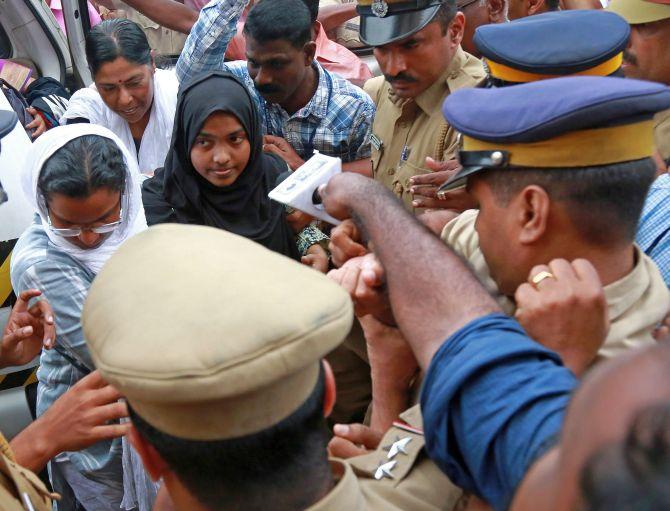 IMAGE: Akhila Ashokan aka Hadiya has been directed by the Supreme Court to continue her studies at the Sivaraj Homeopathy Medical College. Photograph: Sivaram V/Reuters
Ever since his only daughter Akhila Ashokan vanished from the Sivaraj Homeopathy College in Salem in Tamil Nadu where she was a final year student studying to be a homeopathy doctor, it has been a never-ending battle for former soldier Ashokan.
When his daughter resurfaced as Hadiya after converting to Islam, Ashokan approached the courts to win her back.
As the Kerala high court asked Hadiya to return to her parents, a man appeared on the scene claiming to be Hadiya's husband.
The case moved from the high court to the Supreme Court. The 24 year old is back in the Salem college to continue her studies as Akhila Ashokan, but there is no end to her father's agony.
Ashokan narrates his story to Rediff.com's Shobha Warrier.
I come from a very poor, large, family of eight children with only my father working as the earning member.
I was the eldest in my family of five sisters and three brothers, and we lived in Vaikom, a small town near Kottayam where my father was a toddy tapper.
With so many mouths to feed and so many children to send to school, life was very tough during our childhood.
There was nobody at home to guide us about studies; my parents were more concerned about having enough food to feed all the children. In a way, I am happy that I could study up to the 10th standard.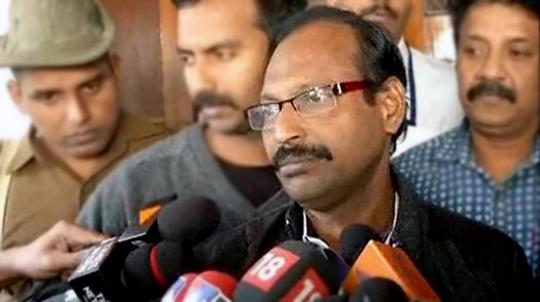 IMAGE: Former Indian Army soldier K M Ashokan speaks to the media. Photograph: Kind courtesy K M Ashokan
In 1979, at the age of 19, I joined the Indian Army as a driver. Those days, to get a job in the army was considered very prestigious and I was delighted at my good fortune.
I could work in places like Pathankot, Leh, Jammu, Gulmarg, Sonmarg, etc. My job was to transport people, ammunition and food to all those who were in the border areas.
In 1996, I took retirement from the army. My plan was to start some business in my home town. I got some retirement benefits from the army which I saved judiciously. I was not one to waste a single paisa. After all, we grew up knowing what poverty was. Till last year, another brother of mine also worked in the army.
As a school student, I was a committed Communist. During those days, the Communist party was identified as one that worked for the poor and the downtrodden.
I was also an atheist who fought with those who said there was God. That was a very vulnerable age when you believed what the leaders asked us to follow. Youngsters like us did not have the maturity to think beyond their words.
When they (Communist leaders) promised us a Socialist State where everybody would be equal, we blindly believed them. Those were the utopian ideas injected in the minds of young minds then.
When one became old and mature, one started thinking, and got the maturity to question them. So, it is quite different today; I have a lot of clarity in my thoughts.
As I grew older, perhaps after a decade of service in the army, I got the ability to think and that was when I realised Communism did not follow an ideology that was practical and could not be implemented in totality.
I started feeling that way when I saw Communist rule was a miserable failure not only in India but all over the world. The Communists of yesteryear were ready to even lay down their lives for people, but today, there is no difference between a Communist leader and a non-Communist leader; all are interested in their own welfare only.
It was after I left the army in 1996 that I started thinking more about God. Today, I am a different man; I don't believe in Communism and I believe in God.
In fact, I am getting closer and closer to God.
I feel it is a natural course for any human being to believe in the Universe and the creator, and to me, it is an unseen force, and I call that force, God.
In 1990, I got married after marrying off my five sisters. My daughter Akhila was born in 1992.
I had decided then itself that we would have only one child as I had experienced the difficulties a large family faced. I have seen my parents struggle to raise eight children.
My desire was to provide everything to our only child, all that we were denied as children.
We brought up our little one giving her everything, from attention to love to all material comforts.
But something went wrong and I do not know what it is.

IMAGE: Akhila Ashokan aka Hadiya accompanied by police officers and court officials. Photograph: PTI
She was such a quiet and docile girl that all of us, when I say all of us, I mean all the people who knew her till now, are alarmed to see the way she talks now.
The kind of anger, animosity and hostility she displays was never a part of her personality.
In fact, she was such a model child in our neighbourhood that all other parents wanted their children to be like her.
They used to tell their children: 'Look at Akhila and be like her.' Even now, none of them can believe that she has undergone such a transformation.
She was an average child, never excelled in studies, but I always felt that if she worked harder, she would have performed well. Anyway, I have no complaints about that.
As she had less marks in the 10th standard, I had to give some donation to get her admission in a good school for Plus 2. I wanted to give her the best in life.
In Plus 2 also, she didn't fare that well. When all her friends got admission in good institutions, she was sad and was crying all the time which I couldn't bear to see.
Then her uncle told me she could study homeopathy in Salem. We went there and paid quite a lot of money to get her admission in the college.
Money never mattered to me in front of my daughter's tears.
When I look back, I feel that was one of the worst decisions we took in our life.
We lost her only because we sent her there.
Her mother is so religious and spiritual that temples are her second home. Akhila always accompanied her mother.
I was of the opinion that my wife was too spiritual which both my daughter and I didn't agree with.
We used to tell her not to spend all the waking hours with God, but our words had no effect on her.
Then I realised if it gave my wife peace and happiness, let her do what she wanted.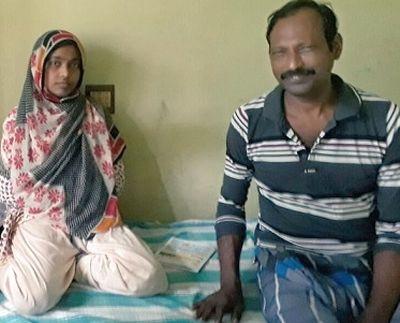 IMAGE: Akhila Ashokan aka Hadiya and her father K M Ashokan after the Kerala high court sent her back to stay with her parents.
I do not know how to explain the bond I had with my daughter.
There were no secrets between us and there was no topic we didn't discuss.
I trusted my daughter so much that I believed she would not keep any secrets from me.
I also trusted her opinion so much that her opinion became mine.
I trusted her so much that I even gave her the ATM card for my salary account.
Like friends, we used to tease each other and crack jokes.
She would ask me how many lovers did you have when you were young? That was the kind of relationship we had.
A month after she joined college, she came home and refused to go back. She was very homesick and missed us a lot. We had to persuade her a lot to go back.
Some of her friends told her how fortunate she was to have a father like me who was ready to spend so much money for her education, and that she should not squander the chance. So, she went back reluctantly.
She constantly complained about the food that was served at the hostel so when she wanted to rent a house with some friends, I agreed. I went to Salem to help them find a house. That was another mistake I made.
The college authorities told us parents that we were letting them stay outside at our own risk, and that they would not take any responsibility for their behaviour.
When I look back, I feel I should not have allowed her to stay outside.
On the 3rd of January 2016, she was going back to Salem and I left her at the railway station.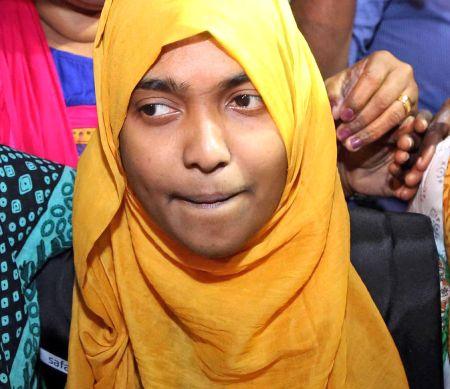 IMAGE: Akhila Ashokan aka Hadiya at the Sivaraj Homeopathy Medical College. Photograph: PTI Photo
After a few days, some of her friends called me and informed me that she had converted to Islam and had not come to college for many days.
I rushed to Salem, but couldn't find her anywhere. Then I got the information that she was at Perunthalmanna and we rushed there.
As we were going there by car, we were told that she had run away from there too.
After we reached Perunthalmanna, I filed an FIR at the police station there against Abubacker, the father of the two girls who stayed with her in the rented house. I know the girls and the man were behind my daughter converting to Islam.
I stayed put at Perunthalmanna, but when I found that there was no progress in finding my daughter, I came back.
That was when I was advised to file a habeas corpus petition, and that was when she was presented in court.
In court, she said she didn't want to go with her parents and she wanted to study Islam.
On hearing this, her mother fainted in court. Akhila was so brainwashed against us that the scene did not melt her heart.
As she was an adult, the court agreed with her decision, and she went back.
I do not know how these people brainwash young minds. I just couldn't believe when my daughter who was so attached to me said she didn't want to stay with us.
These people are so vicious that they can turn youngsters against their own parents.
I still do not know what they did to turn her against me, her father with whom she was so close.
Still, I called her almost every day.
I was extremely worried when news of some youngsters from Kerala going to Syria to fight the war. One day, I asked her, 'Are you not going to Syria? So many from there are going to Syria.'
Do you know what her answer was? She told me, 'Achha (Father), I am also planning to go to Syria to rear goats. But my friend asked me not to go now. She asked me to finish house surgeoncy and then go to Syria.'
I had no recording facility on my phone so I couldn't record this conversation.
When I told my advocate about this, he asked me to visit him the very next day. There, I put my sim in his phone, called her again, made her say the same things again very casually and recorded the entire conversation.
With this recording in hand, I filed a habeas corpus petition again. On the 19th of December 2016, the court ordered them to present her and send her back with her parents on the 21st.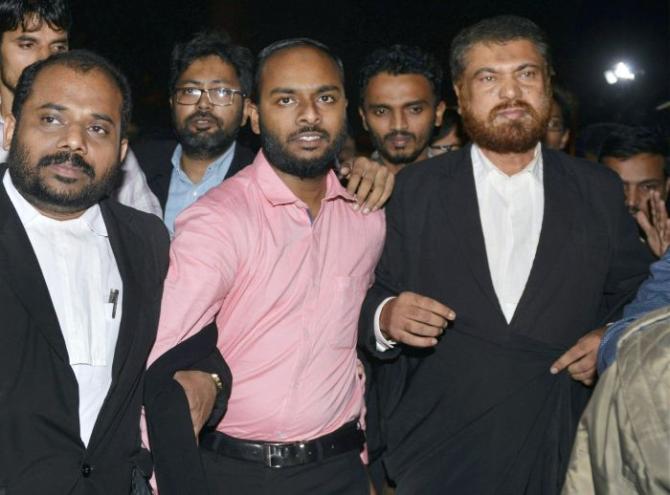 IMAGE: Shafin Jahan, who claims to be Akhila/Hadiya's husband, seen after appearing in the Supreme Court.
Suddenly, on the 21st, entered a man claiming to be her husband. Till then, we had not even heard about any marriage or husband.
I would say again that it was not a love marriage; it was an 'arrangement' marriage.
What they told the court was we parents also were present at the wedding!
The court understood the truth and ordered to send her to another hostel. Because of the evidence we had, the Kerala high court ordered her to come home with us.
At home, she never spoke to us, and made a lot of drama like going on hunger strike three times. But I refused to go where she was.
Then, this newly appeared husband went to the Supreme Court and the court asked her to go back to college and finish her studies.
You should understand that the Supreme Court did not contradict what the high court said.
I am happy with the verdict because I don't want a terrorist in my house. I am a man who served the Indian Army and the country.
What she says these days are not her words; those are the words of those people; they are just using her and making her say whatever they want.
She is just dancing to their tunes; she has surrendered herself to them completely.
She is not just brain washed; they have her brain in their hands.
I would say that the Indian media has not presented the real truth to the people; they are presenting something else to cater to vested interests.
You hear the voices of only those who are behind the whole incident. What you saw till now was a trial by the media and some so-called activists.
I do not know why they are bothered about my daughter. There is a mother in Trivandrum who lost her daughter to people like this, but nobody is interested in helping her find her daughter.
Why are the media and the activists after my daughter who was asked to be with her parents by the high court?
So many secularists have entered the scene in support of these people. I want to ask all the secularists whether they would like to send their children to be terrorists.
Why can't these secularists convert and fight in Syria or Yemen?
Why don't they leave poor fathers like me? When they attack me, I have no other choice but go to court.
All my neighbours understand my pain, the pain a poor father goes through, and they are all with me.
I am confident that the court will take a good decision in the end.
I served the Indian Army and I am an ex-serviceman.
I look at this as a battle I am fighting after I left the army.
I will not leave till I get her back as my daughter Akhila, and I believe it will happen one day.
Many people ask me why I continue to fight. I am fighting because I want people to be aware of what is happening in our country.
My satisfaction comes from the fact that I am able to make many fathers and mothers of this country aware.
I don't want any more Akhilas to become Hadiyas!