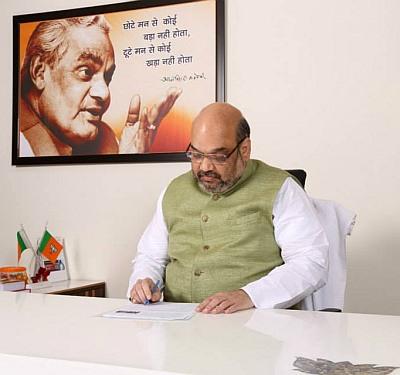 'The BJP doesn't see Indian voters through a prism of minority or majority voters. We should not do it. Even the media should not view it that way. We should see if he is a good leader or bad leader.'
BJP President Amit Shah speaks exclusively to Sheela Bhatt/Rediff.com at his Ahmedabad home.
Must Read: Part I of the Exclusive! Amit Shah interview
How do you rate the various political parties in India?
Except two or three parties, most parties are dependent on one family. I believe that only parties where internal democracy is alive can achieve the ideals of democracy.
There is a severe shortage in our country of political parties where internal democracy is alive and kicking.
Those who observe your politics can see that you actually don't want a Congress-mukt Bharat, you want a regional parties mukt Bharat.
I don't think so. I want to expand the reach of my own party. That's all.
What I meant was that you target the regional parties more sharply than the Congress.
My target is to expand the BJP's influence everywhere. I don't have any negative target.
Which is the bigger challenge for you: The Congress or regional parties?
For me the challenge is that my party is absent in certain areas and I want to make up that weakness. I want a bigger geographical expansion of my party.
You have been a sharp observer of Congress politics. Tell us frankly, how relevant is the Congress in spite of its recent fall? How seriously do you take it?
The Congress is quite an old party. The huge success of the Independence movement is credited in its account. But no party can survive long by depending on one family. Because of it, the Congress party has faced problems many times.
I believe the BJP should respect each and every political party and the BJP should evaluate and consider each party's relevance in Indian politics and then formulate its own strategy.
From your point of view, do you feel that the Congress carries the secular ethos of India and is based on a solid plank where it imbibes all religions, and goes along with the idea of inclusive growth of all castes and creeds?
In India there are many such parties believing in inclusive growth for all.
Then what is the Congress's uniqueness?
It is a very old party and as I said, the independence movement is credited in its account.
What is the centre-point of your politics?
The centre-point of my politics is to strengthen my party and grow it organically.
I joined the BJP and I remained in it because we want Bharat kalyan (welfare of India). We are struggling to make India strong, successful, prosperous, stable and respected. Whatever I am doing for my party is aimed at that.
If compared to the Congress's origin your party is quite fresh. If seen from the point of view of history, it's not very old. What difference does it make?
There is no question of any such limitation. It makes no difference to us that we are a post-Independence party. We have a strong base.
There is no other party which from its inception to today has maintained internal democracy.
There is no other party which had leaders who were internationally recognised much before it came to power.
There is no other party credited with so many movements, whether it is the Save Kashmir movement or the anti-corruption movement or the fight against the Emergency.
Since our inception we have only worked for the solution of India's problems. Even if you see through biased eyes, our history is magnificent.
You are considered very ambitious.
I have no personal ambition. But there is no doubt that I want my party to get strengthened in all those states where it is weak. I must spread the ideology of my party in those areas.
There is confusion about your early years. You joined the VHP (Vishwa Hindu Parishad) first, right?
No. First I joined the ABVP (Akhil Bharatiya Vidyarthi Parishad) when I was studying in the Jyoti high school in Ahmedabad. Since around 1980, I have been working for the RSS (Rashtriya Swayamsevak Sangh).
While attending school I would visit the RSS branch. I became an office-bearer of the BJP in 1984, and made secretary of Ahmedabad city. That was my first official position in the BJP.
I have worked for many movements of the VHP like the Ram Janambhoomi andolan when I was in the ABVP.
I am sure you are aware that you are known as a doer, but people also find you ruthless in your actions. How do you feel about the perception of you that has developed in the public space?
I have no issues about it. I have never lived my life depending on my public image. This could be a question for the people who buy my pubic image and judge me.
My public image is not my problem. I always do whatever is necessary to expand my party. It is not for me to see what journalists will think when I am carrying forward my party's interest.
Who is the real Amit Shah then?
Maybe even I don't know. Let the people judge on the basis of my real work.
You know well what is the most negative thing going about your party. The manner in which senior and respected leaders like L K Advani and Dr Murli Manohar Joshi were sidelined, it shows your party in bad light.
They have not been sidelined at all. We have not thrown away anyone's nameplate and haven't physically mishandled them as the Congress did to (its former president Sitaram) Kesri.
We are debating internally on many issues. The fact is you are unable to find anything negative to say about the working of my party so you find faults that don't exist.
How did you become an anti-Congress politician?
I am not an anti-Congress politician. I have deep respect and faith in my party's philosophy. I am emotionally attached to my party's vision. Where is anti-Congressism in it?
My mother was a staunch Gandhian.
Why did you not follow her?
Gandhiji and the BJP are essentially not mutually opposed (aantervirodh nathi, he said in Gujarati) to each other. Nobody has asked me ever. But those who know me know that I was only wearing khadi since my teenage years. From age 16 to this day, I have only worn khadi.
Why?
What is this question? What why? Because my Gandhian mother has deeply influenced me.
You became a full-time politician around 1985 or so. What is the difference in your ideals then and now, when you are the party president?
I don't see much of a difference within me. Because of 30, 35 years of experience I have got the ability now to see things differently, but there is no basic change within me.
But now you are seeing closely the huge presence of money power. You are seeing manipulative politics and corruption etc much more.
Everything was there even then. You can't say yesteryear politics was clean and it is dirty now.
Now you are much closer to the dirty realities of Indian politics. When you see all these things, do you feel disappointed?
In a country which is just 60 years young, I will claim that the best politics is practised in India. We have the best process going on for strengthening democracy.
We can't be so foolish as to compare a democracy which is 60 years old to a democracy which is 200 or more years old.
Does corruption in India upset you?
In every country a time comes when it faces a crisis. But then people do have the ability to find their own way. Only because of corruption did the BJP come to power in Gujarat. Due to corruption we came to power in New Delhi. This is a sign of change.
People always find a solution for their issues. People are always in search of truth. People have a tendency to support truth. And people have a tendency to empower truth.
There is a perceptible difference between Advaniand Vajpayee's BJP and Modi and Shah's BJP. It can't be termed in casteist term as a 'Bania-Brahmin' party. Now the OBCs have more say in power-sharing. How do you see this change?
Those days were different. Once upon a time our party was limited to a certain strata of society, the educated civil society. Now the BJP has expanded and reached out to all classes of society. So naturally, we see a change in our profile.
But the analysis of 'now and then' is not so simple.
How do you see the social transformation taking place within the BJP?
We believe that no social transformation takes place top down. All changes spring from the ground to the top.
How do you decide on ticket distribution?
Only when the demand comes up from the ground. It depends on the winning ability of the candidate, which is dependent on that particular group's backing to the candidate.
The question of giving a ticket to anybody arises when there is a backing to the BJP from that group, when that group is associated with the BJP.
You gave many more tickets to OBCs in Uttar Pradesh this time...
No, in proportion to their population we gave fewer tickets to them. In Maharashtra and elsewhere, we are winning wherever we are able to show work on the ground.
This question had to follow. There is not a single Muslim elected representative from your party. Out of 282 MPs, there is not one Muslim. Don't you find this awkward?
It is not. At many places at the local level in Rajasthan and Madhya Pradesh, where our Muslim workers are getting the backing of voters, they do fight elections.
For the Lok Sabha also, leaders like Mukhtar Abbas Naqvi and Sikandar Bakht have fought elections from the BJP.
But the broader image, in some sense, is that the party is anti-minority.
The BJP doesn't see Indian voters through a prism of minority or majority voters. We should not do it. Even the media should not view it that way. We should see if he is a good leader or bad leader.
What are your efforts to bring Muslims closer to your party?
We are working towards bringing all the people of India closer to the BJP.
Amitbhai, this is a stock answer. Why don't you move forward?
You rise above your thinking. 'Hindu,' 'Mussalman' is the politics of the '50s. There is no politics of 'Hindu-Mussalman.' You get out of these theories. This country's journalists need to graduate to the new level on this issue.
Our understanding is that the minorities want security and a compassionate voice to represent their problems.
We are here since five months, are the minorities feeling insecure? We are there in Gujarat, MP and Rajasthan, and there are no issue among the minorities. There are no riots.
This is dust gathered in your brain. You are stuck in politics that was there at the time of Partition. You better get rid of it. Our nation has moved much forward.
My question was simple. When will Muslims come into the mainstream of BJP politics?
We will work hard to bring everybody into the mainstream of the BJP. These are not stock answers. The BJP never thinks on the basis of religion.
That is what your party has been thinking since its inception.
Not at all. If we would have been thinking that way then even out of fear of getting a bad name, we would have settled the controversy by giving tickets to Muslims. We give tickets to those who are able to win the elections.
The winnability of a candidate is the only criterion, and not his or her religion.
Where does the issue of Hindus and Muslims come into this process?
Part 3 of the exclusive AMIT SHAH interview!: 'We are pro-India'
ALSO READ: