'What has he done for the state and the people?'
'The state has witnessed extraordinary problems. Where was he then?'
'Has he spoken about any issues or taken a stand?'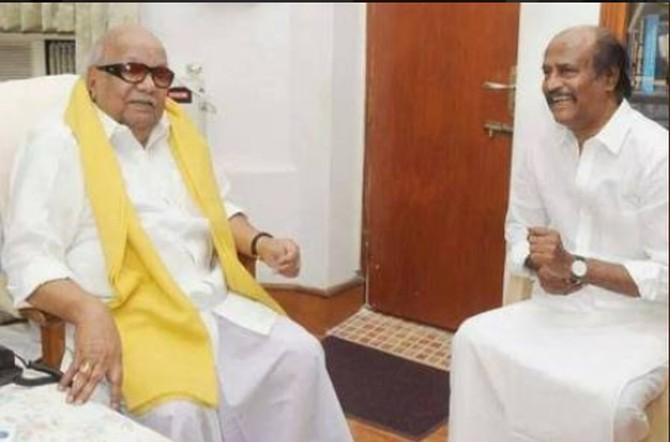 IMAGE: Superstar Rajinikanth with former Tamil Nadu chief minister and DMK supremo M Karunanidhi. Photograph: Kind courtesy @Rajni_FC on Twitter.
The India Today-Karvy Insights opinion poll conducted in 77 assembly constituencies in Tamil Nadu revealed this week that if an election was held today, the Dravida Munnetra Kazhagam and its allies -- the Congress and the Indian Union Muslim League -- would win 130 seats.
The AIADMK -- which currently rules Tamil Nadu -- would win just 68 seats.
Most interestingly, Rajinikanth's party would win only 33 seats.
Clearly, not everyone in Tamil Nadu is excited about the superstar entering politics. There are many who think he is indecisive, incapable, unprepared.
"Rajinikanth talks about corruption in Tamil Nadu in the last one-and-a-half years as if there was no corruption in the last 20 years," Professor R Manivannan -- head of the department of politics and public administration, University of Madras -- tells Rediff.com's Shobha Warrier.
Rajinikanth has finally decided to be in politics. How do you look at this?
That's precisely my question. How can a person who can be as indecisive as him by procrastinating his decision for two decades provide good leadership for the state and the country?
I am not fully certain whether he fully understands his commitment when he says he is plunging into politics.
He speaks in parts, and there is no completeness in his ideas.
After two decades, he says he will come into politics, but he has not announced his party or ideology.
Starting a political party without an ideology is not complete. He has asked his fans to register, but it's only an association in his name and not a political party. He has not spoken about a clear time-frame also.
The time-frame is that he will contest all the seats in the next assembly election.
This time-frame is not an absolute. Nobody knows how long this fractured government will survive.
If the government falls before 2021, he might say, I thought the elections would come in 2021 and since it had come early, I was not prepared.
He just saw an opportunity now in the present circumstances, but I do feel that the decision to enter politics has come quite late.
Don't you feel he was waiting for the right time to enter politics? There is a political vacuum now. Perhaps he wants to take advantage of the situation.
My question is: Is he a leader?
Yes, there is a vacuum and anyone can fill the vacuum, but then it should be filled by a person who has been working in the political arena, working with people and raising issues. He has not done any of this.
Just being a hugely successful film star with a large fan base is not enough to be a political leader?
I think so. It is not enough to be popular with the backing of a few political parties, to be a leader.
First of all, he has to understand the problems of the state and the people.
He talks about corruption in Tamil Nadu in the last one-and-a-half years as if there was no corruption in the last 20 years.
There were huge scams and elections were fought on the issue of corruption.
Do you feel many people in Tamil Nadu may feel the way you do?
Of course. Except his fan club, there is no constituency that is inviting him or following him.
Do you feel people expect him to disappear like he used to disappear to the Himalayas even after joining politics?
I think that was done as a part of his image-building exercise; as a spiritual person in pursuit of peace.
Not only disappearing, people would remember him as a man who went back on his word.
Also, whenever a movie of his releases, he calls his fan clubs and tells them that whenever God asks me, I would come to politics.
In fact, God has always been calling him on his movie projects.
Do you think he is manipulative?
Yes, he is manipulative.
If anybody else behaves like this, he will be labelled manipulative.
How is he different?
If mobilising his fan clubs just before the release of his films and ensuring that his films are seen, is not manipulative, what is?
His movies are made on a budget of hundreds of crores, hence they are very, very, big business ventures.
Will the 'spiritual politics' he spoke about strike a chord with the people of Tamil Nadu who have only seen Dravidian politics for so long?
Dravidian politics doesn't say that you cannot be spiritual. It only talks about reason and rationalisation.
In Dravidian politics, there is a concept of five elements: The pancha bhootams.
The truth is there is a decay in Dravidian politics and Dravidian party culture, but there is no decay in the Dravidian social and political foundations of ideology. He mistakes the decay of Dravidian parties with the decay of Dravidian ideology.
Like the BJP says, Tamil Nadu is not a no-God land; there are 75,000 registered temples in Tamil Nadu which are not run by the RSS or the BJP.
Rajinikanth also spoke about the need to have a political revolution as the system had become so corrupt. Do you agree?
I am happy that somebody is talking about political revolution. Yes, we do see the need for a political revolution.
But the question is: What was he doing till now except acting in films and promoting them and his image?
What has he done so far for the state and the people?
The state has witnessed extraordinary problems in the past. Where was he then?
Has he spoken about any issues or taken a stand?
How can you talk about political revolution from a podium and ask people to rally behind him?
Except his fans, nobody can or will rally behind him.
His fans include people committed to other political parties. Is it an easy task converting his fan base to party cadres?
It is not an easy task at all. Also, his fans belong to an age group that is well past 40.
There are many actors who have fans equal in number and if they call them to Chennai for a photo opportunity, all of them will turn up. This is the way the state has been guided by cinema.
People like MGR (the late movie superstar and chief minister M G Ramachandran) and Jayalalithaa worked for a political party and travelled all over the state, met people, interacted with them.
Do you feel the main disadvantage Rajinikanth has is a disconnect with people and their problems?
Yes. He has always been associated with power. He was seen in the company of the powerful; chief ministers and Opposition leaders.
Somehow, he thinks his charisma will help him win in politics. He doesn't know that politics is engaging with people.
On that count, his experience is completely nil.
He has lived in his own ivory tower, in a world surrounded by his fan clubs and on the cinema circuit.
He has to break this barrier and be with the people to be a political leader.
MGR did that. Jayalalithaa did that. Vijayakanth has done that.
Do you feel people will identify him with the characters he has portrayed on screen and this will help him in politics?
To some extent, yes. People see him as a simple, humble, good man, which he is. He has these qualities.
If people see him as a simple, good, honest man in politics among many wolves, is it not an advantage for him?
An honest, simple, man has to work for the people and be with people.
This honest, simple, man sits in a high tower. If he wants to reach the zenith of power sitting on the shoulders of his fan clubs, he is no longer honest.
Honesty in public life is your commitment to convictions and defining the qualities of justice.
So you agree with what Subramanian Swamy said, that Rajinikanth would have no impact on politics as the era of cinema in Tamil Nadu politics is over?
I see it in another way. MGR was regarded as one of the most charismatic leaders and actors in the state, but he had to really work hard to reach where he was.
Today, people are far more critical of cinema actors and their relevance in public life.
Yes, people are looking at alternatives. From where they are is not an issue.
The issue is whether they have the qualities to be a leader.
People gave a chance to a small party like the Pattali Makkal Katchi though it was a caste-based party.
People gave a chance to Vijayakanth though he was an actor.
People did give a chance to Vaiko also.
It is another matter that all of them wasted it.
Don't you feel people will give Rajinikanth a chance too?
Before people give him a chance, we have to ask one question: Is he sufficiently equipped to have the trust of the people? I am doubtful.
So, you don't see Rajinikanth as the future chief minister of Tamil Nadu?
Not at all.. Not at all... He has not shown the qualities to be a leader or chief minister.