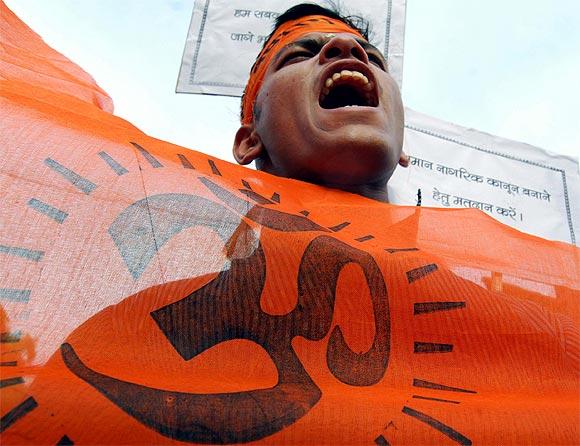 'When he was killed, did you ask questions of the Muslim community? But when we spoke of 'aar-paar' you are asking questions?'
Despite the uproar in Parliament, BJP MP Babu Lal stands by his controversial remarks in this interview with Syed Firdaus Ashraf/Rediff.com
On Sunday, February 28, at a condolence meeting for Vishwa Hindu Parishad worker Arun Mahaur, who was murdered by some Muslim youth in Agra, Babu Lal, the Bharatiya Janata Party's Lok Sabha MP from Fatehpur Sikri, had reportedly thundered: 'People of other communities can do anything and we will stay quiet?'
'If we can't take revenge against these people then should we worship them? Don't try to test us... We will not tolerate insults to the community. We do not want unrest at any cost, but if you want to test Hindus, then let's decide a date and take on Muslims,' Babu Lal was reported to have said.
On the dais with Babu Lal was Union Minister of State for Human Resources Development Ram Shankar Katheria, who also reportedly made inflammatory remarks against Muslims.
Speaking to Syed Firdaus Ashraf/Rediff.com on Tuesday, after the Lok Sabha was adjourned amidst an uproar by the Congress and other Opposition parties over his remarks, Babu Lal said he stood by his comments.
What did you mean by your statement that 'people of other communities can do anything but we have to keep quiet'?
You tell me. The VHP worker was killed in broad daylight. Two days before his death he had gone to the police and informed them that his killers had threatened him, but there was no action. Last year his shop was burnt down.
At 10 am on February 25, he was killed in public. Is this good work or what? Aakhir mein Hinduoon mein khoon ka paani ho gaya kya? (Finally, has the blood of Hindus turned into water?)
There may have been some personal enmity between them. Why bring religion into it?
The problem is that the Mantola area is Muslim dominated. They kill cows and its progeny in that area. Arun was a Dalit from the Mahaur community. Being a VHP member, he used to oppose such activities and so they killed him.
It is personal enmity, so why are you blaming Muslims?
.
How can this be personal enmity? The police are not doing any investigation. If the police had taken some action, he would not have got murdered.
Why are you blaming the entire Muslim community for this murder instead of blaming just the people who killed the VHP worker?
You are right in a way. When he was killed, did you ask questions of the Muslim community? They killed a Hindu in broad daylight. But when we spoke of 'aar-paar (final battle),' you are asking questions.
Hindus have no right to talk of their rights or what? Hindus have a right only to be shot?
Kuch government Muslims ko sar par chadhaney ka kaam karti hai (some governments allow Muslims to sit on their heads).
Do you feel the Samajwadi Party is supporting such people?
Of course. The SP only speaks for Muslims. If today a Muslim is murdered by a Hindu, the Congress, the SP and BSP (the Bahujan Samaj Party will raise a hue and cry. Have you heard anyone talking about this issue?
Mayawati speaks of Dalits, but this Arun is not a Dalit or what?
Today for Muslim votes every party is talking for them. Is this not vote bank politics?
I am asking you again: Was there personal enmity in this case?
No, this is not a personal enmity case. The one who speaks of Hindus and gauraksha (protection of the cow) is considered to be an enemy. The whole (Muslim) community believes them to be their enemy.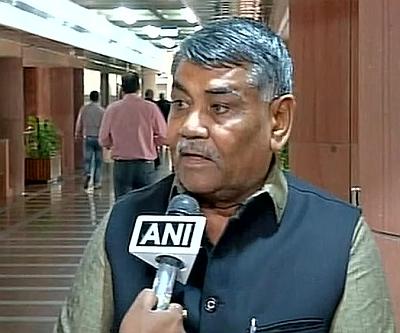 But there is the police...
He had gone to the police two days ago, but they did not take any action. The police knows that if they take action against such people, they will be transferred.
One year ago, when his (Arun Mahaur's) shop was burnt, did the police take any action?
Even the witness in the case is being threatened to withdraw from the case. They are challenging him openly.
Do you feel there is minority appeasement in Uttar Pradesh?
Yes, it is there. They know Mulayam Singh is ruling and their leader is Azam Khan, so who will dare to take them on?
You are an MP, why did you not speak about this to the UP government? Did you give any written complaint?
No, we have not written any letter. On February 25, after Arun was killed, we left Parliament and came to Agra. We then called for a condolence meeting.
Don't you think when an MP like you uses such language, it could lead to a law and order problem in the state?
Law and order problem is a different thing. But you tell me whether an MP is above society?
If there is some wrong happening in society, will an MP not speak?
If people in society are getting killed and if an MP cannot speak, what is the point of him being an MP?
But an MP should maintain peace and promote brotherhood between communities, isn't it rather than create further problems?
Community ke beech shanti honey wala samaj hi nahi hai woh (that is not a community which wants peace in society). They know the Samajwadi Party is supporting them, why will they listen to us?
What about brotherhood in society which you must maintain as an MP?
When they have killed people by bullet, will they listen to anyone?
Do you feel the media was highlighting the Mohammed Akhlaq issue (who was killed by a Hindu mob in Dadri for alleged possession of beef) but not highlighting these issues?
Akhlaq's family got Rs 50 lakh, four flats and also a job. And for a Hindu Dalit who got murdered, the Samajwadi Party gave Rs 15 lakh only.
A Hindu or Muslim life is the same, why discriminate? The media must write about this.
Do you think these murders are happening because elections are scheduled in UP for next year?
This murder has got nothing to do with elections.