'The rivers that caused the maximum problem were the ones that had dams built on them.'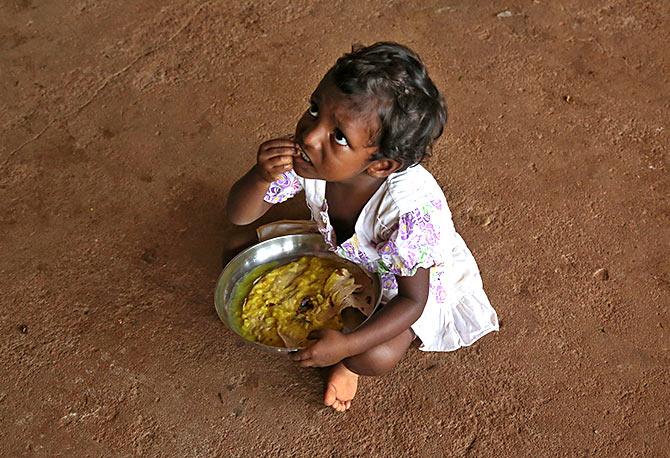 S P Ravi is one of the directors at the River Research Centre, an environment support group that works mainly on the Chalakkudy river basin in Kerala, one of the areas badly affected in the Kerala floods after water in the puzha rose to dangerous levels.
When Rediff.com's Shobha Warrier spoke to Ravi a month ago, he had said, "Unless we are ready to reverse our ways and rectify our mistakes very soon, I don't see a very bright future for the state."
His house, which was on the upstream of Chalakkudy puzha, was flooded, and he had to vacate his home and move to a safer place from where he, along with a large group of people, have been co-ordinating the rescue operations.
Your house was flooded and you had to move out...
Water entering my house is not the real issue as mine was just one among the many houses that got flooded.
My house was on the banks of Chalakkudy puzha, in the upstream of the river.
In normal circumstances, this area never used to get flooded and we believed that water would never reach such an elevated place.
Ever since the South West monsoon started, water was rising up in the Chalakkudy puzha and we had floods in the low-lying areas quite a few times.
When I say floods, it is about water entering the compound and not inside the house which has been accepted as normal by everyone here.
Even my compound used to get flooded in heavy rains, but it would recede within a day or two.
What was unusual about this time was all the six dams in the upstream area of the river got full by the middle of July itself.
So, when we had the extremely heavy rainfall on the 15th, 16th and 17th of August, all these dams were already full.
Though we are yet to get the exact figure, we feel the entire catchment area might have got 30cm rain in these three days.
The lowest dam was already overflowing when we had this high intensity rain and water was flowing 2 metres above the dam.
The situation was very dangerous then.
Naturally, the entire basin got flooded which led to the flooding of Chalakkudy town.
The areas in the downstream where Chalakkudy puzha joins Periyar, had been in a very precarious condition ever since the monsoon started and the villages were totally flooded in these three days of rain.
Out of the six dams, one dam could not be opened, but all the other five dams had to be opened and water was flowing over the road bridge on the National Highway in Chalakkudy.
After the highway was built, this was the first time that water was flowing over the bridge.
People compare this flood to the floods of '99 (em>99 thile vellapokkam) which happened in the year 1924.
I also feel this could be the worst flood that has happened to Kerala after that; definitely as far as the Chalakkudy and Periyar rivers are concerned.
This time also, central Kerala was the worst affected.
Was it because Idukki got way above normal rainfall? Do you think water from the high ranges, and also the Idukki dam opening made the situation worse?
Definitely, dams played a major role in this flood.
What I mean is, dams did not do what they were expected to -- that is, dams have a role in flood moderation.
If there is a prediction about a heavy monsoon, storage capacity of the dams has to be maintained anticipating more water.
But we failed in this and the situation was such that almost all the dams were full at the same time.
Was it because nobody expected such heavy rain?
There are multiple reasons. There were definitely deficiencies in planning. No doubt about that.
In addition to that, nobody expected such heavy rainfall and you cannot blame anyone for not anticipating heavy rain.
Though I have been studying rivers for so many years, I too miscalculated the eventuality of water rising to such levels in the Chalakkudy puzha.
As a person who has been part of the River Research Centre, how do you look at the Kerala floods? Was it just a freak phenomenon or a man-made disaster?
Whether it was a freak phenomenon or man-made, it is a big lesson for everyone.
In fact, not one lesson, we have to learn so many things from this.
While water was slowly rising, I did some calculation on the potential flood situation. I calculated that we might have 20 cm rainfall, as we had been talking incessantly about a heavy rainfall due to climate change.
Even then, we miscalculated and we had more than what we had anticipated.
Also, even when we did all the research, even though we had been talking about a situation like this, we failed to foresee that it could happen in our own backyard.
It was like, you did not want to accept the bitter truth.
I will never say that we would have been able to contain the latest heavy rainfall, but it was not the case with the other rounds of floods which happened during this monsoon.
If we had proper planning, we would have been able to prevent the earlier floods. In fact, we had been requesting the authorities to plan for such an eventuality.
We had been giving high alerts to the district administration and the state government two weeks before this happened.
I am talking about official communication. The main reason behind such a high alert was the fact that all the dams were full.
We asked for two things. One was, when there was a lull in the rainfall, they should open the shutters and create space for storing more water in case high intensity rainfall happens.
We had reasonably big floods in the middle of July. Based on that, we said there were chances of many areas getting more than three metres high of water.
We wanted the authorities to identify the areas and alert those who live there.
It is true that we had rainfall which went beyond our calculations.
Yet, if they had followed what we had asked for, they would have been able to warn and evacuate a lot of people before the floods.
Though we had warned of a grave situation, the concentration of the government and the media was on Idukki.
We tried to get the attention of the media to the Chalakkudy river, but they were not willing to take it up. Nobody gave any importance to the warning we gave.
Idamalayar opened its shutters only after it was full; they should have slowly released water anticipating this situation. They failed to do so.
The same thing happened with the Banasurasagar dam in Wayanad and they had to release very high volume of water without much warning.
The truth is they totally ignored the other dams and also the fact that who were going to be affected badly were those who live in the downstream of the Periyar.
What I wanted to say is the entire episode makes us rethink and have a fresh look at many issues.
One is the way we operate dams.
Next is, we see that human casualty was not because of floods, but because of landslides.
You also will see that wherever landslide happened, you can directly link to human intervention. We
have to realise that landslides happened because of our folly only.
The third thing is about our calculation on how much rainfall we can expect. That is why I said, it is high time we have to think seriously about so many issues.
People tend to forget the hardships after a couple of months...
Yes, there is such a possibility. But we will see to it that this is not forgotten through our studies and campaigns.
I am not talking about the River Research Centre alone. There are individuals who are experts and several other organisations too; all of us who are passionate about this issue.
We will see to it that this issue will be kept alive, at least from civil society.
If the government co-operates, it will be a collective effort. If not, we will do it independently.
There is no way we are going to let anyone forget this.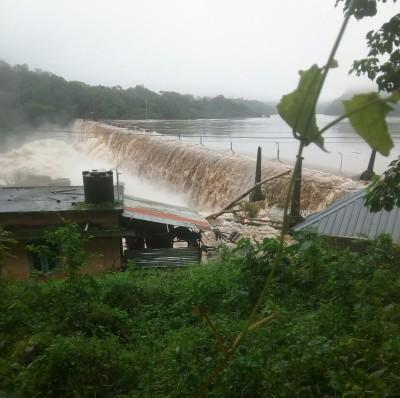 Which banks of the river were the worst affected this time? Was it the Periyar?
The first in spate was the Meenchil river in July. By mid-July, Pala town was under water and several places in Kottayam were also flooded.
But the situation in Kuttanad was the gravest; it still is.
There are people who have been living in relief camps from mid-July onwards as there was no respite from floods for the people of Kuttanad.
After that, the Idukki and Wayanad regions were badly affected; because of landslides and not floods.
In the next round of rains, the Chalakkudy, Periyar and Pamba started overflowing.
Even when the situation became under control on the banks of Chalakkudy and Periyar rivers, the situation near Pamba was very bad.
So, it is difficult to say which area was the worst affected.
One thing I can say for sure, the rivers that caused the maximum problem were the ones that had dams built on them.
Meenachil was the only exception.
Was it a good idea to build such huge dams for electricity?
You cannot say that though I am of the strong opinion that ecologically, building dams is wrong.
Here, what went wrong was not the dams, but the way they were used and controlled.
Whatever be the purpose behind building a dam, the most important thing is flood moderation.
So, in moderating floods, our dams were a complete failure.
That was why at many places, they had to open the dams without adequate warning. They took care of Idukki rather well, but that was not the case with other dams.
The problem was instead of looking at Periyar as a whole, they looked at each dam separately.
Water from Idukki, Idamalyar and Neriamangalam come to Bhoothathankettu and then flow downstream.
So, more than Idukki or Idamalayar, they should have given more importance to Bhoothathankettu.
Is it because of lack of vision?
Yes, there is a lack of vision. Also, lack of disaster preparedness.
It is high time we have a proper study of all the rivers in Kerala with specific markings on possible high-floodline and vulnerable areas.